Explainers
Political Parties To Ministers, How Pak Netizens Spread Fake News On Kashmir Post Abrogation Of Article 370
The current Kashmir crisis revealed that the fake news industrial complex has spread well across the border.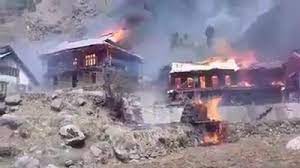 On September 2, 2019, former High Commissioner of Pakistan to India, Abdul Basit, shared a photo of pornstar Jonny Sins from a pornset, to falsely portray Sins as a Kashmiri pellet-gun victim.
His now deleted tweet got so viral, that Sins himself intervened with a tweet, directed at Basit, claiming that his vision was fine.
This hilarious incident was just one example of Pakistani users sharing misinformation on Kashmir, ever since the Modi administration proposed to abrogate Article 370 and dissolve the state of Jammu & Kashmir into Union Territories.
To highlight the influence of the fake news industrial complex spreading across the border, BOOM decided to list down all the instances of Pakistani handles sharing misinformation on Kashmir, ever since the crisis started.
Mission: Kashmir
Between August 5, 2019, and September 5, 2019, BOOM had already done 49 different fact checks on misinformation about Kashmir plaguing social media and WhatsApp.
Upon going through these stories, we spotted 15 different fact checks where Pakistani internet users were responsible for sharing misinformation on Kashmir.
These included not just ordinary users, but also influential accounts run by Pakistani journalists, ministers and official handles of Pakistani political parties.
1. Old Video Of Fire Mishap In Kashmir Being Shared As Army Atrocity
Pakistani Facebook page "Free Indian Occupied Kashmir" shared an old video of houses ablaze with fire in Kashmir's Uri region. The caption of this video claimed that the Indian Army was responsible for setting the houses of Kashmiris on fire.
Upon investigation, we found that the incident was from May 2018, when several houses were gutted with fire.
News reports on that incident reveal that the fire started when a man carrying a fire torch went inside the shed to feed the cattle.
2. With Kashmir In Lockdown, Old Videos And Photos Stoke Tensions
A composite of two photos - one showing an injured girl and another showing two distressed girls - were revived by Pakistani journalist and anchor Ameer Abbas.
Abbas alleged in his tweet that the photos show the plight of Kashmiris at the hands of the Indian Army, following the abrogation of Article 370.
Our fact check revealed that neither of the photos were recent or related to Kashmir in anyway.
3. News Outlets Run Old Video Of MS Dhoni Jeered With 'Boom Boom Afridi' Chants In Kashmir
A video showing Mahendra Singh Dhoni being jeered with chants of 'Boom Boom Afridi' in Kashmir became viral as a recent incident, in light of the present situation in the valley.
This video was shared with similar claims by many internet users, and was even picked up by Indian news outlets like Catch News and Zee 24 Ghanta.
One of the internet users to share this video out of context was Pakistani sports anchor Mohammed Faizan Najeeb.
Upon inspecting further we found that the video was from 2017, when Dhoni was invited as chief guest for a cricket match sponsored by the Indian Army in Jammu and Kashmir.
4. Article 370: Pak Minister Tweets Burhan Wani's Funeral Video As Protests In Kashmir
This time, a prominent member of parliament of Pakistan turned out to be the culprit behind a misleading post.
Ali Haider Zaidi, Pakistan's Minister for Maritime Affairs tweeted an old video from the funeral of slain militant Burhan Wani, to falsely claim that it showed millions of Kashmiris protesting against the government's recent decision.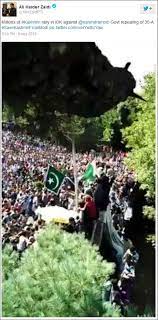 While there has been recent protests in Kashmir, this video itself does not highlight any such incidents.
Read our fact check here.
5. Jharkhand Police's Mock Drill Video Shared As Army Shooting At Kashmiri Protesters
On August 9, 2019, a video showing men in police uniform firing on protestors became viral on Twitter. The video was shared with claims of atrocities being committed on Kashmiris during the ongoing curfew and lockdown in the valley.
BOOM found that many of the users sharing this video out of context were from Pakistan. The videos were shared with hashtags #EndKashmirBlockade and #KashmirWantsFreedom, which have been trending in Pakistan and India since the current crisis began.
Click here to read our fact check.
6. Old Video Of Anti-India Sloganeering In Kashmir Viral Among Bangladeshi Netizens
Pakistan and India were not the only countries where its netizens were culpable of sharing fake news on Kashmir in the month of August, 2019.
Several Bangladeshi Facebook pages shared an old video of Sarjan Barkati, a Muslim cleric, addressing a huge gathering in Kashmir. The misleading claims suggested that the video portrayed Kashmiris defying Indian laws to fight for their freedom.
Read our fact check here.
7. Old Video Of Kashmiris Wounded In A Shell Explosion Resurfaces With False Claim
On August 10, 2019, a disturbing video surfaced on Twitter, showing civilians rushing to help grievously injured victims of a shell explosion in Kashmir's Kulgam region. The post became viral with claims of atrocities on Kashmiris by the Indian Army.
The video was shared with similar captions by multiple Pakistani Twitter handles, including that of Abdullah Gul, chairman of Tehrik Jawanan Pakistan/Kashmir, and Omar Ayub Kahn, the Federal Minister For Power, Petroleum & Natural Resources.
However, our fact check revealed that the video is from an incident that happened in October 2018, when several civilians were killed in south Kashmir's Kulgam region due to a stray explosive shell going off at an encounter site.
8. Fake Graphic Claims Animal Sacrifice Banned In Kashmir During Eid
Following Bakri Eid on August 12, 2019, two graphics surfaced on Twitter claiming that the Indian government had banned animal sacrifice in Kashmir. Both of them were attributed to news channel Mirror Now, and was called out as fake by the channel's editor Faye D'Souza.
While these graphics were massively shared by Indian internet users, we also spotted several Pakistani handles sharing them.
Read our fact check here.
9. Pak Scribe Shares Old Incident Of Indian Forces Using 'Human Shield' As Recent
An old video showing Indian security personnel using four Kashmiri men as human shield against stone pelters was revived to falsely portray the present situation in Kashmir.
The person to share this video was prominent Pakistani journalist, Hamid Mir, who has around 6 million followers on Twitter. While Mir took down the video upon being pointed out that it was old, it became viral in the short time that it was up.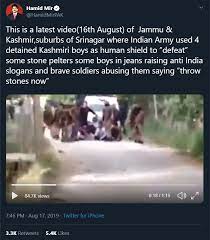 Click here to read our fact check.
10. Pakistani Minister Passes Off Old Videos From Haryana, Telangana As Kashmir
Ali Haider Zaidi did it again. This is the second time we found Pakistan's Minister of Maritime Affairs share misinformation on the situation in Kashmir in the month of August, 2019.
On August 18, 2019, Zaidi shared a distressing video, claiming to show the plight of Kashmiris in India.
However, we found out that the video was actually a composite of two unrelated and old videos - one showing para military forces lathi charging supporters of rape convict Gurmeet Ram Rahim Singh in August 2017, and another from an incident of domestic abuse in Telangana from 2018.
11. 9-Year Old Video Of Canada Refusing Visas To Indian Army Officers Shared As Recent
On August 21, 2019, Pakistani Twitter user Omar Quraishi tweeted out a 9-year old news report on Canada denying visas to Indian army officers, portraying it as a recent incident.
The old incident was also reported as a recent one by Pakistani newspaper, Pakistan Today.
Read our fact check here.
12. Pakistan Tehreek-E-Insaaf Tweets Old Videos Of Violent Clashes In Kashmir
On August 24, 2019, the official handle of Pakistan's ruling party PTI tweeted a video comprising of two old and separate clashes between civilians and security forces in Kashmir, with a caption that portrayed it as a recent event in the valley.
Our fact check revealed that the videos are from 2018 and 2017, respectively.
13. Clash Between TMC-BJP Workers Passed Off As Kashmir
Pakistan's ruling party does it another time. Just a day after PTI's official handle misleadingly shared two videos out of context, the party's Lahore wing shared another video, claiming to show "RSS hooligans evacuating Muslim settlements" in Kashmir.
The same video was shared over social with similar misleading captions by many Pakistani users.
Upon investigating, BOOM found out that the video is from an incident that happened in West Bengal in July 2019, and showed a clash between BJP and TMC workers in the region of Cooch Behar.
14. Pak Netizens Share Video Of Apple Trees Felled In Himachal Pradesh As Kashmir
On August 27, 2019, several Pakistani Twitter handles started sharing a video showing the cutting of apple trees under the supervision of authorities in uniform. The tweets claimed that the Indian government was cutting down orchards belonging to Kashmiris.
However, we found out the claims around this video showing a recent situation in Kashmir were completely false. The video originated from an incident in July, 2018, from Shimla, Himachal Pradesh.
15. Pak Singer Shares Unrelated Photos As Genocide Of Kashmiris
On August 31, 2019, Pakistani singer Rabi Pirzada shared a set of unrelated photos on Twitter, showing scenes of animal sacrifice, militant attacks and riots.
The caption shared with these photos falsely claimed to show a recent genocide of Kashmiris by the Indian Army.
BOOM found out that the images were unrelated to the present situation in Kashmir, and in some cases quite old.
Do you always want to share the authentic news with your friends?
Subscribed Successfully...
Enter Valid Email Id