Old Video Of Anti-India Sloganeering In Kashmir Viral Among Bangladeshi Netizens
BOOM found that the video is part of a series of speeches that Sarjan Barkati, an orator of Jammu and Kashmir, delivered after the death of Burhan Wani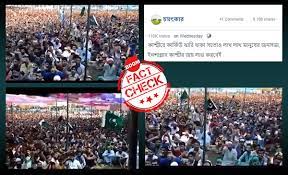 An old video of Muslim cleric Sarjan Barkati addressing a huge gathering in Kashmir has resurfaced on multiple Bangladeshi Facebook pages with false claims that Kashmiris are defying Indian laws to fight for their freedom.
The Indian government imposed Section 144 on Jammu and Kashmir a day before provisions of Article 370 were revoked and the special status withdrawn from the state.
The video, viewed more than 1 lakh times at the time of writing this article, documents Sarjan Barkati's provocative speeches on freedom of Kashmir, as the crowd cheer him on. Barkati, a cleric from south Kashmir, is known for his anti-India oratory skills.
"Despite the ongoing curfew people have turned in huge numbers for this meeting. Inshallah Kashmir will emerge victorious," the text accompanying the video claims.
(Original caption in Bengali: কাশ্মীরে কার্ফিউ ঝারি থাকা সত্যেও লাখ লাখ মানুষের জনসভা, ইনশাল্লাহ কাশ্মীর জয় লাভ করবেই )
The same video was shared by several Bangladeshi users, with a similar narrative.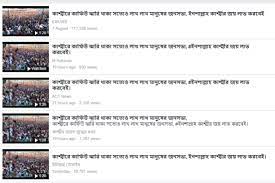 Fact Check
BOOM ran a keyword search on YouTube and was directed to the same video, that was uploaded to YouTube in September, 2016.
The video is a part of a series of unique speeches that Barkati delivered after the death of Burhan Wani, young commander of Kashmiri separatist group, Hizbul Mujahideen, who died in an encounter in July, 2016.
Also known as the Pied Piper of Kashmir and Azadi Chacha, Barkati became popular among Kashmiris with anti-India and pro-freedom sentiments, during the civil unrest in the valley that shook the nation after the death of Wani.
Barkati was later arrested in October 2016, under the Public Safety Act (PSA) for raising anti-India slogans. His family participated in a sit-in protest in Shopian area of J&K in July demanding Barkati's release.
ALSO READ: Article 370: Pak Minister Tweets Burhan Wani's Funeral Video As Protests In Kashmir
Claim Review :
Kashmiris attend a political gathering despite the ongoing curfew
Claimed By :
FACEBOOK POSTS