Fact Check
With Kashmir In Lockdown, Old Videos And Photos Stoke Tensions
BOOM found that many photos and videos from older incidents in the Valley are being revived after the government recent decisions.
The government's recent decision to abrogate Article 370 and thereby take away the special status granted to Jammu and Kashmir has led to a series of old unrelated photos and videos from Kashmir being revived and shared on social media platforms.
Kashmir is currently in a state of a information and physical lockdown, with cellular network and internet access banned and forces deployed in huge numbers in the region. With no news coming from the state, social media is rife with photos and videos from old incidents showing alleged military violence, all being shared in light of recent events.
VIDEO OF UNIFORMED PERSONNEL BEATING A CIVILIAN
A disturbing video of two uniformed personnel is viral on social media with claims that a Kashmiri is getting beaten after the recent events.
BOOM analysed the video and a ran a reverse image search on a frame from the video and found that it is viral since 2017. DNA newspaper tweeted a still from the video on April 15, 2017 with a caption, "Azaadi chahiye tujhe': Videos emerge of Army allegedly beating up Kashmiris."
The viral video is one of the two videos viral since 2017 showing uniformed personnel beating a man and another where three men in a vehicle repeatedly being assaulted and forced to say anti-Pakistan slogans.
BOOM found news reports about the incident but was unable to verify the exact location of the incident recorded in the video. Read here and here.
ALSO READ : 2015 Video Of Police Lathicharge On Madrassa Teachers In Bihar Shared As Kashmir
PHOTO OF A DEAD BODY ON A FOOTPATH
A photo of a dead body of a young man lying on a footpath with three policemen near it is viral with claims that the Indian army is killing Kashmiris and those protesting the government's announcement of revoking J&K's special status.
A reverse image search for the photo led us to various articles on blogs and social media sites. Most of the posts carrying the image were from 2010-11.
The photo was also carried in a story published on December 1, 2017 in Free Press Kashmir, a leading weekly published from the region. The story titled, 'Kabir Chacha: The prosperous trader who became the attendant of unclaimed bodies in Kashmir' talks about Sheikh Abdul Kabir aka Kabir Chacha who conducted last rites of those who remained unclaimed and unidentified in their death.

The viral photo is part of this article with an explanation that, "A slain boy whose body was kept as a showpiece at Dalgate in early 2000 was brought to Sidiqabad's graveyard by Kab Chach for the burial. The image of that boy has been continuously making rounds on social media."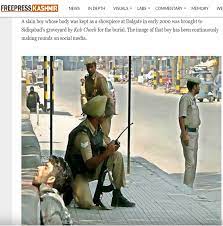 OLD PHOTO FROM KASHMIR AND PHOTO OF PALESTINE TEEN
Two photos - one of an injured girl and another of two young girls crying - are being revived in light of the recent events in Kashmir.
The photos were tweeted by a Pakistani journalist on August 4, with the caption, "So are you proud of your gallantry in Kashmir? Shame and what a shame! Your brutal army kills innocent and unarmed Kashmiris. If this is ur benchmark of bravery and gallantry than we curse and curse on such a bravery. Don't celebrate it rather feel ashamed and cry on it!"
The first photo of an injured girl is from Gaza, Palestine and clicked in 2014.
BOOM found that the photo is of a teenager from Gaza identified as Rawya Abu Jom'a, who sustaned injuries during an Israeli air strike on her apartment building. The photo featured in several international media outlets, was clicked by Heidi Levine.
BOOM had earlier fact-checked the same photo when at an event, Pakistan's United Nations envoy Maleeha Lodhi tried to pass it off as that of a Kashmiri youth wounded by a pellet gun fired by the Indian Army in Kashmir. Read here : Pakistan's United Nations Envoy Shows Gaza Pic As Kashmiri Pellet Gun Victim
The second photo of two girls crying is from Kashmir but was clicked in 2004 and is not from the recent lockdown in Kashmir.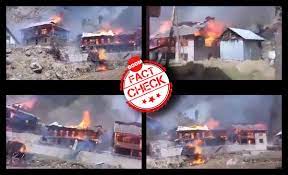 BOOM ran a reverse image search and found that the photo is from 2004 and was clicked when the girls were crying after their relative was detained for an explosion in Srinagar in February 2004.
We found the photo uploaded on wire agency Reuters clicked by photojournalist Danish Ismail with the caption, 'Kashsmiri Muslim girls cry over the detention of their relative after an explosion in Srinagar, February 17, 2004. An explosive device planted in a scooter went off which rocked Srinagar city on Tuesday afternoon but no one was hurt, police said. REUTERS/Danish Ismail'
Do you always want to share the authentic news with your friends?
Subscribed Successfully...
Enter Valid Email Id