Clash Between TMC-BJP Workers Passed Off As Kashmir
BOOM found that the video was from July 2019, in Cooch Behar, West Bengal of a clash between the TMC and BJP workers.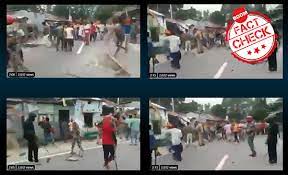 A video showing several people vandalising houses on a street is being shared with the false claim that Muslim owned properties are being attacked in the Kashmir valley.
The 2.20 seconds video shows a mob go on rampage - breaking chairs and damaging houses as the police can be spotted in the background being mute spectators.
Pakistan's ruling party Pakistan Tehreek Insaf's (PTI) Lahore wing had shared the video on Twitter tagging the United Nations and with the hashtag #ModiKillingKashmiris and #UnlockCurfewInKashmir.
How RSS hooligans are Evacuating Muslim settlements, these Indians are openly doing terrorism under the supervision of the terrorist army. How is open common terrorism.... @UN @UNHumanRights #ModiKillingKashmiris#UnlockCurfewInKashmir
pic.twitter.com/0MAoVl0S5W

— PTI Lahore (@PTIOfficialLHR) August 25, 2019
Click here to view an archive.
Viral on Facebook
The video is going around on Facebook claiming that Hindu nationalist vigilantes have been attacking Muslim-owned properties and businesses since the removal of Article 370.
Click here to view an archive.
Click here to view an archive.
BOOM Reports
FACT-CHECK
The same video was previously viral in July 2019, falsely claiming that the incident took place in Tripura.
BOOM Bangla had fact-checked the claim and traced that the video to the Petala area in Cooch Behar, West Bengal.
According to media reports, self proclaimed cow vigilantes had stopped a truck carrying cows in the Petla area of ​​Dinhata near the India- Bangladesh border on June 27, 2019.
They allegedly harassed the driver to produce the vehicle's documents.
When the truck driver was unable to produce documents of the vehicle, he was beaten up allegedly by BJP workers. Clashes broke out in the area when the local TMC workers intervened. What followed next was clashes and counter clashes between the two factions.
Burdwan TV , a local news outlet had covered the incident and uploaded the video to Facebook.
BOOM contacted a journalist from Burdwan TV who said that, "There was a clash between TMC and BJP party workers. This happened in the last week of June in the aftermath of the Lok Sabha poll result violence."
Updated On:
2020-09-15T16:50:22+05:30
Claim Review :
RSS Hooligans Are Evacuating Muslim Settlements In Kashmir
Claimed By :
Facebook Posts