Fact Check
Pakistan Tehreek-E-Insaaf Tweets Old Videos Of Violent Clashes In Kashmir
BOOM found that the videos are instances of stone pelting on two different occasions of Jammu and Kashmir.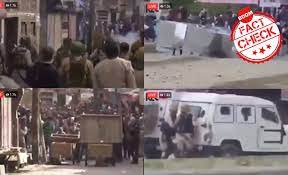 Pakistan Tehreek-E-Insaaf tweeted on Saturday a video comprising of two old and separate clashes between civilians and security forces in Kashmir.
The Indian government on August 5 abrogated Article 370 and revoked the special status of Jammu and Kashmir, following which the state has been in partial lockdown.
ALSO READ: Kashmir Under Lockdown: The Cost Of Making A Phone Call
Amid Tight Security and Eerie Calm: How Srinagar Celebrated Independence Day
The video, shared by PTI, is a montage of two protest scenes not from this year.
Viewed more than 43000 times at the time of writing this article, the video has been tweeted with text that says: "Curfews and media blackout cannot contain revolutions that emerge as a result of grave human rights violations. Yet Indian Govt continues to alienate Kashmir. Unarmed men, women, children being attacked by Indian Army. Inhumane! #Kashmir"
The archived tweet can be accessed here.
The video documents scenes of violent protest amid a standoff between stonepelters and security personnel.
The bulletin also has a ticker running below in Urdu, which roughly translates to, "After the call of the Hurriyat leaders' strike, the intensity of protesters has risen in occupied Kashmir."
Fact Check
Interestingly, a logo of JK News and a dateline of August 23, 2019 is mentioned in the bulletin, to imply that the video must have been shot recently. Furthermore, there is also a Facebook Live icon on the top left of the footage, that can be visible throughout the clip.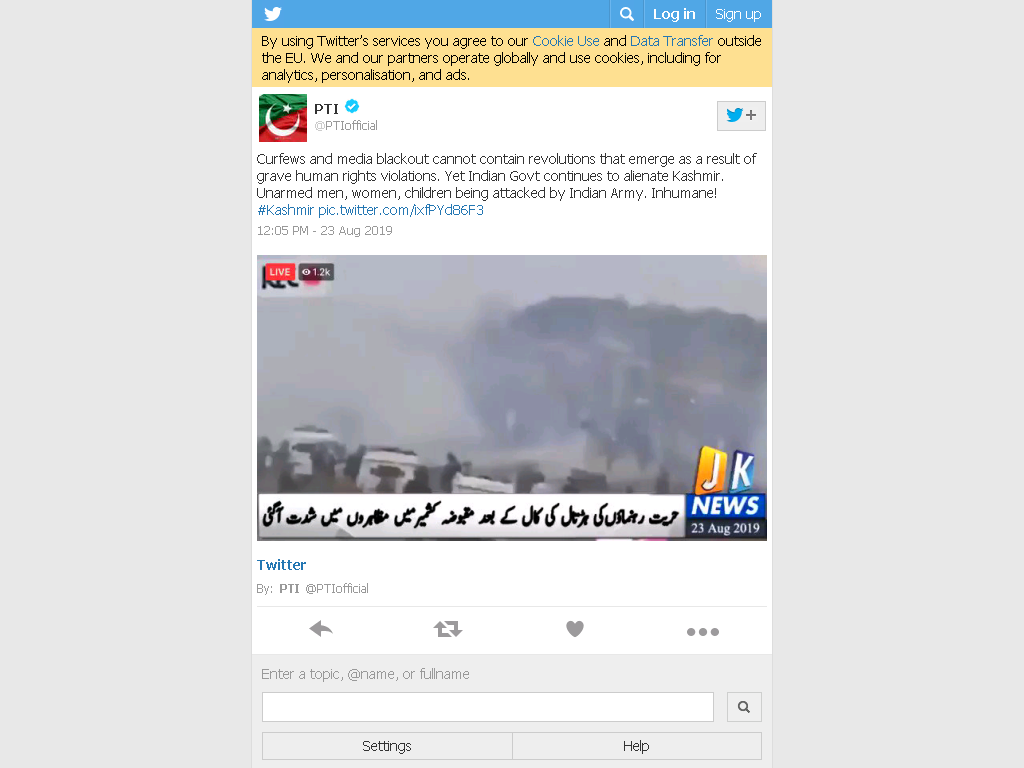 BOOM was able to ascertain that the premises of the two protests are different.
BOOM broke the video into its key frames and performed a keyword search for both the videos, which have been added together to compose a bulletin.
The first part of the bulletin from 0 to 1:29 second mark is the footage of heavy stone pelting that occurred in the HMT area of Srinagar in June 22, 2018. The same video was uploaded to YouTube in October last year.
Below is a frame comparison of the videos tweeted by PTI and YouTube video BOOM found.
The same video, shot from a different location, was uploaded by Rising Kashmir.
Clashes erupted in Srinagar's HMT area in June last year, after after Islamic State Jammu Kashmir (ISJK) chief Dawood Salafi was killed in a gunfight with forces in Srigufwara area of south Kashmir's Anantnag district.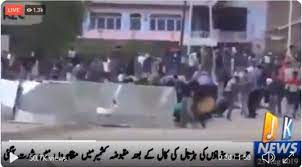 The later half of the video are visuals of stone pelting that occurred in Srinagar on July 2017, 'following the death of Kashmiri rebel Sajad Ahmed', reported the international news agency AP.
Police fired tear gases and pellet guns on people carrying the body of Sajad Ahmed.
BOOM also reached out to the admin of JK News Channel, the logo of which has been used in the video. The article will be updated as and when we get a response.
Since August 5, sporadic protests have taken place in Kashmir. While internet services remain suspended in Kashmir, images and videos of protest being shared online have often been old. BOOM has debunked various pieces of misinformation surrounding the same.
Do you always want to share the authentic news with your friends?
Subscribed Successfully...
Enter Valid Email Id