Fact Check
BJP IT Cell Head Amit Malviya Peddles 2017 Pic As Gandhis' 2008 China Visit
BOOM found that the photograph shared was from a food festival organised by the Chinese Embassy in New Delhi in 2017.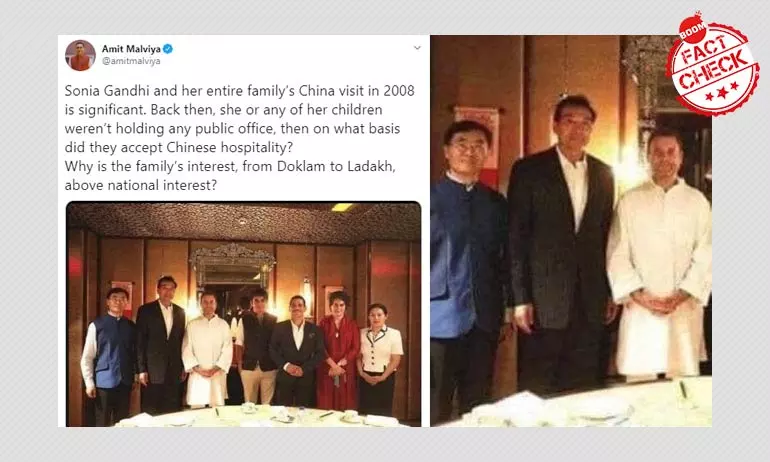 Bharatiya Janata Party (BJP) IT cell head Amit Malviya tried to pass off a photo from 2017 taken during a food festival organised by the Chinese Embassy in New Delhi and which was attended by several politicians including politicians from the BJP, as a photo showing Sonia and Rahul Gandhi's visit to China in 2008.
The image was tweeted in the backdrop of a major escalation of border tensions between the Indian and Chinese troops at the Line of Actual Control (LAC) in Galwan valley, Ladakh on June 15, 2020, resulting in the death of 20 Indian soldiers. Beijing has remained silent on the number of causalities it has incurred.

Also Read:Randeep Surjewala Peddles Old Clips Of India-China Clashes As Recent
The photo shows Rahul Gandhi, along with General Secretary of the All India Congress Committee in charge of Eastern Uttar Pradesh, Priyanka Gandhi Vadra, her husband Robert Vadra, and the then Chinese Ambassador to India Luo Zhaohui.

Sonia Gandhi and her entire family's China visit in 2008 is significant. Back then, she or any of her children weren't holding any public office, then on what basis did they accept Chinese hospitality?
Why is the family's interest, from Doklam to Ladakh, above national interest? pic.twitter.com/kMGOYcnEis

— Amit Malviya (@amitmalviya) June 18, 2020
Click here to view an archive.
Photograph from 2017 in New Delhi
A reverse image search using Google Images showed that the photograph tweeted by Amit Malviya is from April 2017 and was taken at Delhi's Hotel Taj Palace.
The search results showed that the photograph is present on the Chinese Embassy website which posted it on April 21, 2017.
The description states that the Chinese Embassy had extended an invitation to Rahul Gandhi, Priyanka Gandhi, and her family to attend the China Diaoyutai Food Festival.
The event was also attended by several politicians from other parties including BJP's Suresh Prabhu who was the then Minister of Railways, and was also attended by the General Secretary of Communist Party of India (Marxist) Sitaram Yechury, and Janata Dal United Chief General Secretary KC Tyagi.
Sonia Gandhi And Rahul Gandhi Visit To China in 2008
In August 2008, Congress party president Sonia Gandhi, along with then Congress general secretary Rahul Gandhi had signed an Memorandum of Understanding (MoU) with the Chinese Vice President in Beijing, IANS reported on August 8, 2008.
"The MoU, seeks to promote exchanges at various levels including youth organisations, was signed by Congress general secretary Rahul Gandhi and Wang Jia Rui, Minister in the international department of the CPC in the presence of Sonia Gandhi and Chinese Vice-President Xi Jinping at the Great Hall of the People,"Times of India reported on August 7, 2008.
According to TOI's article, Sonia Gandhi was in Beijing with her family for the Olympics inaugural ceremony. Gandhi also met with the then Chinese Vice-President Xi Jinping, with Rahul Gandhi who was also present at the meeting. The meeting was also reported by state-run TV channel CCTV.
BOOM has debunked misinformation shared by Amit Malviya in the past. (Click here, here)
Also Read: Names Of 56 Former PLA Generals Viral As Slain Chinese Soldiers
Claim :
Photo was taken during Sonia Gandhi and her family's China visit in 2008
Claimed By :
Amit Malviya
Do you always want to share the authentic news with your friends?
Subscribed Successfully...
Enter Valid Email Id