Fact Check
India Is Teeming With 'Cheapfakes', Deepfakes Could Make It Worse
Disinformation using videos in India so far have been clips of real incidents shared with a false narratives to drive home polarisation. Hyper-real deepfake videos could make it worse.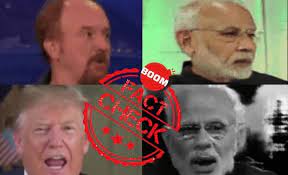 Hyper-realistic deepfake videos created using Artificial Intelligence (AI) could open the proverbial Pandora's box in India with its insatiable appetite for video where even real videos with fake narratives have been used to spread disinformation effectively.
While a recently created deepfake video of Mark Zuckerberg has reignited talk of an inevitable AI Armageddon, fact-checkers, researchers and technologists in India are nervously watching advancements in such technologies outpace efforts to detect it.
Deepfake pornographic videos with faces of female celebrities already exists in murky corners of the internet. An extension of the technology into journalism and thereby its impact on democracy is an ongoing debate globally.

But even before deepfakes or 'cheapfakes' - the latest fact-checking buzzword to describe doctored content created using rudimentary tech, India has shown that even cropping a video can lead to loss of lives.
In 2017 a public awareness ad about missing children in Pakistan was mischievously edited and projected as actual CCTV footage fueling rumours of child kidnappings in India. (Read more here, here and here)
"India is already in a very dangerous place with respect to fake news because of the explosion of video, coupled with our internet-user demographic" Prasanto K Roy, a technology and media analyst based in New Delhi told BOOM.
Roy estimates that out of approximately 550 million mobile-internet user in India, over 300 million are lower literacy and low digital literacy, who largely consume video, not text.
Cheap mobile data plans have created a 'video-first' market where many Indians are experiencing the internet for the first time through video.

In April, YouTube CEO Susan Wojcicki said India was the company's largest and fastest growing market. YouTube is estimated to have 265 million monthly active users in India.
"With video-only consumers, it's very easy to do fake news because you don't even have to sit down and write anything, " Prasanto Roy said.
"You just pick your narrative, which could be one community attacking another, and find videos to suit it," he added.
Disinformation using videos in India so far have been clips of real incidents shared with a false narratives to drive home polarisation.
In the run-up to the general election several videos of riots in Bangladesh were shared on Indian social media as Muslims rioting in West Bengal. (Read about it here and here)
Violent videos from different parts of India or abroad are often recycled. A 2015 video of a 16-year old girl beaten and burnt alive by a mob in Guatemala keeps resurfacing as a Hindu girl lynched.
A school in Gujarat has seen its reputation and admission rates plummet as its teachers have been falsely linked to horrific child abuse videos from elsewhere. (How Fake News Ruined A School In Gujarat)
Cheapfakes: Faking it was never this easy
While social media users in the United States have expressed outrage over a doctored video that made US House Speaker Nancy Pelosi appear drunk, India has already seen similar examples of cheapfakes.
Video courtesy: The Washington Post
In January this year, BOOM debunked a video that purported to show Delhi Chief Minister Arvind Kejriwal intoxicated and slurring.
As with the Pelosi video, the clip was slowed down to make the politician appear drunk.
(Read – No, Arvind Kejriwal Was Not Intoxicated And Slurring)

Deepfakes: Coming Soon To A Screen Near You
A dystopian future where deepfake videos featuring Indian politicians need not be imagined.
Silversparro Technologies, a Gurugram, Haryana-based tech startup with expertise in machine learning and deep learning, created a deepfake of Prime Minister Narendra Modi, earlier this year.
My teammate at @Silversparro Tonmoy experimented with creating #Deepfakes of our Prime Minister Mr. Modi.

Check out the blogpost here - https://t.co/i8esuQ9q6S

Pretty concerned about implications of this tech in the wrong hands.@AltNews @govindethiraj @boomlive_in pic.twitter.com/UqLohH5kqc

— Abhinav Kr. Gupta (@KrAbhinavGupta) February 25, 2019
Though the video is rudimentary it offers a glimpse of what can be achieved by those determined to make it work.
"The implications of deepfakes are worrying," Abhinav Kumar Gupta, CEO and founder of the Silversparro Technologies told BOOM.
The process involved creating a large data set of images of Modi with a similar background,to train the algorithm. Downloading and cleaning those images took about two weeks but running the algorithm which created the deepfake only took 3-4 days, he explained.
"It was really really easy. Someone might not even have to spend five thousand (rupees) to ten thousand on a cloud instance of AWS (Amazon Web Services) just to rent five to ten hours of GPU (graphics processing unit) on a cloud and then they can do it. "
Do you always want to share the authentic news with your friends?
Subscribed Successfully...
Enter Valid Email Id