Fact Check
Child Kidnapping Rumours In India Being Spread With Syria Image, Pak Video
WhatsApp messages using an edited video and unrelated image from Syria are being used to spread rumours about child kidnappings in India.
A mischievously edited video originally created to spread awareness about missing children in Karachi and an image of bodies of little children from a chemical attack in Syria in 2013 are being shared on WhatsApp and Facebook to fuel rumours about children being abducted in India.
BOOM came across a widely shared Facebook post which used both the video and the image.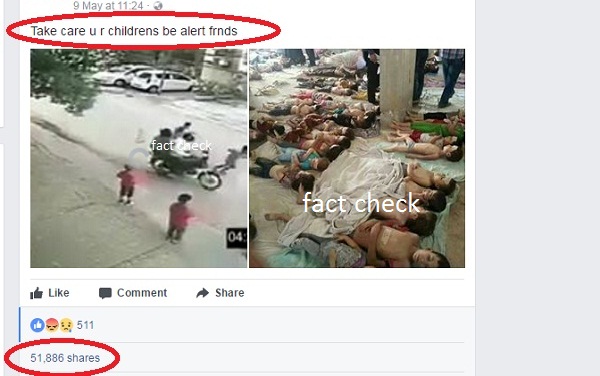 (Left: Video claiming to show the kidnapping of a child in India. Right: Image claiming to show bodies of little children laid out in rows in India)
The below video purports to show CCTV footage of two men on a motorcycle abducting a child in broad daylight and being chased by a group of children playing cricket at the scene.
[video type='youtube' id='WVmBZZn0vmM' height='365']
But BOOM found the entire video which shows the two men on the motorcycle returning to the spot, placing the child back and holding a sign that reads "It takes only a moment to kidnap a child from the streets of Karachi.
The video also contains text which states, 'Every Year, Over 3000 Children Go Missing In Karachi, Pakistan. Keep an eye on your child.'
Moreover, the video appears to be at least a year old and was meant to be a reconstruction of a kidnapping to spread awareness among parents about how easy it is to abduct an unsupervised child from streets of Karachi.
https://youtu.be/q5qdwyZJqzs
[video type='youtube' id='q5qdwyZJqzs' height='365']
An organisation named Roshni Helpline is mentioned in the video. Karachi-based Roshni Helpline was started for the protection of children and women from all forms of exploitation such as trafficking, abuse, sexual violence, according to its website.
At the time of publishing this story, an email to Roshni Helpline from BOOM went unanswered.
SYRIA CHEMICAL ATTACK 2013
This particular photograph shows victims of a chemical attack in Ghouta, Syria in August 2013. While the picture is true, the narratives created on social media of organ harvesting and child abductions plus killings is completely false. Nor is the image connected to India in any way.
Deadly nerve agent 'sarin' was used in an attack on the Ghouta agricultural belt around Damascus on the morning of August 21st 2013, BBC reported.
Graphic images from the attack showed dozens of bodies of adults, little children and babies without any visible external injuries laid out in rows in nearby areas.
(Warning: Some readers may find the below image distressing.)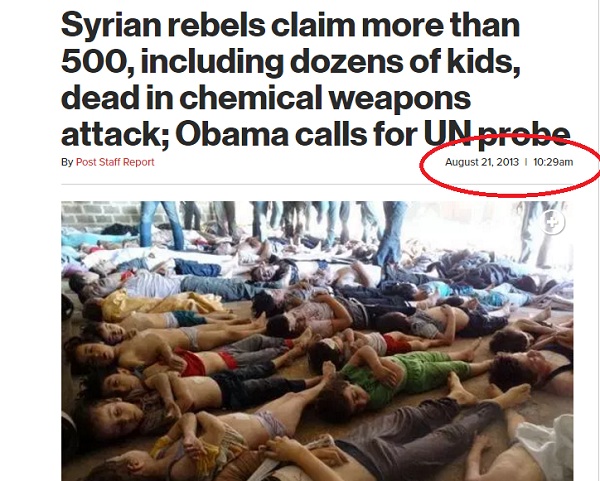 (Screenshot of a story by the New York Post in 2013)
Symptoms of those who inhaled the toxic gas included shortness of breath, disorientation, eye irritation, blurred vision, nausea, vomiting, weakness, pin pointed pupils and eventual loss of consciousness.
The final death toll and perpetrators of the attack have been disputed though many news agencies in the West have pinned the attack on forces linked to Syrian President Bashar al-Assad.
The disturbing photo went viral in late 2016 and early 2017 to spread a hoax about organ harvesting in Thailand and Malaysia. But fact checking website Snopes debunked the rumour in Dec 2016. (See Snopes' story here)
Gruesome images from Syria's six-year long bloody civil war, time and again have been maliciously repurposed on the Internet to spread hoaxes and fake news.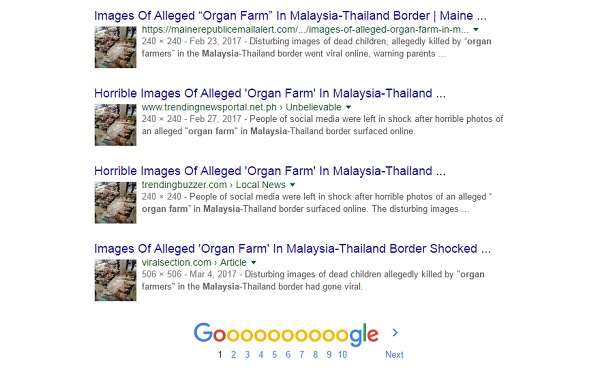 The image is now going viral in India with a variation of the message that the police in Chennai/Bangalore have discovered a cargo container filled with bodies of little children whose organs have been harvested.
A WhatsApp message warning people about child kidnappers is believed to have caused widespread panic and led to the lynching of seven men in Jharkhand on May 18, according to Indian news agencies.
BOOM has not seen the WhatsApp message that is believed to have incited mob violence in Jharkhand.
Sources:
United Nations document on Ghouta attack
Claim :
Children Being Abducted In India For Organ Harvesting
Claimed By :
Social Media
Do you always want to share the authentic news with your friends?
Subscribed Successfully...
Enter Valid Email Id