Did The Home Ministry Warn Against Buying Poisonous Chinese Firecrackers?
The message asks Indians to boycott the hazardous firecrackers as China will be flooding the Indian market with them on behalf of Pakistan in the run-up to the festive season.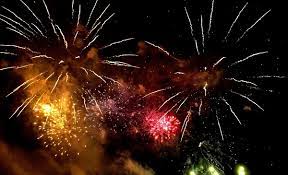 An old and fake message being circulated in the name of the Ministry of Home Affairs (MHA) proposing an official ban on supposed hazardous Chinese firecrackers has resurfaced.
The message claims that China is going to flood the Indian market with it during the festive season at the behest of Pakistan.
The message comes as India braces itself to enter peak festive season that will go on till December.
BOOM received the following message multiple times on its helpline (7700906111) and is also viral on Facebook.

The message is attributed to one Biswajeet Mukherjee, supposedly an officer at the MHA,
BOOM spoke to the media and communication department of the MHA who were unaware of such a notification. BOOM also looked up Mukherjee as a senior investigating officer, and found no mention of him in the directory of the MHA listing all their officers (Click here to view the directory)
On using keywords such as 'Biswajit Mukherjee fireworks', BOOM came across many articles by one Biswajit Mukherjee, who has commented on fireworks and pollution caused by them in various publications, with articles going back to 2009. (Click here, here and here)
Mukherjee is actually a former legal officer of the Pollution Control Board of West Bengal. BOOM contacted Mukherjee, who denied sending the message. He has written and given quotes on firecrackers and pollution, but none in the way seen in the message.
"I have sent many messages and letters on firecrackers, but this is not one of them," Biswajit Mukherjee told BOOM.
Additionally, instances of the same message have been found online, dated back to October 2017, which makes this an old forwarded message making a comeback ahead of the upcoming festive season this year.
BOOM used multiple extracts from the message in conjunction with time filters available on Google, and found that this message surfaced online as early as October 9, 2017, on a chat site called Chalanachithram. It appeared as a thread on social media website Reddit four days later.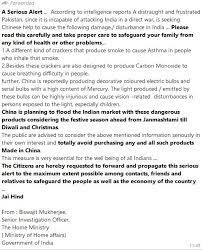 Claim Review :
China to dump hazardous fireworks in India at the behest of Pakistan
Claimed By :
Whatsapp and Facebook posts