154 Cases Of 'Fake News' Identified During Lok Sabha Polls, Says EC
A Lok Sabha reply drills down into the number of cases of fake news spotted by the Election Commission. The maximum number of cases were linked to Twitter, followed by Facebook and YouTube.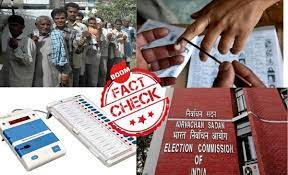 154 cases of fake news and false news were identified on social media by the Election Commission, during the election season, according to a reply filed in the Lok Sabha on July 24 by the Law Ministry. The reply by Law Minister Ravi Shankar Prasad also broke down the number of cases flagged to social media platforms - Facebook, Twitter and YouTube.
The maximum number of cases were linked to Twitter, with 97 cases, followed by Facebook at 46 cases and YouTube with the remaining 11.
This was a response to a query from Franscisco Sardinha, Lok Sabha MP from South Goa. Sardinha had sought details on the list of complaints against fake news that the Election Commission had received during the elections in April and May this year.
Notably, most of these cases are solely restricted to issues around the security, transporting and transparency of electoral voting machines (EVM), the indelible ink used during voting and of fake news around the voter rolls.
All of these cases were reported to the concerned social media platforms (Facebook, Google or Twitter).
Social Media Guidelines During The Election
In its press conference announcing the elections to the Lok Sabha on March 10, the EC had included social media under its Model Code of Conduct. The measures included pre-certifying social media handles and political verification processes being in place by Facebook and Google among other measures.
These guidelines were put in place to make social media more transparent ahead of the polls.
Also Read: India Goes To The Polls On April 11: All You Need To Know and 2019 Lok Sabha Elections: Do's And Don'ts Of The Model Code of Conduct
What Does The Data In The Reply Say?
Facebook
A total of 46 cases of fake and false news have been reported by the EC, all of which were escalated to Facebook.
No further details have been provided for the cases looked at, pertaining to Facebook, or for any of the platforms.
Twitter
A total of 97 cases of fake and false news have been reported by the EC, all of which were escalated to Twitter.
A First Information Report (FIR) was filed by the EC with respect to two cases intending to mislead a specific community. No details have been provided on action taken, or on which community was targeted.
Most cases related to misinformation regarding EVMs, similar to the trends reported to Facebook.
YouTube
11 cases were recognised by the EC on YouTube; cases that were escalated to Google.
Fact-checkers including BOOM have debunked a few stories in this regard, especially related to EVMs.
Also Read:
Deepfakes
Franscisco Sardinha also questioned the government on deepfakes, which are highly believable videos, altered audibly or visually through advanced tools.
The reply stated that no deepfakes had been bought to the notice of the EC as well.
Also read:India Is Teeming With 'Cheapfakes', Deepfakes Could Make It Worse
The Lok Sabha reply can be read here.