World
Photo From 2018 Police Training Exercise Given Hong Kong Protests Spin
The photo being shared was taken during a police training excercise in Taiwan.
A photo has been shared hundreds of times in multiple posts on Facebook alongside a claim it shows Taiwan police officers detaining a Hong Kong resident outside a train station in Taiwan. The posts were published during ongoing pro-democracy protests in Hong Kong. The claim is false; the photo has circulated online since at least February 2019, weeks before protests erupted in Hong Kong over a now-shelved extradition bill; Taipei police told AFP the photo was taken during a police training exercise at a train station in April 2018.
The photo was published here on Facebook on May 29, 2020 by the Hong Kong actor Lee Lik Chi.
It shows four police officers subduing a man, pressing him to the floor as one officer kneels on his neck.
The text overlay in the photo, written in traditional Chinese characters, translates to English as: "Taiwanese hak ging carried away a Hong Kong refugee at Taipei Main Station".
"Hak ging" can be translated to English as "rogue". It has been used by pro-democracy protesters in Hong Kong to denote police officers they deem to be corrupt, as reported here by AFP.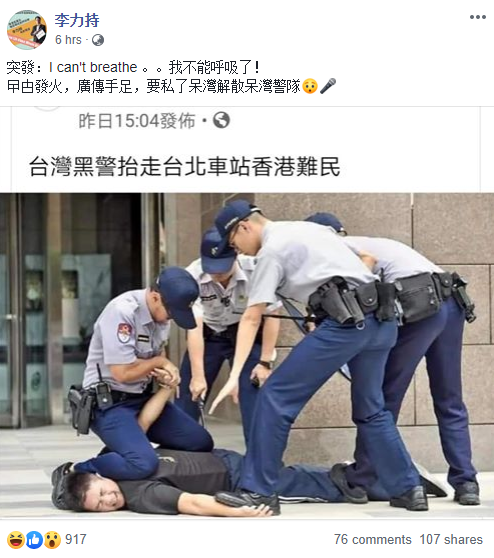 A screenshot taken on May 29, 2020, of the misleading Facebook post published by Lee Lik Chi
The post's caption, written in a mix of traditional Chinese and English characters, reads: "I can't breathe..I can't breathe! / cockroaches are furious, while spreading this to sau zuk to Taiwan and disbandment of Taiwan police force".
Also Read: Video Of Policeman Set On Fire In Mexico Passed Off As US Protests
"I can't breathe" is a reference to the death of George Floyd, a black man who died in police custody in the US state of Minnesota on May 25, 2020. Police charged 44-year-old police officer Derek Chauvin with second-degree murder after he was filmed kneeling on Floyd's neck for almost nine minutes before he was taken to hospital and subsequently pronounced dead. Video footage of Floyd's arrest shows him pleading for his life and complaining that he cannot breathe. His death has sparked nationwide protests in the US, as reported here by AFP.
"Cockroaches", and "sau zuk", Cantonese slang that translates to "hands and feet", are terms used by Hong Kong police and other pro-government groups to describe pro-democracy protesters in Hong Kong.
The continued unrest in Hong Kong has prompted many of its residents to consider moving to nearby democratic Taiwan, according to this AFP report.
The photo was also shared here and here on Facebook, alongside a similar claim.
The claim is false.
AFP found the same photo published in this report about a survey on the Taiwanese people's satisfaction with the police force by the Taiwanese newspaper Liberty Times, dated February 23, 2019.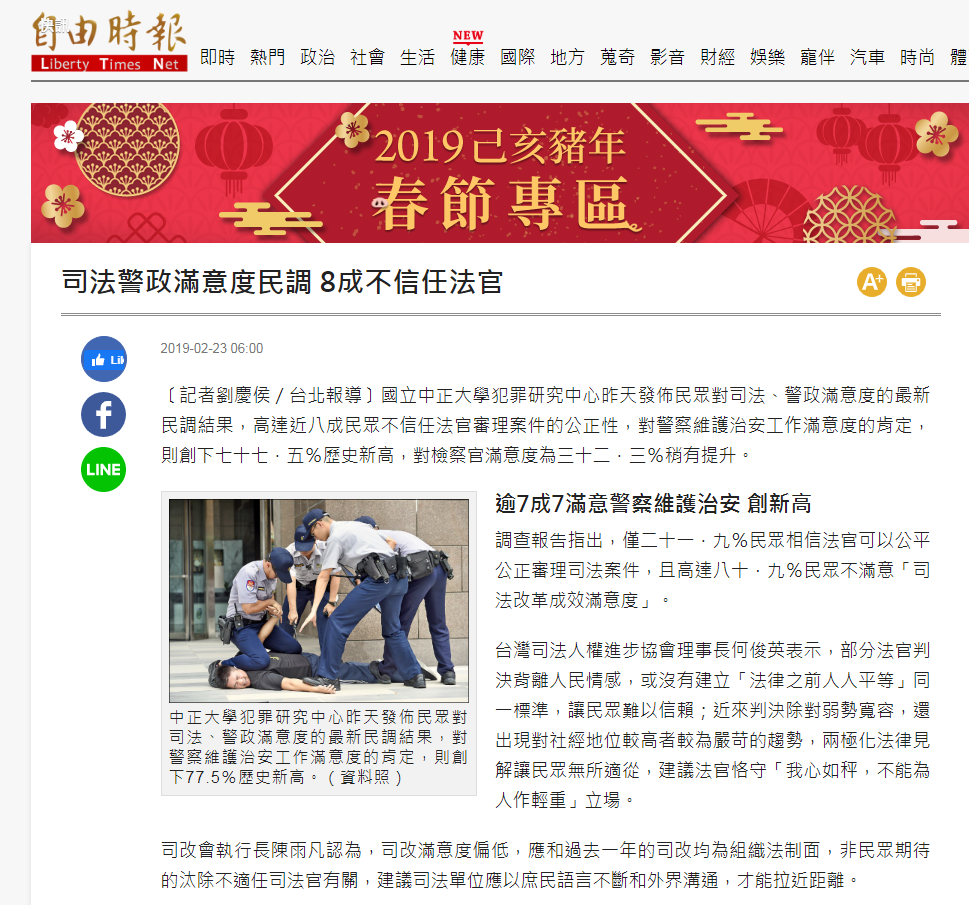 A screenshot of the photo published by Liberty Times Net
While the photo caption does not state the image shows a police training exercise, it states the image is a "file photo" that pre-dates February 2019. This indicates it was taken before the pro-democracy protests erupted in Hong Kong, which were prompted by the government's announcement of a contentious extradition bill on February 13, 2019.
Taipei City Police Department's Rapid Transit Division denied the claim in the misleading posts in a statement published here on its website on May 29, 2020, calling them "fake".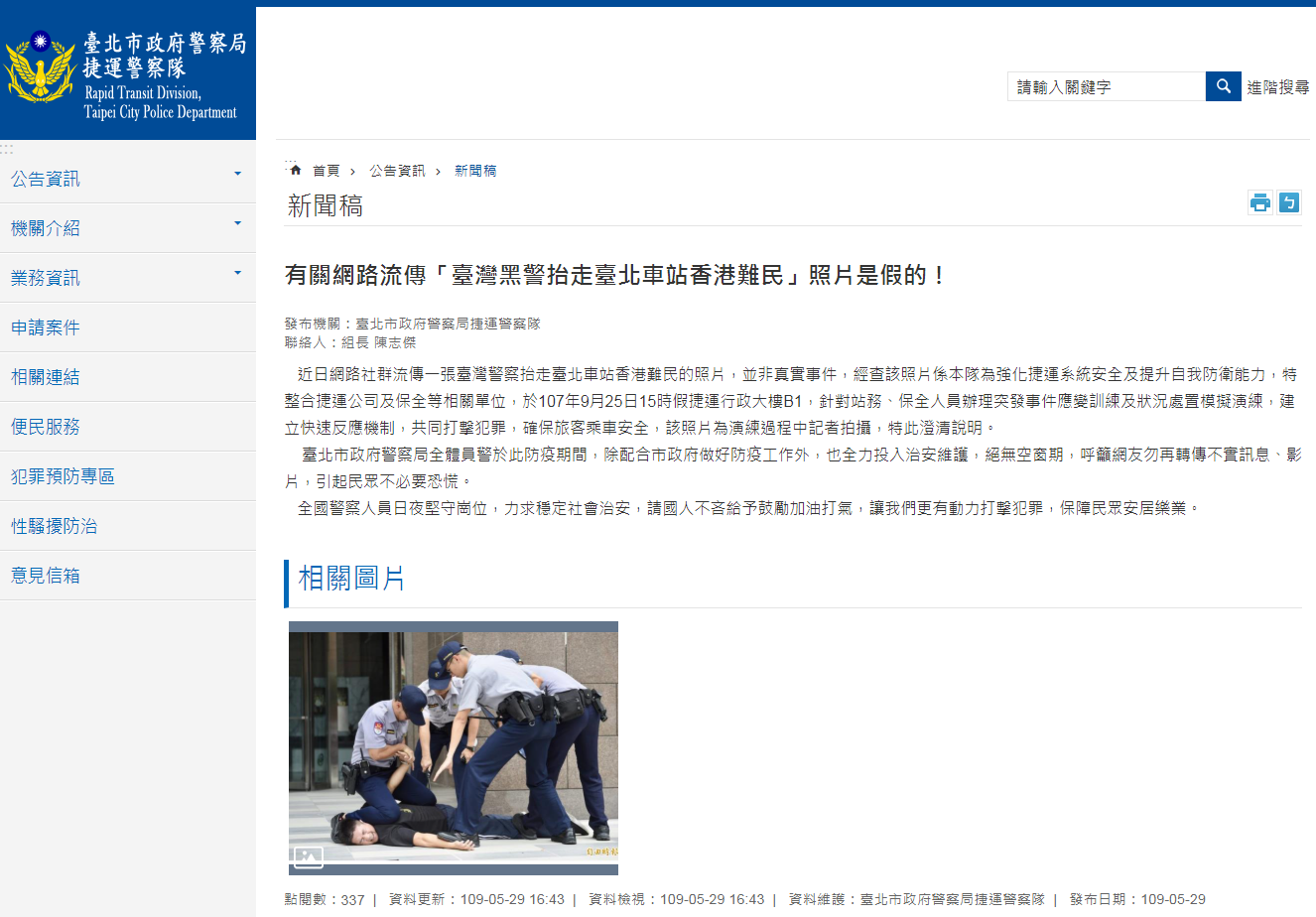 A screenshot of the statement issued by Taipei Police
The statement reads in part: "Recently, a photo of Taiwan police carying away a Hong Kong refugee from Taipei Main Station has circulated online, which doesn't show a real incident.
"The photo actually shows when our division...conducted emergency response training and situation disposal simulation exercise for the station and security guards at 15:00 on September 25, 2018, on Floor B1 of the MRT administration building...This photo was taken during the exercise by a journalist."
In an email to AFP dated June 2, 2020, Sieh Bing Jheng, an officer of the Rapid Transit Division, said the photo had been shared "out of context", and directed AFP to the above press release.
Claim :
Taiwanese police officers detained a Hong Kong refugee at Taipei main station.
Claimed By :
Facebook posts
Do you always want to share the authentic news with your friends?
Subscribed Successfully...
Enter Valid Email Id