World
No, COVID-19 Testing Is Not Done To Implant Gates-Funded Microchips
The Gates foundation denied the claim, and experts say there is a medical reason for the way swabs are used when testing for the disease.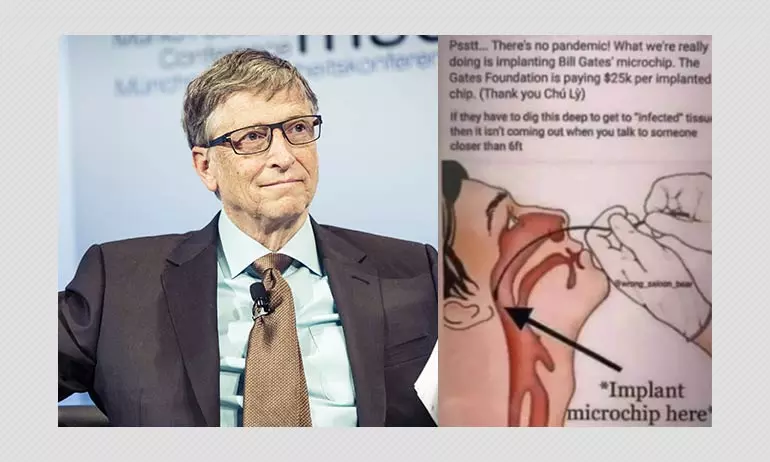 Facebook posts shared thousands of times claim the coronavirus pandemic is a cover for a Gates Foundation-funded effort to implant microchips when patients' noses or throats are swabbed during COVID-19 testing. This is false; the pandemic is real, the foundation denied the claim, and experts say there is a medical reason for the way swabs are used when testing for the disease.
"There's no pandemic! What we're really doing is implanting Bill Gates' microchip. The Gates Foundation is paying $25k per implanted chip," says a June 7, 2020 Facebook post that includes an image with an arrow labeled "Implant microchip here," pointing to the end of a swab that is being inserted into a person's nose.
The post also casts doubt on social distancing requirements, saying: "If they have to dig this deep to get to 'infected' tissue then it isn't coming out when you talk to someone closer than 6ft."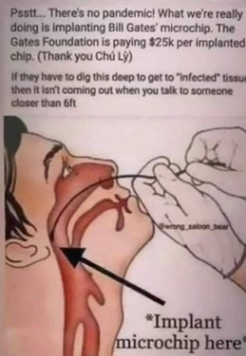 The same claim has been made elsewhere on Facebook, including here, here and here.
The pandemic, however, is real: more than 417,000 people worldwide have died from COVID-19 -- the disease caused by the virus -- since it emerged in China in late 2019.
Microsoft co-founder Bill Gates is a leading advocate for a COVID-19 vaccine, a stance that has made him a target of anti-vaccine campaigners and other groups who have implicated him in various conspiracy theories about the crisis.
The Bill & Melinda Gates Foundation -- which has committed more than $300 million to coronavirus response efforts -- dismissed the Facebook post, saying by email that "this claim is false."
COVID-19 testing
Experts say swabbing deep in the nose or throat when testing for COVID-19 is done to help ensure accurate results -- not to implant microchips.
"There have been some studies that show that since it is a lower respiratory infection, the closer to that area -- in other words, the deeper -- you can get the sample from, the more accurate the tests will be," Dr. Jason McKnight, assistant clinical professor in the Department of Primary Care and Population Health at Texas A&M University, told AFP by email.
"That's why the tests swab way up the nose or deep in the back of the throat."
The claim from the Facebook posts that the need for deep nose or throat swabs means the virus would not be transmitted if people ignore social distancing guidelines is not accurate, McKnight said.
"Whether you are talking, sneezing or coughing, the air originates from your lungs. If you are infected, and the virus is in the lower airways, that air is passing by all of those cells on its way out through your mouth or nose."
Also Read: Bill Gates Targeted By Conspiracy Theorists For COVID-19 Vaccine Push
Dr. Benjamin Neuman, an expert in coronaviruses who chairs the Biological Sciences department at Texas A&M University-Texarkana, said there are "three good reasons for swabbing deep in the nose or throat."
"The first is to get to the site where the virus may be," he told AFP by email.
The second has to do with patient comfort: an alternative to such swabs is "squeezing fluid down to each part of the lung and then pulling it back again," which "sounds quite uncomfortable."
And "the third is because although an anal swab or a test on feces seems to be more accurate than the nose or throat swab, people get a little squeamish about that sort of test, and would generally prefer the nose swab."
AFP Fact Check has debunked numerous inaccurate claims related to Gates, including that he said a COVID-19 vaccine could kill nearly a million people, a letter about the novel coronavirus falsely attributed to him, that the Gates Foundation tested a polio vaccine in India, leaving at least 490,000 children paralyzed, and a false warning about a "Bill Gates vaccine."

Claim :
COVID-19 testing is done to implant Bill Gates-funded microchips.
Claimed By :
Facebook posts
Do you always want to share the authentic news with your friends?
Subscribed Successfully...
Enter Valid Email Id