World
Did Bill Gates-backed Polio Vaccine Paralyse Children In India?
The post falsely claims that a polio vaccine backed by Bill Gates paralysed 490,000 children in India.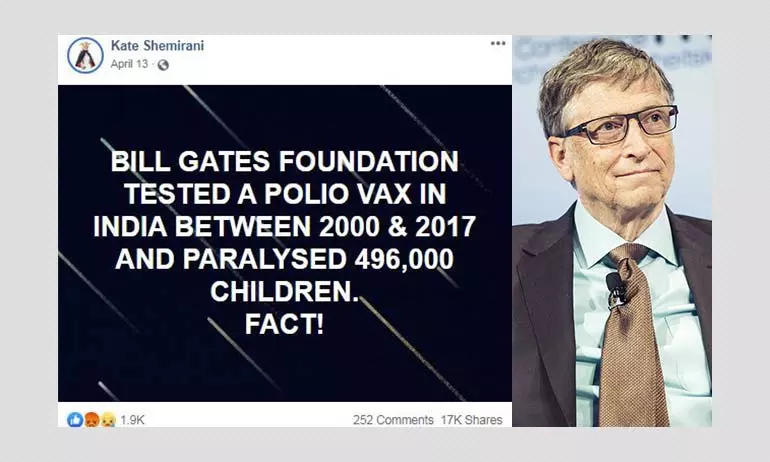 Social media posts and online articles shared tens of thousands of times claim that the foundation of billionaire philanthropist Bill Gates tested a polio vaccine in India that left at least 490,000 children paralyzed. The claim is misleading; official statistics show only a tiny number of cases in which the oral polio vaccine directly resulted in Indian children contracting the disease.
"Bill Gates foundation tested a polio vax in India between 2000 & 2017 and paralysed 496,000 children," an April 13, 2020 Facebook post claims.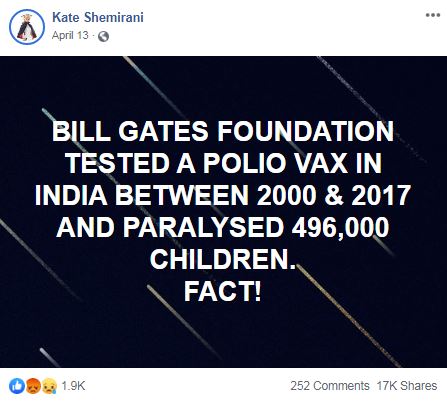 Screenshot taken on May 19, 2020 of a Facebook post
Similar posts -- some of which falsely claim the Bill and Melinda Gates Foundation was asked to leave India -- also circulated in April and May on Facebook here, here and here and on websites here and here.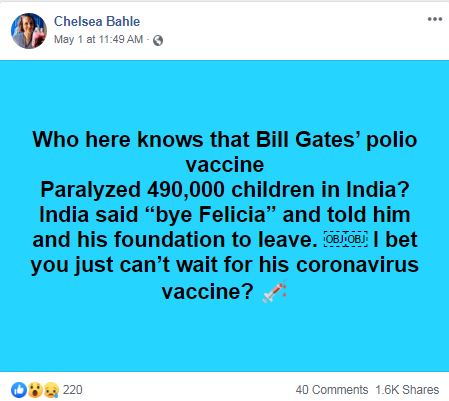 Screenshot taken on May 18, 2020 of a Facebook post
An April 21 post also falsely claimed that "Gates vaccines gave 496,000 Indian children polio."
ALSO READ: Does Australian $10 Note Feature Images Of Coronavirus & Bill Gates?
The claims come as Gates pushes for a vaccine for COVID-19, committing more than $300 million to novel coronavirus response efforts. His stance has made him a target of anti-vaccine campaigners and other groups, who have implicated him in conspiracy theories about the crisis.
The claims appear to trace back to one point made in a lengthy April 7 Instagram post by Robert F. Kennedy Jr., the nephew of former US president John F. Kennedy and a leader of the World Mercury Project, which advocates against mandatory vaccination.
He wrote: "Indian doctors blame the Gates campaign for a devastating vaccine-strain polio epidemic that paralyzed 496,000 children between 2000 and 2017."
His post was copied and reposted across Facebook, including here, here, here and here. The claim was also shared in Czech.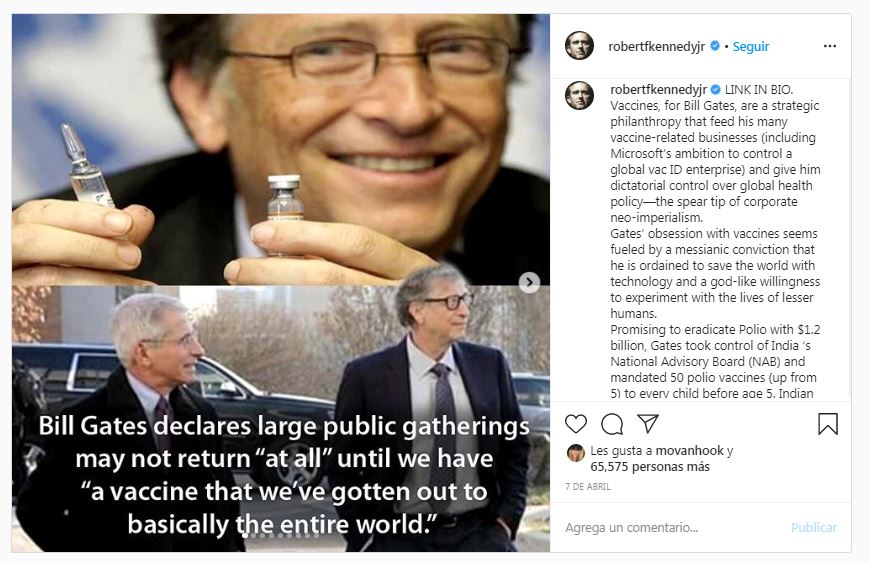 Screenshot taken on May 18, 2020 of an Instagram post by Robert F. Kennedy Jr.
India was officially declared polio-free in 2014 and there is no evidence that almost half a million Indian children were given polio or suffered from paralysis due to vaccine-derived polioviruses.
Can you get polio from a vaccine?
Vaccine-derived polioviruses (VDPVs) are strains of poliovirus that have genetically mutated from the strain contained in the oral polio vaccine, and are extremely rare. They can change into a form that can paralyze and is known as a circulating vaccine-derived poliovirus (cVDPV).
According to World Health Organization (WHO) data, there were 17 cVDPV cases recorded in India between 2000 and 2017.
By going to this link, selecting India and a given year, one is able to find the number of cVDPV cases listed by the WHO. It shows that cases were recorded in India only in 2009 and 2010, as seen in the screenshots below, in which cVDPV cases are marked in red.


Screenshots of World Health Organization data taken on May 12, 2020
Acute flaccid paralysis


An article written by Kennedy and published on April 15, 2020 makes a slightly different claim than his Instagram post, saying: "Indian doctors blame the Gates campaign for a devastating non-polio acute flaccid paralysis (NPAFP) epidemic that paralyzed 490,000 children beyond expected rates between 2000 and 2017."
Acute flaccid paralysis (AFP) resembles the floppy limb paralysis caused by polio, but is not caused by the poliovirus.
The article links to this 2018 study, which found a correlation between NPAFP and polio vaccination rounds conducted from 2000-2017. This was the period when India was carrying out a widespread vaccination campaign of children under the age of five.
WHO data show a sharp increase in the number of AFP cases in the years of the vaccination campaign. The numbers can be found in the second column of the WHO table, marked AFP.

Screenshot of a World Health Organization table taken on May 12, 2020
The study received criticism for its methodology, partly for including symptoms shown by children between ages five and 15, when the oral polio vaccine campaign focused on children under age five. The authors responded that they believed including the older children was merited.
Questioned about the allegations that the vaccinations it funded had caused paralysis in India, the Bill and Melinda Gates Foundation said in a May 11, 2020 email: "These claims are false."
"Polio is just one reason a child may develop AFP," it said, promoting the findings of this 2012 study.
Guillain-Barre Syndrome is a leading cause of AFP.
"Where polio has been eradicated, all cases of AFP should be due to causes other than polio," South Africa's National Institute for Communicable Diseases said.
The Gates Foundation in India
The Bill & Melinda Gates Foundation (BMGF) has supported anti-polio efforts in India through the Global Polio Eradication Initiative, a partnership that includes the WHO, Rotary International, the US Centers for Disease Control and Prevention, and UNICEF.
The claim that the foundation was kicked out of India is false.
In 2017, the Indian government said: "Some media reports have suggested that all health related collaboration with the Gates Foundation with National Health Mission (NHM) has been stopped. This is inaccurate and misleading. BMGF continues to collaborate and support the Ministry of Health and Family Welfare."
AFP Fact Check has debunked numerous claims circulating in multiple languages about the Microsoft co-founder, including a manipulated photo of the Gates Foundation building, a letter about the novel coronavirus falsely attributed to him, and a false warning about a "Bill Gates vaccine."
This claim was also fact-checked by Lead Stories and Politifact.
Claim :
A polio vaccine backed by Bill Gates paralysed 4,90,000 children in India.
Claimed By :
Facebook, NaturalNews.com, ThoughtCrimeRadio.net
Do you always want to share the authentic news with your friends?
Subscribed Successfully...
Enter Valid Email Id