Railway Minister Suresh Prabhu Under Fire: Copycat Tweets Urge Him To Stay
In social media wars, every tweet matters. Twitter was flooded with a string of identical tweets asking railway minister Suresh Prabhu to stay on.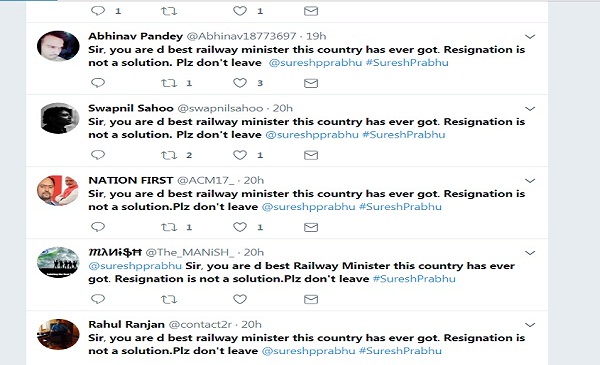 A series of identical tweets urging railway minister Suresh Prabhu to stay on emerged on Wednesday after the minister under fire for two major accidents in the span of four days said he had offered to quit taking full moral responsibility but that Prime Minister Narendra Modi had asked him to wait.
I met the Hon'ble Prime Minister @narendramodi taking full moral responsibility. Hon'ble PM has asked me to wait. (5/5)
— Suresh Prabhu (@sureshpprabhu) August 23, 2017
In a thread of five tweets, Prabhu said that he had dedicated his tenure to overcoming decades of neglect through systemic reforms leading to unprecedented investments in the railways.
In less than three years as Minister, I have devoted my blood and sweat for the betterment of the Railways (1/5)

— Suresh Prabhu (@sureshpprabhu) August 23, 2017
The opposition has raised its pitch demanding that the minister resign after the Kaifiyat Express derailed on the intervening night of August 22 and 23 in Auraiya district of Uttar Pradesh following closely on the heels of the Kalinga-Utkal Express that derailed in Muzaffarnagar on August 19.
But there were many on Twitter who stood firmly in support of Prabhu and asked the minister to stay on.
Sir, you are d best railway minister this country has ever got. Resignation is not a solution.Plz don't leave @sureshpprabhu #SureshPrabhu

— Pooja Singh 🇮🇳™©® (@pooja303singh) August 23, 2017
However, the same tweet including the short forms used in the sentence was copy pasted and tweeted several times. We found 19 posts that were identical. It is not clear whether these handles acted on their own or were instructed to do so.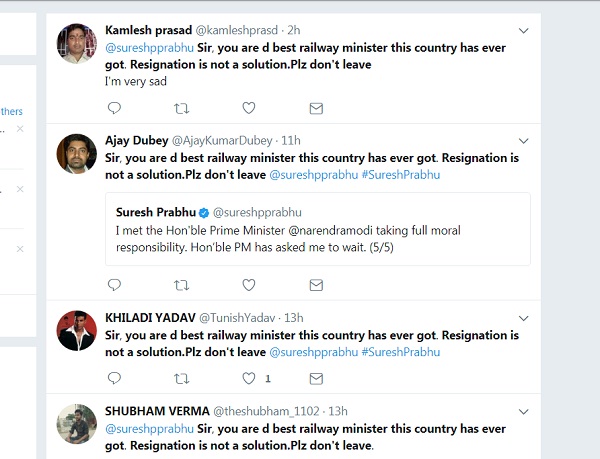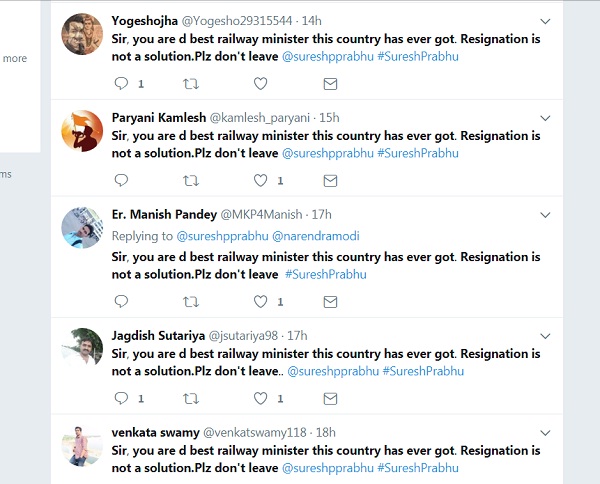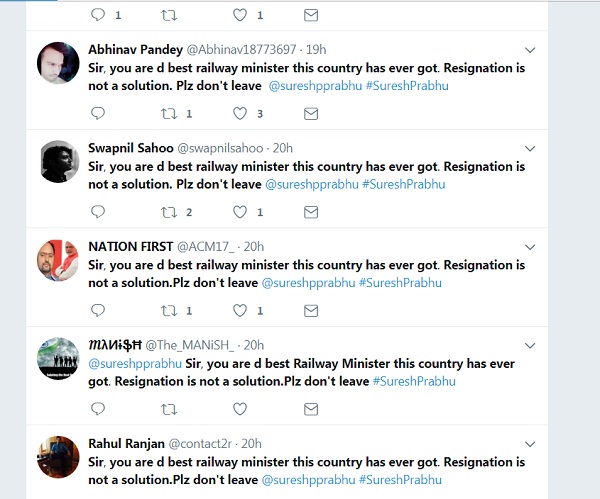 While this may seem spontaneous or a mere copycat tweet from enthusiastic supporters, organised social media campaigns either in support of a particular party or to attack the opposition are not new.
Also Read: How BJP And Congress Used A Picture Of A Potholed Road To Target Each Other
Also Read: Fake Troll Accounts Pop Up To Attack Suchitra Krishnamoorthi's Tweet On Azaan
Also Read: Fake Twitter Accounts Defend Rajasthan CM's Tweet About Zafar Khan's Death