Fake Troll Accounts Pop Up To Attack Suchitra Krishnamoorthi's Tweet On Azaan
A bunch of fake accounts spring up to troll Suchitra Krishnamoorthi's tweet on Azaan.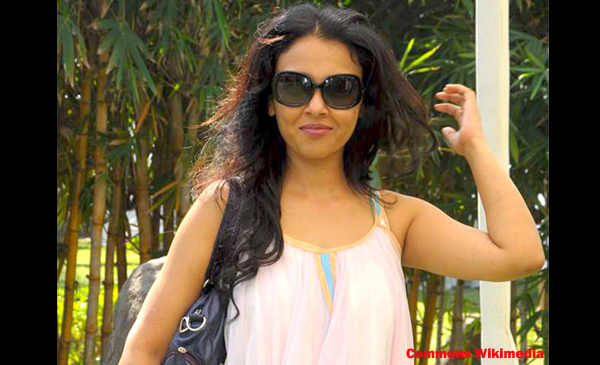 A slew of fake accounts appeared almost overnight to viciously troll singer and actress Suchitra Krishnamoorthi after she tweeted about a "ear shattering call of Azaan" on July 23rd.
In a déjà vu episode of singer Sonu Nigam's outburst against Azaan on Twitter in April, Krishnamoorthi's tweet (below) sparked a tweetstorm attracting thousands of comments either in support or condemnation.
came home at 4.45 am 2 most aggressive/ ear shattering call of azaan. Nothing more lowlife & dumb than such extreme imposed religiousity

— Suchitra (@suchitrak) July 23, 2017
But the comments soon crossed all lines of civility with a number of handles calling her a prostitute. Krishnamoorthi then decided to take screenshots and make a collage of the abusive replies she received. Many users tagged Mumbai Police who in turn promised to forward her complaint to the city's cyber cell.
Look at these perverts! Feel sorry for my India -with this kind of attitude towards women its no wonder we've become rape capital of d world pic.twitter.com/Hteg0IXRM8

— Suchitra (@suchitrak) July 25, 2017
Thank you for your prompt response. Yes i will complain at local station also 🙏 https://t.co/0n0gqyxbNK

— Suchitra (@suchitrak) July 26, 2017
Having written stories about organised trolling by fake accounts in the past, BOOM decided to investigate Krishnamoorthi's screenshot. It is important to state, that BOOM only looked at the accounts mentioned in Krishnamoorthi's screenshot and not every handle that replied to her original tweet.
In addition there were a few genuine accounts of Muslims within India and Pakistan who trolled Krishnamoorthi. BOOM does not know the identity of the individuals behind these fake account listed below.
Date of accounts created: @sayyadasad14 July 25. @AadilKh96317080 July 24. @Abuwaqar8 June 18, @HfshKamka June 2, @hathila_tahir Mar 7 (1/2) https://t.co/GSdePnZcTI

— BOOM FactCheck (@boomlive_in) July 26, 2017
@JKh41202332 - Account Suspended @Imran_PrinceMB - Sept 25, 2013 (2/2)

— BOOM FactCheck (@boomlive_in) July 26, 2017
BOOM found out that some of these handles with Muslim names were created as recently as this week. In some instances, the fake handles only had tweets trolling Krishnamoorthi and followed verified accounts rather than ordinary individuals.
While there is nothing suspicious about newly created Twitter handles, the fact that these individuals who do not seem to follow their friends or colleagues would launch brutally scathing attacks as their first few tweets raises suspicion.
The handle @sayyadasad14 was created on July 25th and has exactly two tweets trolling the singer. This account was subsequently suspended by Twitter.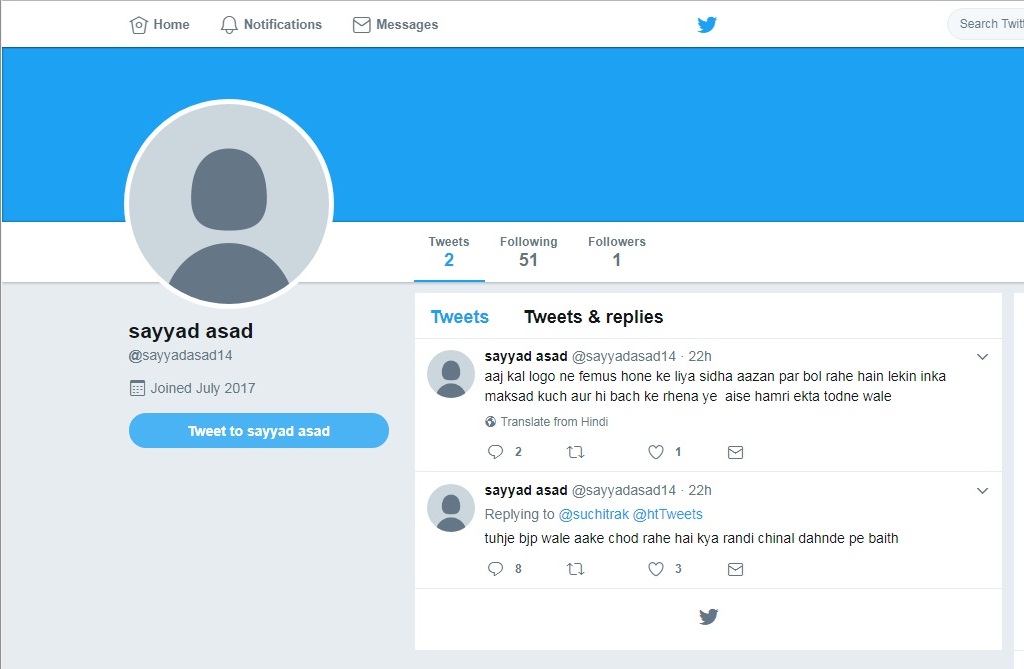 The handle @hathila_tahir was created on March 7th, 2017. The account has only three tweets. The second tweet attacked Sonu Nigam and went dormant but was revived to troll Suchitra Krishnamoorthi. The account was still active at the time of writing the story.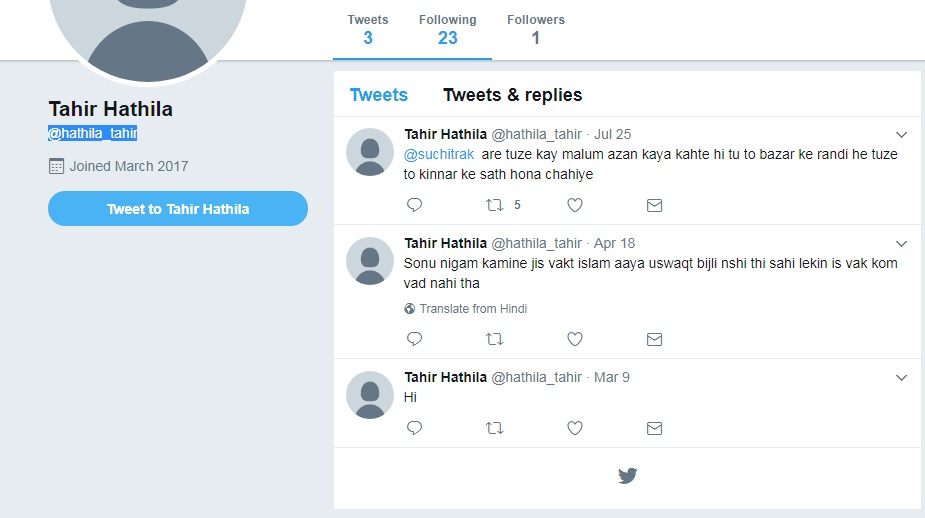 The account @AadilKh96317080 which has now been deleted was created on July 25th, three days after Krishnamoorthi's tweet. BOOM cannot conclusively say whether AadilKh96317080 is fake or not.