Fact Check
No, Priyanka Gandhi Vadra Did Not Laugh At Presser After Pulwama Attack
Cropped video of Priyanka Gandhi Vadra is being shared on Twitter with the claim that she's laughing at a press conference while addressing the death of CRPF jawans at Pulwama.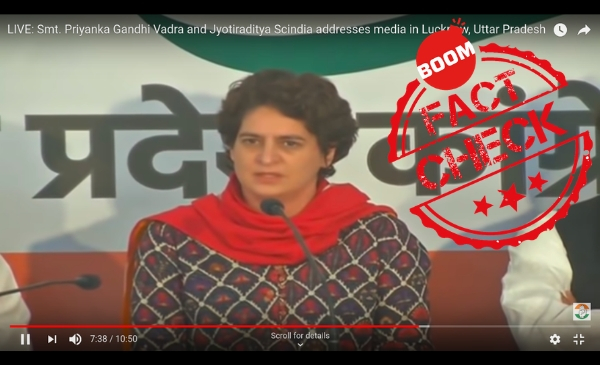 A video claiming Priyanka Gandhi Vadra laughed at a press conference while condoling the deaths of the soldiers killed in Pulwama is edited. The video has been cropped and slowed down to paint a false narrative.
On February 14, a convoy of paramilitary forces was attacked in Pulwama in Jammu and Kashmir, claiming lives of atleast 37 Central Reserve Police Force soldiers. The death toll is expected to cross 40.
Soon after this news, Twitter user Ankur Singh, posted a 11-second video with the caption, "Priyanka Vadra was laughing at press conference. Such vultures." Click here to view archived version of the tweet.
In the video tweeted by Singh, Gandhi is heard saying in Hindi, "बहुत बहुत धन्यवाद" (Thank you very much) while getting up to leave. Singh, who is followed by Prime Minister Narendra Modi and recently had his Twitter account suspended. Click here to view archived version of the tweet.
Both Singh and Pradhan are followed by Prime Minister Narendra Modi and have shared misinformation in the past too.
Also Read: No, Rahul Gandhi Is Not Posing With The Pulwama Attack Suicide Bomber
BOOM reviewed the complete footage of the press conference to check whether Gandhi smiled or laughed as claimed in the Twitter posts.
According to the video of the press conference, the Congress general secretary starts by explaining, "while the conference was called to discuss political matters, it would be inappropriate to discuss politics in the wake of an attack that martyred the CRPF jawans."
After calling for two minutes of silence to mourn the loss of lives yesterday, she adds, , "In this tragic moment, every person in this country is standing by you," while addressing the families of those who died in the attack.
At the counter 54 seconds in the video, Gandhi can be heard saying, " बहुत बहुत धन्यवाद" and then standing up for the two minute silence. This part starting from 54 seconds has been cropped with a misleading claim that Gandhi laughed was laughing at the press conference.
Watch the full version of the conference, as uploaded on Indian National Congress' Youtube channel, here.
Also Read: Video Of Mock Drill At Mumbai Supermarket Viral Claiming Terror Plot Foiled
Claim :
Priyanka Gandhi Vadra Is Laughing During Press Conference On Pulwama Attack
Do you always want to share the authentic news with your friends?
Subscribed Successfully...
Enter Valid Email Id