No, Gurmehar Kaur Was Not In Pakistan Post Pulwama Attack
Kaur, who is currently in the UK, tweeted to Pradhan saying she has never been to Pakistan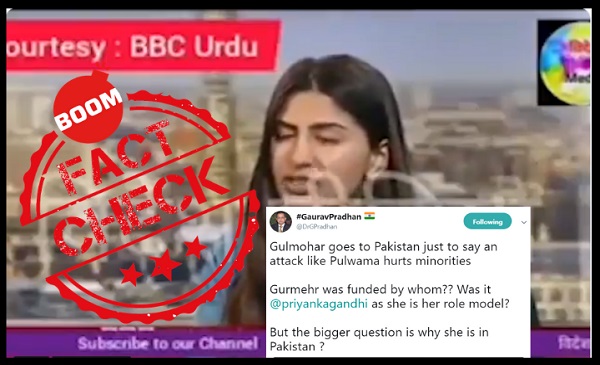 Twitter user Gaurav Pradhan has alleged that student activist Gurmehar Kaur was in Pakistan after the Pulwama terror attacks to speak about minorities and how such attacks hurt them. The tweet by Pradhan who has over 1.6 lakh followers has got more than 1300 retweets at the time of writing this story.
Accompanying his tweet with a portion of Kaur's interview with the BBC Urdu channel, Pradhan accused Kaur of being funded by the general secretary of the Indian National Congress and her 'role model', Priyanka Gandhi. At the end, he posed a question, "Why was she in Pakistan".
In the video, Kaur says that when such attacks happen, minorities are hurt, She further adds, "A lot of politicians bank on this polarisation when elections happen. I think as citizens, we should not lend a ear to them."
The archived link of the Tweet can be viewed here.
Fact Check
Kaur, who is currently in the UK, tweeted to Pradhan saying she has never been to Pakistan.
BOOM got in touch with Kaur, who clarified, "It is insane the kind of things being pushed (now). I am in London and the interview happened here in the BBC studios at their headquarters on February 15." Kaur also cleared the air about visiting Pakistan. "I have never been to Paksitan. I have no idea what he is talking about."
Watch the entire interview here.
Kaur is in the UK to deliver talks at the Oxford University and Kings College. She has faced a severe backlash ever since she started advocating peace between India and Pakistan. Kaur is known for her statement 'Pakistan did not kill my father, war did,' in reference to her father, Captain Mandeep Singh, who lost his life fighting terrorists in Jammu and Kashmir.  
This is not the first time Gaurav Pradhan has been caught peddling communal narratives and false information on Twitter. BOOM has fact checked several of his tweets in the past and have found them to false. Read here, here and here.
Claim Review :
Gurmehar Kaur visited Pakistan after Pulwama terror attack
Claimed By :
Gaurav Pradhan