Fact Check
Did The CPI(M) Vandalise Rajiv Gandhi's Statue In Tripura In 2008?: A FactCheck
As statues across the country become easy targets, a 2013 photo from Andhra Pradesh gets recycled as Tripura.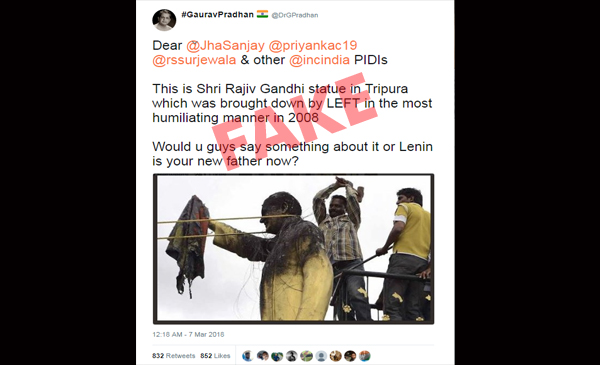 A 2013 photograph showing two men vandalise a statue of former Prime Minister Rajiv Gandhi in Andhra Pradesh is being shared on social media as vandalism by the Left in Tripura in 2008.
Barely days after the Bharatiya Janata Party (BJP) ended the CPI-M's 25 year rule in Tripura, videos and photos of a mob toppling a statue of Vladimir Ilyich Ulyanov, better known as Lenin, went viral on social media. Twittersphere has been divided whether it was right or not.
Several right-wing Twitter handles shared the image on Wednesday taking a dig at the Congress party and Indian liberals who have expressed their outrage. Below is a tweet by Gaurav Pradhan, who has been caught by BOOM and other factcheckers, in the past for his dubious tweets. (See here and here). The tweets also included Prafulla Ketkar, Editor of Organiser, the official mouthpiece of the RSS.
Dear @JhaSanjay @priyankac19 @rssurjewala & other @incindia PIDIs

This is Shri Rajiv Gandhi statue in Tripura which was brought down by LEFT in the most humiliating manner in 2008

Would u guys say something about it or Lenin is your new father now? pic.twitter.com/IcAIYIgNZd

— #GauravPradhan 🇮🇳 (@DrGPradhan) March 7, 2018
In 2008, the Commies brought down former PM Rajiv Gandhi's statue in Tripura with the inspiration of #Lenin, neither their intellectual voices nor @INCIndia had a problem with his. pic.twitter.com/P6nb7A3YkU

— prafulla ketkar (@prafullaketkar) March 7, 2018
BOOM did a Google Reverse Image Search, and found that the picture dates back to August, 2013.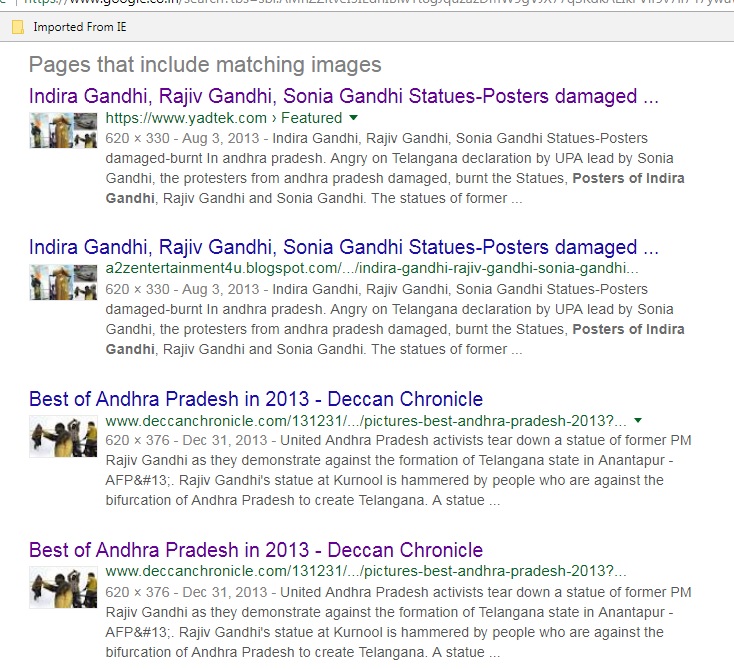 We also found an e-paper link of Deccan Chronicle from August 1, 2013 which reported that bronze statues of Rajiv Gandhi and Indira Gandhi were vandalised, toppled and torched in Anantapur. The state of Andhra Pradesh was gripped by large scale rioting and violence after the ruling-Congress party accepted the demand to carve out a separate state of Telangana. The Congress Working Committee announced its decision on Telangana on July 30, 2013 sparking violent protests by United Andhra Pradesh activists that targeted symbols of the Congress party.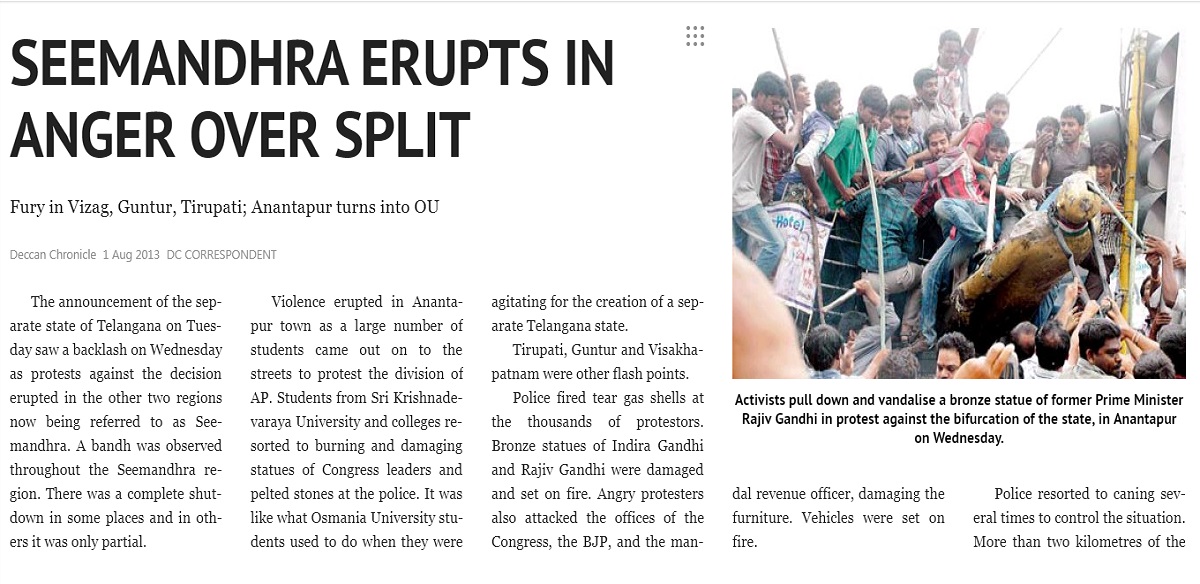 The photograph also features among Deccan Chronicles' wrap up of its most iconic photos of 2013. (Click here)

https://www.sharethefacts.co/share/0add1413-dc1a-4c9d-a146-284073ec9d4c
Do you always want to share the authentic news with your friends?
Subscribed Successfully...
Enter Valid Email Id