Law
Zee News, Times Now Coverage Not Objective Or Impartial: NBDSA
NBDSA observed that news coverage, debates aired by Zee News and Times Now were not objective and impartial.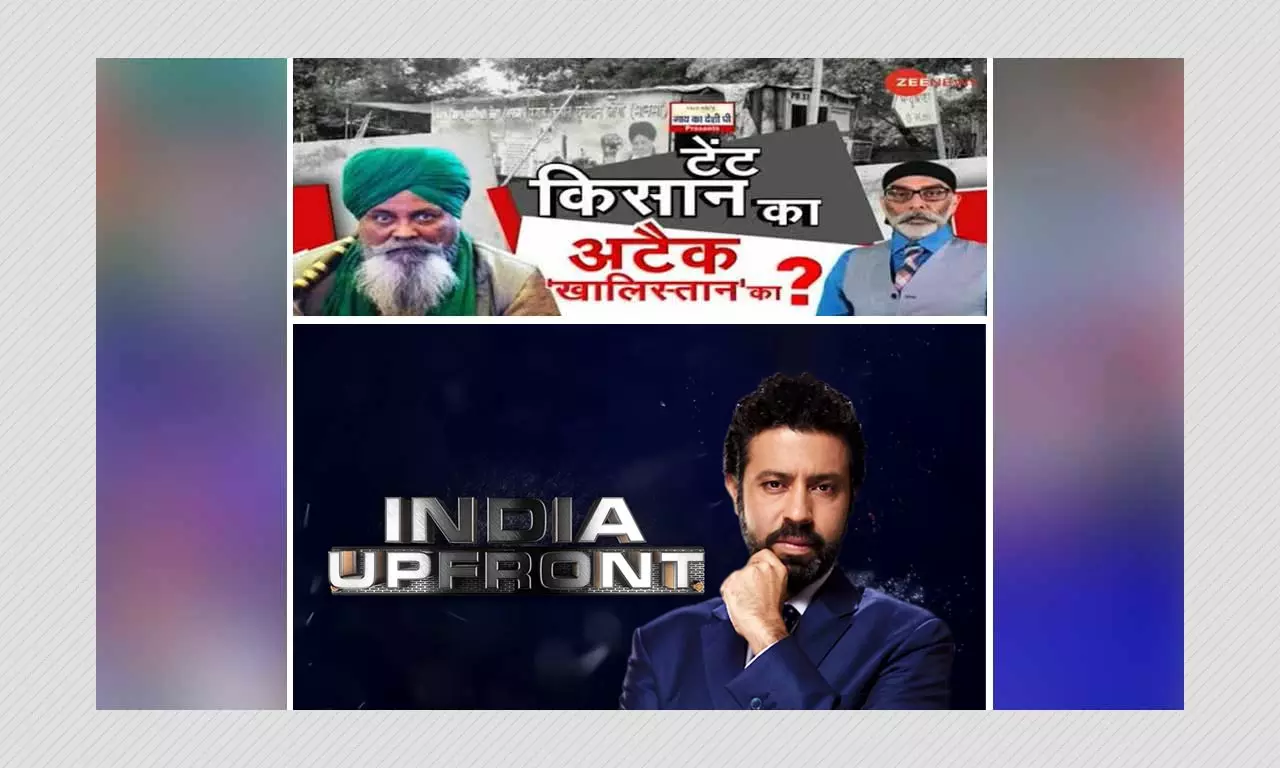 The News Broadcasting and Digital Standards Authority (NBDSA) on November 19 found that broadcast channels—Zee News and Times Now—violated the code of ethics while covering the farmers' protests and the February 2020 communal riots in Delhi respectively.

The association, headed by former Supreme Court judge AK Sikri, took cognizance of complaints filed by Indrajeet Ghorpade (against Zee News) and Utkarsh Mishra (against Times Now) and by two separate orders directed the two channels to immediately take down the relevant videos.
Ghorpade expressed his disappointment with the authority's order over its 10-month delay in giving its verdict. This delay itself makes the entire process and the slap on the wrist of no real significance, he said.
"Despite acknowledging that Zee violated various rules, NBDSA failed to order the channel to take real corrective measures such as telecasting a clarification or apology for the violations. Instead, NBDSA merely asked Zee to take the videos down from the internet. This does not undo the damage that Zee News caused and does not deter the channel from committing violations in future," Ghorpade told BOOM.
Also Read: Fake News On Farmers Protests Led By Old Images & Videos: BOOM Study
Zee News Coverage On Republic Day Violence Criticized
Justice Sikri, Chairperson of NBDSA, expressed his disapproval over the use of headline/taglines like "War against the Republic", "Civil War on Republic Day", "Tractor March or War" among others used during the broadcast of the Zee News programmes titled: "Taal Thok Ke: Khalistan Se Kab Saavdhan Hoga Kisaan?" (Taal Thok Ke: When will farmers be wary of Khalistan) and "Taal Thok Ke: Nahi Maane Kisaan Toh Kya Republic Day Par Hoga 'Gruha Yudh'?" (Taal Thok Ke: If farmers don't relent, will there be a 'civil war' on Republic Day?) telecast on January 19 and 21 earlier this year.

While considering Indrajeet Ghorpade's complaint, NBDSA observed that during the coverage of the Republic Day Violence at the Red Fort earlier this year, several news channels had wrongly identified the Nishan Sahib Flag (Khalsa Flag) as the National Flag.

In this regard, the NBDSA noted that broadcasters must exercise due care and caution while reporting any news pertaining to religious symbols or the national flag.

NBDSA's decision against ZEE News came on several complaints filed by Indrajeet Ghorpade against shows and live coverage of the Republic Day violence aired on January 19, 21, and 26 respectively.

In his complaint, Ghorpade had stated that the programs were "designed to create undue fear and distress amongst the viewers and erode public confidence in the capacity of national institutions meant to protect them."

Ghorpade added that Zee News used unverified videos of tractors sourced from social media and passed it off as belonging to the protesting farmers and were being readied for the January 26 tractor march.

In his complaint against the live coverage, Ghorpade said the anchor repeatedly stated that protesting farmers had removed and thrown the India's National Flag during the Republic Day violence at the Red Fort and hoisted the Khalsa flag in its place.

In response to these complaints, Zee News refuted allegations and stated that the panel discussions in question were fair and objective. The broadcast channel further submitted the allegations against them were false, motivated and based on misinterpretations of their programs.
Also Read: Times Now Airs FB Live Video As 'Secret Admission' By Activists On PFI
Times Now's Debates on Delhi Riots 'Not Impartial and Objective'

The NBDSA observed that news anchors of any program "should avoid pushing any agenda in the debate and conduct a debate in a fair manner". The authority's observation came on a complaint filed against Times Now for its Primetime Show 'India Upfront'.
The authority observed that the shows titled "Shocking Secret admission out in Umar's arrest, Does leave lobby know the truth Delhi riots key witness intimidated, threat linked to kingpin?" and "Delhi Riots: Plot to Kill Cops & Kaafirs Exposed: Peaceful Protest A Facade?" were not objective and impartial, thus violating fundamental broadcasting guidelines.

NBDSA further noted that while the broadcaster undoubtedly has a right to conduct a debate on any subject of its choice, however, the anchors of the impugned programmes did not conduct the debate in an impartial and objective manner…" Justice Sikri's order read.

The authority's order came on a complaint filed by Utkarsh Mishra who alleged that Times Now anchors Rahul Shivshanker and Padmaja Joshi did not cover the investigation of the 2020 communal riots in Dehli in a fact-based manner.

Mishra added that the anchors selectively filtered observations made by courts, the police, and other information pertaining to the anti-Citizenship Amendment Act (CAA) protestors in order to influence socio-political narratives, thereby developing hostilities against individuals with a different socio-political understanding of communalism and its agent.

The coverage was done to target a community critical of the Delhi Police's investigation and project them and their critique in a negative light, thereby unduly influencing a viewer. The coverage amounted to a sustained campaign to challenge a position…, the complaint added.
With respect to a show anchored by Joshi, Mishra complaint said that she "passed judgment on the strength of the witness testimonies, WhatsApp chats contexts, attempted to discredit the anti CAA protestors, by using sub judice issues as the bases for her accusations, thereby running a media trial to hinder one side of a controversial issue".
Times Now, however, rebutted the allegations calling them "unnecessary, frivolous and whimsical." The new channel claimed its constitutional right to free speech and said the news debate was disseminated in the public interest following relevant principles and guidelines.
Also Read: Zee News Report On Types Of Jihad, 'Divisive': NBSA
Do you always want to share the authentic news with your friends?
Subscribed Successfully...
Enter Valid Email Id