Fact Check
How Times Now Mislead Viewers On Howdy Modi And Other News You Almost Believed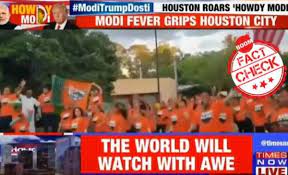 Times Now aired a five month old video of Non Residential Indians (NRIs) performing a dance sequence for Prime Minister Narendra Modi's re-election bid while claiming it to be part of the prep for the PM's 'Howdy Modi' rally scheduled to take place on the weekend. The clip run by Times Now did not include a 'file video/file footage' key during the broadcast to make clear that the video was old. Click here to find out more about this.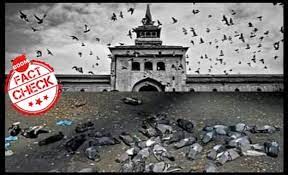 An eight-year-old image of dead pigeons clicked in England is being shared falsely as pigeons in Kashmir dying due to starvation. The image is being shared as a collage with a photo of the Jamia Masjid clicked in 2012. BOOM found that both the images have been taken from image hosting site, Flickr. The image of the dead birds was uploaded on Flickr on July 2, 2011 by an England based photographer Craig Hannah who confirmed to BOOM that the photo was taken near Manchester, United Kingdom. Read a detailed story here. 
A two-year-old video of clashes between protesters and security personnel in Kashmir is being shared as reaction of Kashmiris following the abrogation of Article 370. BOOM noticed a watermark of Russian video news agency 'Ruptly' on the viral video. A Google search using the keywords, 'Ruptly Protests in Srinagar' showed results for a video uploaded on the agency's YouTube channel. The video was uploaded on May 15, 2017 with the title, 'India: Police and protesters in running battles during latest Srinagar protest.' Read the full story here.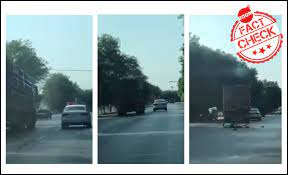 A disturbing video of a policeman being run over by a truck in China after a dangerous chase between the two vehicles is being shared online with false claims that it happened in India. The clip is viral with captions that suggest the horrific crime is a fallout of stricter penalties proposed for traffic violations under the recent Motor Vehicle Amendment Act 2019. Read the details about the video here.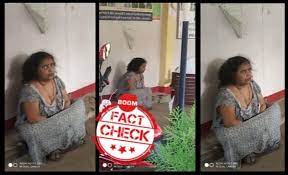 A series of five photos showing a woman sitting outside a police station is being shared on Facebook with a false claim that she is a child kidnapper caught in Bokaro, Jharkhand. BOOM got in touch with Bokaro police who explained that the woman was a not a child kidnapper. Bahaman Tuti, Deputy Superitendent of Police, Chas district said that the woman was suffering from a mental illness. Read more details here. 

Do you always want to share the authentic news with your friends?
Subscribed Successfully...
Enter Valid Email Id