Video Of Truck Running Over A Cop In China Shared As India
BOOM found that the incident happened in the Hebei province of China when a reckless truck driver ran over a policeman who was chasing him.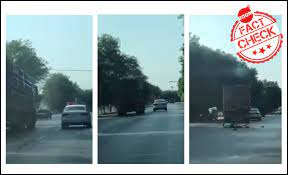 A disturbing video of a policeman being run over by a truck in China after a dangerous chase between the two vehicles is being shared online with false claims that it happened in India.
The 1 minute 15 seconds long video shows a police vehicle chase a truck in a bid to stop it. The vehicles keep moving back and forth in the chase. The police van finally manages to intercept the truck and bring it to a halt briefly. However, when the police officer steps out of the vehicle to apprehend the driver he is run over.
The clip is going viral with captions that suggest the horrific crime is a fallout of stricter penalties proposed for traffic violations under the recent Motor Vehicle Amendment Act 2019.
The new provisions of the Motor Vehicles Amendment Act 2019 were notified by the Ministry of Road Transport and Highways last month and was implemented in many states from September 1. The revised Act has increased the penalties for traffic violations and erring drivers.
The viral clip has been captioned as: "The #IndianGovernment has made serious mistakes in the amendment in #MVAct2019, which have had unfortunate repercussions long after the decisions were taken. Feel so sorry for the cop who was crushed to death on road just to avoid the unfair chalaan obtruded by government."
DISTURBING CONTENT: VIEWERS DISCRETION ADVISED
Fact Check
BOOM ran a reverse image search on the key frames of the video and found that the incident happened in Hengshui City, of Hebei Province in China earlier this year.
The same video was uploaded to YouTube on May 31, 2019.
Multiple local news reports from China said that the incident occurred in Shenzhou, Hengshui City (China) on May 30 when the truck was being chased by the cops for reckless driving.
According to reports, "Officer Guo Sai and his partner had tried to flag down the suspect surnamed Bai for a routine traffic inspection in the city of Shenzhou, which is in Hengshui City in North China's Hebei Province. However, Bai refused to stop his heavy goods vehicle, forcing the officers to chase them through the city."
The police officials were directed to intercept the vehicle and stop it, when it ran over an official. The driver then tried to flee the crime scene, but was later caught.
The Traffic Police Detachment of the Shenzhen Public Security Bureau was quoted as saying that the police officer was in stable condition, while details of his injuries have not been disclosed.
Claim Review :
Truck Driver running over a cop in India after Motor Vehicles Act revised
Claimed By :
Twitter Users