Article 370 : 2017 Protests In Kashmir Shared As Recent
BOOM found that the protests happened in May 2017 outside a college in Srinagar, Kashmir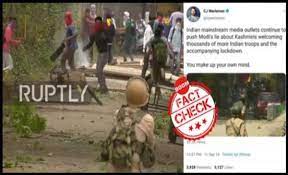 A two-year-old video of clashes between protesters and security personnel in Kashmir is being shared as reaction of Kashmiris following the abrogation of Article 370.
The 1.52 second video shows protesters pelting stones on Indian security forces and the forces firing at them.
The video is being shared on WhatsApp, Facebook and Twitter with the caption, "Indian mainstream media outlets continue to push Modi's lie about Kashmiris welcoming thousands of more Indian troops and theaccompanying lockdown. The world is aware of the Indian Atrocities in #Kashmir"
Incidentally, the caption is the same as a tweet from independent journalist CJ Werleman who tweteed the video in September and soon deleted it. A screenshot of his tweet with the video is being shared on WhatsApp.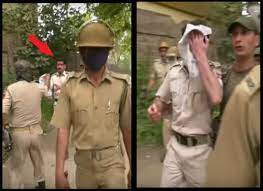 FACT-CHECK
BOOM noticed a watermark of Russan video news agency 'Ruptly' on the viral video. A Google search using the keywords, 'Ruptly Protests in Srinagar' showed results for a video uploaded on the agency's YouTube channel.
The video was uploaded on May 15, 2017 with the title, 'India: Police and protesters in running battles during latest Srinagar protest' and the caption, ' Clashes broke out between police and protesters outside a college campus in Srinagar, Kashmir, Monday. Police used tear gas, stun grenades and rubber bullets to repel protesters, who in turn retaliated with volleys of rocks and canisters that were originally fired by the police.'

Using the information in the description of the Ruptly video, we ran a specific keyword search on Google for 'Protests outside college Srinagar' and found results for 2017 about protests outside SP College, Srinagar.
According to a report in Greater Kashmir, a leading daily from the region, 'Students of SP College Srinagar on Monday staged protests against the arrest of students by police over past weeks. As soon as the protests erupted, police reached the spot and tried to pacify the students. Witnesses said the students tried to march towards the MA Road, however the police resorted to tear gas shelling to prevent the protesting students from marching into the streets, triggering clashes.'
BOOM further noticed that in the video, at 20 seconds a police officer can be seen being rushed away from the spot after sustaining injuries. The officer is seen holding a handkerchief to his forehead.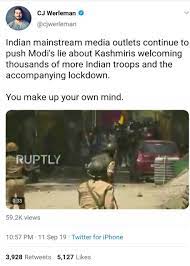 The same incident was reported by several media outlets. Mumbai Mirror, published a story about the clashes on May 17, 2017 with the headline, 'Kashmir: Cop injured as students clash with police at Srinagar, Magam' and quoted the police as saying, "a senior police official was injured during the clashes and was shifted to the hospital for treatment'.
The same reported by Greater Kashmir which said, "During the clashes, Station House Officer (SHO) Kralkhud Police station was hit by a stone in his head and he was hospitalized."
Claim Review :
Video shows recent protests in Kashmir against Indian security forces
Claimed By :
Facebook posts