Fact Check
Video Of Kenyan Skit On COVID-19 Peddled With Rohingya Muslim Spin
BOOM found the clip is actually part of longer video created by a Kenyan comedian as a public service message about the COVID-19 crisis.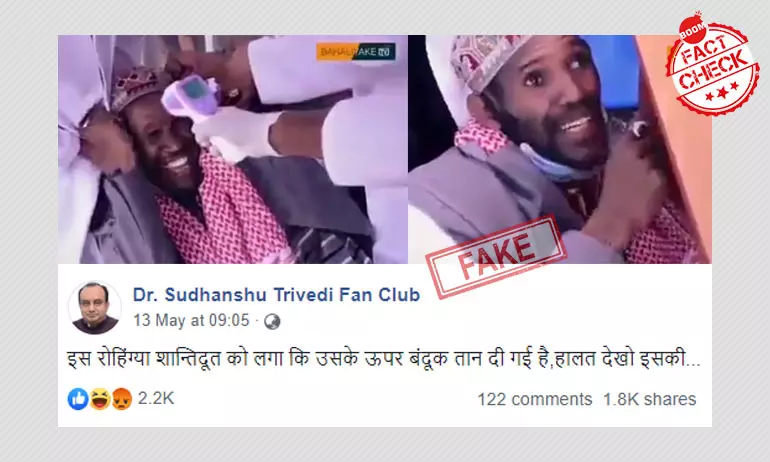 A video culled from a Kenyan skit- showing a man being terrified of a temperature screening device - is being shared on social media in India with a false caption targeting Rohingya Muslims.

BOOM found that the clip is part of a 7-minute-long video created by a Kenyan comedian as a public service message about the COVID-19 crisis.
The 30-second-long clip that is viral on social media shows a visibly frightened man hiding under the doctor's table when a temperature scanning device is pointed at his forehead.

The Hindi caption with the Facebook post reads 'This Rohingya peaceful thought a gun has been pulled at him. Just look at his condition'.
The word 'peaceful' is used as a sarcastic reference for Muslims in India on social media.

(Hindi: इस रोहिंग्या शान्तिदूत को लगा कि उसके ऊपर बंदूक तान दी गई है,हालत देखो इसकी )
Watch the video below and check its archived version here.
Also read No, 'Pakistan Zindabad' Was Not Chanted In Mumbai
The video has also been shared on multiple Facebook pages with a caption mocking the Muslim community. The caption reads 'Hahaha Miyaji (Muslim guy) mistook the thermal scanning machine for a cop's pistol'.
(Hindi: हाहाहा | थर्मल स्कैनिंग वाली मशीन को मियां जी ने समझा पुलिस की पिस्टल)
The same video was tweeted by Suresh Chavhanke, editor-in-chief of Sudarshan News, on May 14 with the same Hindi caption (as the Facebook post) . Chavhanke has been called out it the past for tweeting communally charged disinformation. Also Read: Sudarshan News Editor Makes False Claim Of Ramzan Gift Packs In Telangana
Fact Check

BOOM took a screenshot from the viral video and performed a reverse image search. We found the seven-minute long original video uploaded on YouTube on May 11 this year.
The video has been uploaded on YouTube channel Bahaliyake TV with a description in Swahili which translates to 'Bahali yake refused to be tested, in the end they forced him to take the test'.
(Swahili: Kiswahili Version : Bahali yake akataa kupimwa na mwishowe akalazimishwa)
Watch the full video below.
BOOM also contacted Africa Check, which confirmed that the video is indeed staged and not real. Africa Check confirmed that the man in the video is a Kenyan comedian who goes by the stage name of 'Bahali Yake Mwenyewe'.

In the video he plays the role of a clueless villager and has dressed up as a person from the Somali community. The video was created as a public awareness message about mass testing for COVID-19, the importance of wearing masks, sanitizing and maintaining social distancing.

BOOM also tracked Bahali yake's Facebook page and found his real name is Hussein Yussuf. The page describes him as 'An actor/comedian and a director who traces his roots from the great county of Isiolo. Big dream and ambition is to fly Isiolo County's flag higher'.
The actor had shared the YouTube link to the video on his Facebook page on May 11.
We also found an article published in Kenyan news and entertainment website TUKO featuring Bahali yake in February 2018. TUKO's official Twitter handle had also tweeted the link to the article.

Also read Video Of Robbery Shared As Migrants Attacking For Money In Delhi
Claim :
Video shows a Rohingya Muslim man mistook a temperature screening device for a gun
Claimed By :
Social media
Do you always want to share the authentic news with your friends?
Subscribed Successfully...
Enter Valid Email Id