No, 'Pakistan Zindabad' Was Not Chanted In Mumbai
BOOM was able to find a video shot from another angle which proves supporters were chanting 'Sajid bhai Zindabad' and not 'Pakistan Zindabad'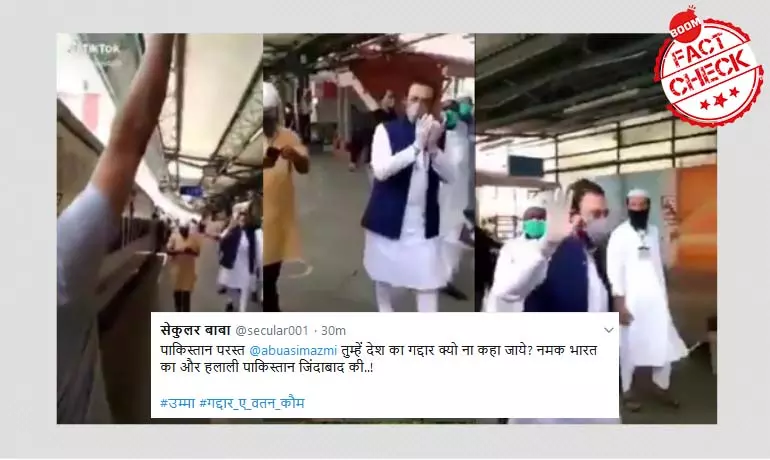 A video of Samajwadi Party (SP) supporters cheering for the local district president Sajid Siddiqui by saying "Sajid bhai zindabad" in Mumbai is being shared with false claims that Pakistan Zindabad slogans were raised. BOOM found another video which proves that the party supporters were raising 'Sajid bhai' zindabad slogans and also slogans praising Mumbai police and Abu Azmi, the Maharashtra president for SP.
The video from May 14, shows Azmi and other SP leaders and Mumbai police personnel flag off a shramik special train at Chhatrapati Shivaji Terminus station.

The video, viral on both Facebook and Twitter, has been captioned as, "Pakistan Zindabad slogans were raised in Mumbai. Pakistan Zindabad slogans were raised in front of minister Abu Azmi, who has been selected in the Thackeray government through SP party quota." (Original text in Hindi: #मुंबई में लगे #पाकिस्तान #जिंदाबाद के नारे... #ठाकरे सरकार में #सपा पार्टी के कोटे से मंत्री #अब्बू #आज़मी के सामने लगते रहे पाकिस्तान जिंदाबाद के नारे .)
Click here to view the archive of one such post.
After prime minister Narendra Modi announced a nationwide lockdown on March 24, several migrant workers were left stranded in the cities where they work. While many of them walked home, the government during the third phase of the lockdown, started special shramik trains to ferry migrant workers home.
The viral video was shot when Azmi visited CST station to see off one such shramik special train on May 14 that was travelling to Uttar Pradesh with migrant workers.
The video is viral on Twitter with many accusing Azmi of being silent when his supporters raised Pakistan Zindabad slogans in Maharashtra.
Click here to view the archive of the tweet.
आजादभारत मे वीर शिवाजी की धरती पर लगरहे पाकिस्तान जिंदाबाद के नारे? बालासाहब_ठाकरे जी हम शर्मिंदा हैं! सेकुलरिज्म और तुष्टिकरण सगे भाई हैं?
वडाला रेलवेस्टेशन पर SPनेता अबुआजमी के समर्थकों पर कथित पाकिस्तान ज़िंदाबाद के नारे लगाने का आरोप है.... pic.twitter.com/v1f6EfJpHx

— SAA.हो. शैर 🦁... (@Saaho_sher) May 17, 2020
BOOM also received the same video on its helpline number for verification.
Fact check

BOOM was able to ascertain that Pakistan Zindabad slogans were not raised at the CST railway platform. We were able to access the original TikTok video, which was uploaded by one Jabir Khan on May 15 on his TikTok account @jabirkhan406.
Click here for the archive of the video.
In the video one can hear slogans cheering Abu Asim Azmi, Mumbai Police and district president of the Samajwadi Party, Sajid Siqqidui. SP supporters can be heard chanting, "Abu Asim Azmi Zindabad, Mumbai Police Zindabad and Sajid bhai Zindabad," as leaders walk past them.
We further found another video that clearly shows the people who were cheering for the party leaders and Mumbai Police. This video shows a group of people raising cheering slogans for various people includng Abu Azmi and Mumbai police. Upon hearing this video closely, we found that the slogan raised was 'Sajid bhai zindabad' and not Pakistan Zindabad as is being claimed by the viral posts.
We were able to ascertain that the lip movement of those chanting matched the words, 'Sajid bhai Zindabad'
You can watch the video below:
BOOM reached out to Sajid Siddiqui, the South Central president of the party and for whom the slogans were being raised. Siddiqui rubbished claims that Pakistan Zindabad slogans were raised and said that SP supporters present at the scene were cheering for the party leaders and the team that had made the arrangements for safe travel of the migrant workers.
Siddiqui said, "The supporters of our party were cheering for the team who made arrangements for the migrants workers to go home during the lockdown. The video was shot on May 14, at the CST station, platform number 18." Calling the narrative of Pakistan zindabad slogans, "bizarre" he said, "There were several Mumbai Police officials present with us and they would have arrested and taken prompt action if pro-Pakistan slogans had been chanted."

The captions further misidentified the location as Wadala station instead of CST. Siddiqui clarified, "Long distance passenger trains do not leave from Wadala station. The location is CST.
We also reached out to Azmi who confirmed that Pakistan Zindabad slogans were not raised at the platform. Azmi in a tweet further urged netizens to not fall for fake news.
मेरे देश में मेरे सामने अगर कोई पाकिस्तान ज़िंदाबाद के नारे लगाएगा तो पुलिस से पहले उसे मैं सबक सिखाऊंगा

2014 से कुछ लोग हर चीज को हिन्दू मुसलमान का रंग देते है

मैं @MumbaiPolice से आग्रह करता हूं कि मेरे बारे में पाकिस्तान ज़िंदाबाद की अफवाह फैलाने वालों को तुरंत अरेस्ट करें। pic.twitter.com/KbiOPPCr24

— Abu Asim Azmi (@abuasimazmi) May 17, 2020
Claim :
Video shows SP members shouting Pakistan Zindabad slogans in Wadala station in the presence of leader Abu Asim Azmi
Claimed By :
Facebook and Twitter pages
If you value our work, we have an ask:
Our journalists work with TruthSeekers like you to publish fact-checks, explainers, ground reports and media literacy content. Much of this work involves using investigative methods and forensic tools. Our work is resource-intensive, and we rely on our readers to fund our work. Support us so we can continue our work of decluttering the information landscape.
BECOME A MEMBER