Fact Check
Photo Of Indira Gandhi Addressing Army Jawans At Galwan Valley? Not Quite
BOOM was able to geo-locate where the picture was taken and found that it was shot in Leh and not the Galwan Valley.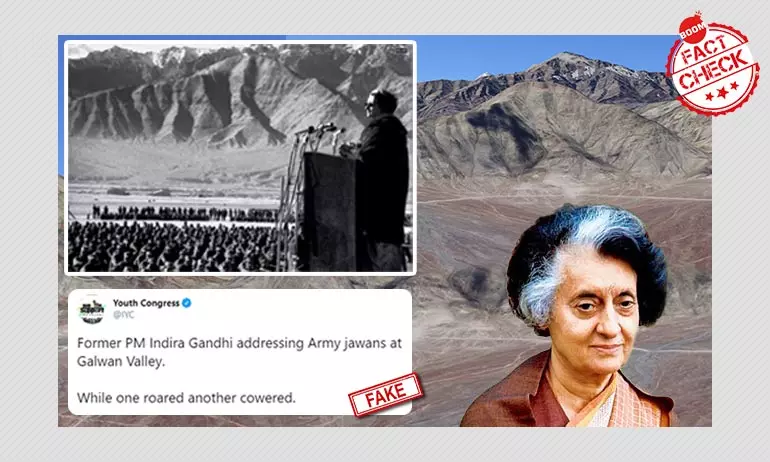 A photograph of former Prime Minister Indira Gandhi addressing Indian Armed Forces personnel in Leh is being shared on social media falsely claiming that picture was clicked at Galwan Valley in Ladakh, the focal point of the current India-China dispute.
BOOM accessed the same photograph in the archives of Press Trust of India's (PTI) website. The caption with the image states that it was clicked in Leh in 1971. DPR Defence has been credited for the image.
In addition, using we were able to geo-locate and corroborate that the image was indeed shot in Leh.

The black-and-white photograph is viral in the backdrop of the India-China clash that took place in Eastern Ladakh's Galwan valley on June 15-16. The fierce skirmish between the armies of the two countries left 20 Indian soldiers, including a commanding officer, dead. Beijing has been mum on the number deaths incurred by the People's Liberation Army.

Also read Video Of Injured BSF Jawans In Meghalaya Peddled As Galwan Valley Clash
The viral post shows the former prime minister speaking in front of troops rom a dais, against a backdrop of mountains.
A Hindi caption with the post reads 'this photo of Indira Gandhi addressing soldiers in Galwan valley shows that there was but one lioness this country has seen. The government is now in the hands of mice under whose reign China entered our border and killed 20 soldiers and the Prime Minister says no one had entered our borders. The 20 soldiers had died on their own'.

(Hindi: गलवान घाटी में जवानों को संबोधित करती इंदिरा गांधी का यह फ़ोटो दर्शाता है कि शेरनी तो देश मे एक ही थी। अब तो सरकार चूहों के हाथ मे है जिनके राज में चीन हमारी सीमा में घुस कर 20 जवानों को मार देता है और प्रधानमंत्री कहते हैं कि कोई सीमा में घुसा ही नही। 20 जवान तो अपने आप ही मर गए)
View the post below and check its archived version here, here and here.
गलवान घाटी में जवानों को संबोधित करती इंदिरा गांधी का यह फ़ोटो दर्शाता है कि शेरनी तो देश मे एक ही थी। अब तो सरकार चूहों...

Posted by Priya Joshi on Monday, 22 June 2020
Several verified Twitter handles, including that of UP Congress, Daman and Diu Congress Sevadal and Alka Lamba (quote-tweeted) have shared the same post with similar captions.
गलवान घाटी में जवानों को संबोधित करती इंदिरा गांधी का यह फ़ोटो दर्शाता है कि शेरनी तो देश मे एक ही थी। अब तो सरकार चूहों के हाथ मे है जिनके राज में चीन हमारी सीमा में घुस कर 20 जवानों को मार देता है और प्रधानमंत्री कहते हैं कि कोई सीमा में घुसा ही नही। 20 जवान तो अपने आप ही मर गए pic.twitter.com/zRH1VzkTd4

— Daman and Diu Congress Sevadal (@SevadalDD) June 22, 2020
गलवान घाटी में जवानों को संबोधित करती इंदिरा गांधी का यह फ़ोटो दर्शाता है कि शेरनी तो देश मे एक ही थी। अब तो सरकार चूहों के हाथ मे है जिनके राज में चीन हमारी सीमा में घुस कर 20 जवानों को मार देता है और प्रधानमंत्री कहते हैं कि कोई सीमा में घुसा ही नही। 20 जवान तो अपने आप ही मर गए pic.twitter.com/RvIjE9uE0G

— Vaibhav Walia (@vbwalia) June 22, 2020
The picture is viral on Facebook too.
Fact Check

BOOM did a reverse image search on the picture and found articles which carried the same image describing it as Indira Gandhi's interaction with soldiers in Leh.
We also found a tweet claiming that the picture is from Leh and it was clicked in 1971.
With all due respect. The source of this image is
Smt. Indira Gandhi addressing Jawans in Leh in 1971 and NOT Galwan Valley, Ladakh. [PTI Photo/ Courtesy DPR Defence]

Speaking as an Indira Gandhi fan- kindly don't spread wrong information. Thanks https://t.co/uhWZHq8xC8

— Rachit Seth (@rachitseth) June 21, 2020
BOOM then did a keyword search and found the same picture in the archives of Press Trust of India (PTI).
The caption with the picture reads 'RETRANSMISSION.....B - 204, DEL - 301086 - OCTOBER 30, 2009 - New Delhi: One of the rare pictures of former Prime Minister late Indira Gandhi addressing jawans in Leh in 1971, as the nation prepares to observe her 25th death anniversary. PTI Photo/ Courtesy DPR Defence'.
Also read Photo Of PM Narendra Modi Bowing To Xi Jinping Is Morphed
BOOM reached out a spokesperson of the Indian Army. The story will be updated if we receive a reply.

Geo Locating The Image

We decided to focus on the distinct mountains visible in the image along with other details that the photo was shot in Leh and at a Indian armed forces establishment. We narrowed down our search to the landscape around military establishments in Leh. Using Google Earth we were able to match the topography of the mountain range which confirms that the image was shot in Leh and not the Galwan Valley, which is over 200 km away in Eastern Ladakh, according to Google Maps.
(The article has been updated to include the geo-location verification of the image)

Claim :
Viral picture claims that former PM Indira Gandhi addressed army jawans at Galwan Valley
Claimed By :
Social media pages
Do you always want to share the authentic news with your friends?
Subscribed Successfully...
Enter Valid Email Id