Fact Check
Old Image Of Shah Rukh Khan With A Toddler Goes Viral With False Claim
The image is from Nanavati Hospital, Mumbai, where Shah Rukh Khan posed with a cancer patient during the inaugural ceremony of a department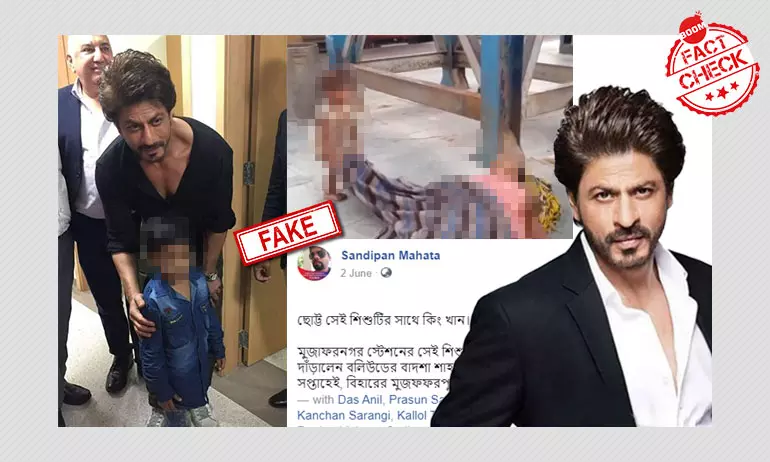 An old image of actor Shah Rukh Khan posing with a child at Mumbai's Nanavati Hospital has resurfaced with netizens misidentifying him as the son of the deceased Arvina Khatoon who lost her life onboard the Shramik special train to Muzaffarpur.
Shah Rukh Khan's NGO Meer Foundation came forward to support the toddler, after disturbing visuals of the latter trying to play with the shroud covering the corpse of his mother at the Muzaffarpur railway station went viral. On June 1, Meer Foundation announced that the organisation has taken responsibility of supporting the child, who is presently under his grandfather's care. The toddler's mother had reportedly died because of lack of food and water onboard the Shramik special train from Gujarat to Bihar.
Soon after, the image of the minor posing with Khan went viral with claims that he is Khatoon's son, whom the Bollywood actor has met and offered to help. Many misidentified the minor as Khatoon's elder son as well.
The caption with the viral Facebook posts, when translated to English, reads, "King Khan with that little child. The King of Bollywood, Shah Rukh Khan, showed support to this child from Muzaffarnagar station. Last week, at Muzaffarpur station in Bihar, a video caused stir in the whole country. Then the 'king' decided to take all the responsibility of the child."
(The original caption in Bengali: "ছোট্ট সেই শিশুটির সাথে কিং খান। মুজাফরনগর স্টেশনের সেই শিশুটির পাশে দাঁড়ালেন বলিউডের বাদশা শাহরুখ খান। গত সপ্তাহেই, বিহারের মুজফফরপুর স্টেশনের একটি ভিডিয়ো আলোড়ন ফেলে দিয়েছিল গোটা দেশে। এরপরই 'বাদশা' সিদ্ধান্ত নেন ওই, শিশুটির সমস্ত দায়-দায়িত্ব নেওয়ার৷")
Click here to view the archive of the post.
Below is a screenshot of the same.
2015 Video Of Yogi Criticising Shah Rukh Khan Revived With False Claim

Fact Check

BOOM ran a reverse image search and found that the image was uploaded on March 17, 2017, by the Shah Rukh Khan Universe Fan Club on Twitter with the caption, "PICS: King Khan interacting with people at Nanavati Hospital"
The tweet can be seen here. On March 17, 2017, Shah Rukh Khan visited the Nanavati Hospital in Mumbai to inaugurate the Bone Marrow Centre.

The image can also be seen here in an article titled, "IN PICS! Shah Rukh Khan Inaugurates The Bone Marrow Transplant Centre At Nanavati Hospital"
BOOM reached out to the hospital who identified the child in the image with Khan. The authorities further confirmed that he was a patient who was due for bone marrow transplant at Nanavati Hospital and was scheduled for a surgery. However, it is unclear if the child had a surgery later.
Claim :
Photo shows Shah Rukh Khan with kid who lost his mother in Muzaffarpur Railway station
Claimed By :
Facebook pages
Do you always want to share the authentic news with your friends?
Subscribed Successfully...
Enter Valid Email Id