Fact Check
Posts Call For Boycott Of Non-Existent Shah Rukh Khan Film On Tipu Sultan
BOOM found that the viral poster of Shah Rukh Khan as Tipu Sultan was created as fan art and is not a poster of an actual movie.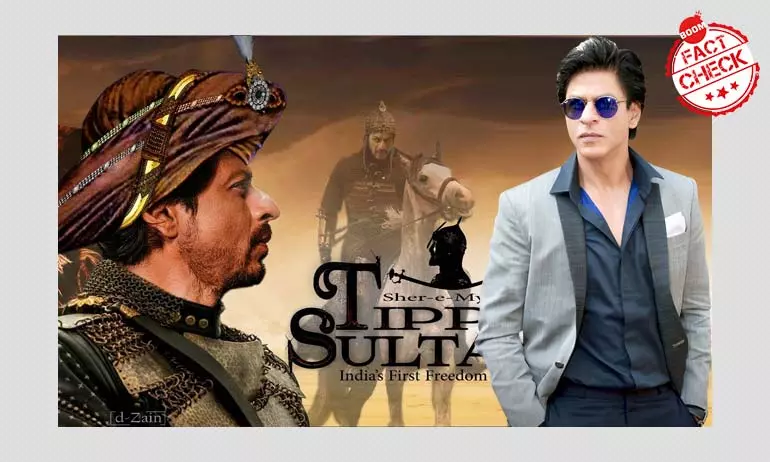 An image, created as fan art, showing Bollywood actor Shah Rukh Khan as the 18th century Mysore ruler Tipu Sultan, has been revived on social media with many calling for a boycott of a nonexistent film.

The artwork, which was created by a fan, is viral among netizens urging moviegoers to boycott a film that is supposedly titled 'Sher-e-Mysore: Tippu Sultan, India's First Freedom Fighter'. Tipu has been misspelt in the title.

BOOM found no unreleased film in the works about Tipu Sultan that starred Shah Rukh Khan.
The image has morphed the actor's face on to a head gear often associated with Tipu Sultan. It also shows Khan dressed in chain mail armour.

However, the image has ruffled feathers among the Hindutva right wing who have taken a dig at Khan for supposedly being picked to play the title role.
One such Facebook post, which has been shared more than 32,000 times at the time of writing this article, has a communal caption.

"Do you recognise? Must have heard the name Tipu Sultan? It's unfortunate that in India movies are made on those who plundered the country and they are depicted as great warriors. He who maimed lakhs of Hindus, desecrated thousands temples is today being portrayed as a hero in our country. The actor selected for the role has been carefully chosen as he has the same 'Jihadi' mentality. Now Hindus will buy tickets worth Rs 300-500 to watch the movie and the film industry will enjoy. The country is ours, the money is ours, atrocities were unleashed on us, we were tortured but the perpetrator of all the atrocities has become the hero of this country today. Wow, you bigoted Bollywood buffoons. Boycott, boycott, boycott. Raise your voice for togetherness." - Translated text of the Facebook post.

Below is a screenshot with the original caption from the post. (archive)
The poster is also viral on Twitter with a similar narrative. Click here to view the archive of the tweet.
FACT CHECK

BOOM found that the image was created by a fan and does not represent a commonly released film poster, as it has no credits and cast mentioned.
The original poster was uploaded to YouTube as a thumbnail to a fan-made trailer. The trailer, titled 'Tipu Sultan Trailer Shah Rukh Khan New movie', was uploaded to YouTube in September, 2018. The footage, which was made compiling shots from historical films, features the morphed images of Khan wearing head gears.
A disclaimer at the beginning of the trailer rules out any speculation of Khan playing Tipu Sultan on screen.
Watch the video below.

Claim :
Image shows Shah Rukh Khan To Play Tipu Sultan In Upcoming Film
Claimed By :
Facebook posts
Do you always want to share the authentic news with your friends?
Subscribed Successfully...
Enter Valid Email Id