No, PM Modi Did Not Say 1 Cr COVID Patients Have Been Treated For Free
BOOM found out that the prime minister was talking about the total number of Ayushman Bharat beneficiaries and not COVID-19 patients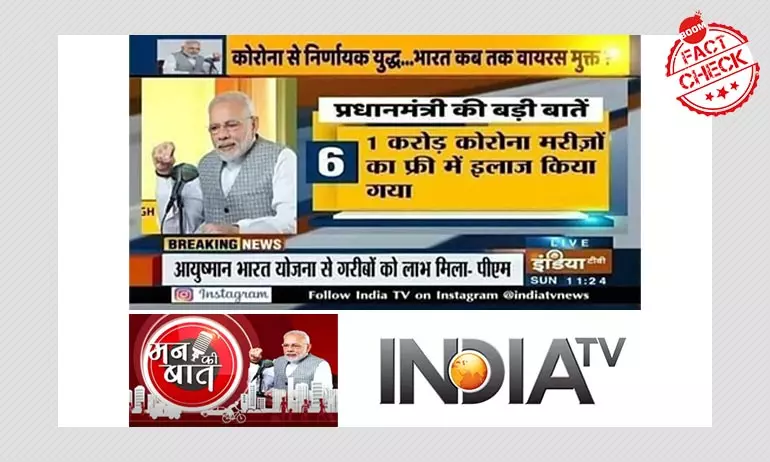 A viral screenshot of an India TV graphic claiming Prime Minister Narendra Modi said one crore COVID-19 patients have been treated for free, in his Mann Ki Baat radio address, is false as the channel misquoted the prime minister.

BOOM checked the prime minister's radio broadcast and found out that the PM spoke about the total beneficiaries who have availed of the Ayushman Bharat health scheme since its launch in September 2018 and did not link it to the COVID-19 cases in the country.
India had over 1,90,535 cases and over 5,167 deaths, till June 1, 2020. India currently has the eighth highest number of cases in the world.
After BOOM reached out to India TV, the channel issued a correction on June 1, 2020 on Twitter. They clarified that the graphic was a 'human error' and that India did not have so many cases.
#Correction कल मन की बात के प्रसारण के दौरान ये खबर चली कि भारत में कोरोना के एक करोड़ मरीज़ों का इलाज हुआ। ये मानवीय भूल थी। हम साफ कर दें कि भारत में कोरोना मरीज़ों की संख्या इतनी ज्यादा नहीं है। इस गलती के लिए हमें खेद है। pic.twitter.com/bUk6VvhMwC

— India TV (@indiatvnews) June 1, 2020
On May 31, 2020 following the PM's radio program a screenshot of this erroneous graphic went viral on Twitter with users calling out the PM. View the archives here and here.
The image is also viral on Facebook. View the archive here.
BOOM also received the viral graphic on its WhatsApp helpline requesting verification.

Also Read:No, RSS Chief Mohan Bhagwat Did Not Say COVID-19 Shook His Faith

Fact Check
In his May 31st Mann Ki Baat radio address, PM Modi discussed the COVID-19 situation in the country along with discussing other programs one of which was the Pradhan Mantri Jan Aarogya Yojana (PMJAY) popularly known as the Ayushman Bharat health scheme.
At the 17:55 minute mark, the PM starts to address the Ayushman Bharat scheme and at 18:05 highlights that in a year and a half since the scheme's launch, over 1 crore people have benefited from the scheme.
Ayushman Bharat is India's flagship health insurance scheme that was launched in September 2018. It aims to create more health and wellness centres as well as aims to provide a health cover of Rs. 5 lakhs to families that form the bottom 40% of the Indian population every year for secondary and tertiary care hospitalization to over 10.74 crores poor and vulnerable families. This amounts to approximately 50 crore beneficiaries across the country.
The India TV graphic misquoted this statement by the PM by linking it to COVID-19. BOOM could not find the 11-11:30 Mann Ki Baat segment on any of India TV's social media channels or profiles.
Also Read: Did Amit Shah Say 41 Crore People Received ₹53 Crores? A FactCheck
Updated On:
2020-06-01T19:24:36+05:30
Claim :
PM Modi said 1 crore COVID-19 patients have been treated for free in India
Claimed By :
Social media