No, RSS Chief Mohan Bhagwat Did Not Say COVID-19 Shook His Faith
The graphic circulating on WhatsApp and social media is morphed and is not an actual news report.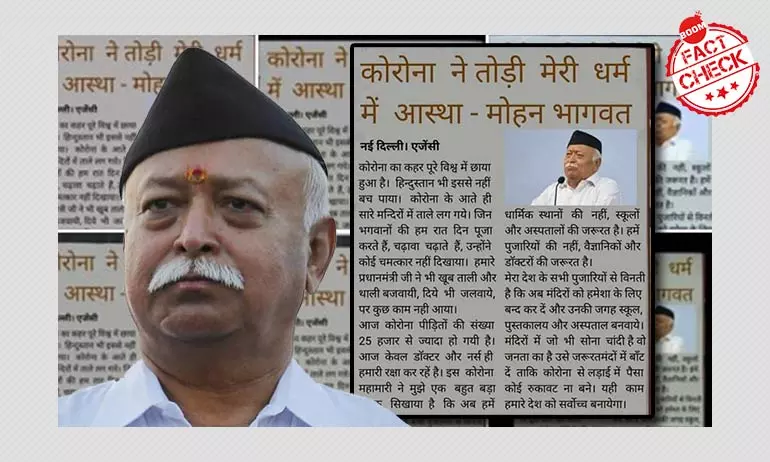 A screenshot purporting to be a newspaper clipping claiming Rashtriya Swayamsevak Sangh chief Mohan Bhagwat said the COVID-19 pandemic has shaken his faith in religion, is fake.

The viral message is in the form of a double column report with a double deck headline in Hindi reading 'Corona shook my faith in religion: Mohan Bhagwat'. The dateline of the news report says New Delhi and attributes it to agencies.
The text of the viral screenshot translates to the following:
'The terror of Corona has spread across the world. India is not untouched. With Corona reaching India, all the temples have been locked. The gods we used to pray, make offerings to, did not show any miracle. Our prime minister made us clap, bang utensils, light diyas but nothing worked. Today, the number of those infected by Corona has crossed the mark of 25,000. Only doctors and nurses are capable of helping us today. This Corona pandemic has taught me a big lesson that we don't need places of worship...what we need are schools and hospitals. We don't need priests, we need scientists and doctors. I appeal to all the temple priests across the country to shut down the temples forever and open up schools, libraries and hospitals in their place. All the gold and silver in temples should be donated to the needy so that flow of money to fight Corona doesn't stop. Only this will make our country a world power'.
(Hindi: कोरोना ने तोड़ी मेरी धर्म में आस्था: मोहन भागवत
कोरोना का कहर पुरे विश्व में छाया हुआ है | हिंदुस्तान भी इससे नहीं बच पाया | कोरोना के आते ही सरे मंदिरों में ताले लग गए | जिन भगवानो की हम रात दिन पूजा करते हैं, चढ़ावा चढ़ाते हैं उन्होंने कोई चमत्कार नहीं दिखाया | हमारे प्रधानमंत्री जी ने खूब ताली और थाली बजवाई, दिए जलवाये, पर कुछ काम नहीं आया | आज कोरोना पीड़ितों की संख्या 25 हजार से ज्यादा हो गयी है | आज केवल डॉक्टर और नर्स ही हमारी रक्षा कर रहे हैं | इस कोरोना महामारी ने मुझे एक बहुत बड़ा सबक सिखाया है की अब हमें धार्मिक स्थानों की नहीं, स्कूलों और अस्पतालों की जरुरत है | हमें पुजारियों की नहीं वैज्ञानिकों और डॉक्टरों की जरुरत है | मेरा देश के सभी पुजारियों से विनती है की अब मंदिरों को हमेशा के लिए बंद कर दें और उनकी जगह स्कूल, पुस्तकालय और अस्पताल बनवाये | मंदिरों में जो भी सोना चांदी है वो जनता का है उसे जरूरतमंदों में बाँट दे ताकि कोरोना से लड़ाई में पैसा कोई रुकावट न बने | यही काम हमारे देश को सर्वोच्च बनाएगा |)
View the post below and check its archived version here.

Also read Video From Pakistan Passed Off As Social Distancing Flouted In Hyderabad
Fact Check
Upon observing the viral screenshot closely, BOOM found several discrepancies in the image.
The spacing between the words in the headline is uneven. Also, the picture of Mohan Bhagwat seems to have been morphed on the image as there is a clear difference in the background and foreground colour.
The article reads more like a text message than a news report.
BOOM also found that some RSS functionaries, including Narendra Kumar, organisation's Akhil Bharatiya Sah Prachar Pramukh had rubbished the viral clipping.

In a tweet on May 19, 2020 Kumar has said 'There is a fake news doing the rounds on social media in the name of sarsanghchalak of RSS respected Mohan Bhagwat. Respected sarsanghchalak has not made any such statement. This is an attempt to create treason, anarchy and disintegration of society by those who want to divide the society'.
रा.स्व.संघ के पू.सरसंघचालक @DrMohanBhagwat जी के नाम पर सोशल मीडिया में एक फेक न्यूज़ चल रही है। पू.सरसंघचालक जी ने ऐसा कोई वक्तव्य नहीं दिया है। यह समाज तोड़ने वाली शक्तियों का अपने लक्ष्यों की प्राप्ति के लिए समाज में अनास्था, अराजकता और समाज विघटन के प्रयास का एक षड्यंत्र है। pic.twitter.com/oOKyX1QgKd

— NARENDER KUMAR (@NARENDER1970) May 19, 2020
BOOM could not independently verify the source of the viral clipping.
BOOM also searched the internet for any similar statements made by the RSS chief. We found that last time Mohan Bhagwat spoke on the issue of Coronavirus was on April 26 during an online address from Nagpur on the occasion of Akshay Tritiya. Back then Bhagwat had appealed to the people to not blame a particular community for the spread of Coronavirus. Read more about it here.

Also read Pictures Of Rahul Gandhi With Migrant Workers Peddled With False Claims
Updated On:
2020-05-21T18:48:50+05:30
Claim :
Post claims that RSS chief Mohan Bhagwat said the COVID-19 shook his faith in religion
Claimed By :
Social media
If you value our work, we have an ask:
Our journalists work with TruthSeekers like you to publish fact-checks, explainers, ground reports and media literacy content. Much of this work involves using investigative methods and forensic tools. Our work is resource-intensive, and we rely on our readers to fund our work. Support us so we can continue our work of decluttering the information landscape.
BECOME A MEMBER