Fact Check
Did Amit Shah Say 41 Crore People Received ₹53 Crores? A FactCheck
BOOM found that Shah said ₹53,000 crores and not ₹53 crores as stated in the news ticker, which Aaj Tak later admitted was an error on the channel's part.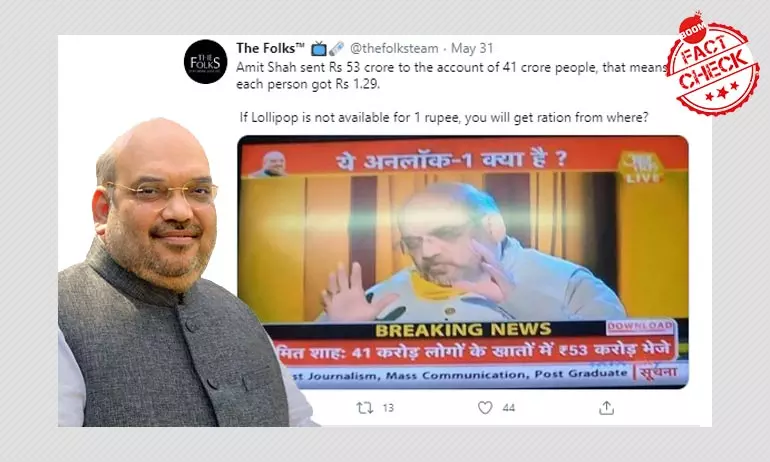 A viral screenshot of Aaj Tak's ticker claiming Amit Shah said 41 crore people have received ₹53 crores in their bank accounts, is incorrect as the channel misquoted the home minister and later admitted it had erred.

In the viral photo, a screen grab from Shah's interview to AajTak's Executive Editor Anjana Om Kashyap shows Shah in the frame and a news ticker in Hindi, which translates to, ''Breaking News. Amit Shah: In the accounts of 41 crore people,₹53 crore has been transferred"
The screenshot went viral on Twitter with netizens pointing out that if one were to calculate the amount transferred to each account then each person would have only received ₹1.29 in their accounts.

Amit Shah sent Rs 53 crore to the account of 41 crore people, that means each person got Rs 1.29.

If Lollipop is not available for 1 rupee, you will get ration from where? pic.twitter.com/ncKAKP0U9L

— The Folks™ 📺🗞 (@thefolksteam) May 31, 2020
Click here to view, and here for an archive.
Click here to view, and here for an archive.
क्या बात है 41 करोड़ खाते में 53 करोड़ भेजें हैं। क्या भांग की बिक्री बढ़ चुकी है? 1.25 पैसे की जो मदद की गई है इससे ये मजदूर फरीदाबाद में कम से कम एक-एक रो हाउस तो ख़रीद सकते हैं। pic.twitter.com/G9RJOnd50n

— Prashant Kanojia (@PJkanojia) May 31, 2020
Click here to view, and here for an archive.
Viral on Facebook
We searched with the same caption and found that the screenshot of the ticker misquoting Amit Shah was viral on Facebook too.

Also Read: Clipped Video Claims Mamata Banerjee Did Not Greet PM Modi During Amphan Survey
FACT-CHECK
BOOM checked the interview and found that Home Minister Amit Shah said ₹53,000 crores and not ₹53 crores, which was incorrectly attributed to him in the news ticker.

The interview was held in the backdrop of Prime Minister Narendra Modi's government completing a year in office into his second term and also about the ongoing COVID-19 pandemic. (Read more)
During the interview, Anjana Om Kashyap, Executive Editor of AajTak, asks Shah a question on states raising the issue of not receiving adequate funds during the COVID-19 crisis, to which Shah cites the figure of ₹53,000 crores being transferred directly to 41 crore people in their bank accounts from every state in the country.
At 15.50
Anjana Om Kashyap: West Bengal government, Mamata Banerjee, who said we are not receiving help, now Shramik Special train, we'll have a separate discussion on that, but they have continuously said that how much relief should have got, the money sates should have got, Punjab government has also complained, or the Maharashtra government, these differences that have come up, what would you say about that?
Amit Shah: I don't think these are major differences, ₹1,70,000 cores Graib Kalyan Package, and besides that also,₹12,000 crores NDRF fund was sent, from the Finance Ministry also ₹22,000 crore was sent, a lot of assistance has been given, but there are limitations of the central government. I will tell you, a total of 41 crore people have got ₹53,000 crores into their bank account directly. Now, this has gone to all the states, not only BJP states, In Bengal, In Punjab also it has gone, In Maharashtra also it has gone....
In the interview at the 16.37 timestamp, one can clearly hear Shah say ₹53,000 crores and not ₹53 core as stated in the news ticker.

We found that Aaj Tak issued a correction on their Facebook page regarding the news ticker which stated that, "Correction: In Agenda Aaj Tak, Home Minster Amit Shah said in 41 crore accounts, R 53,000 crore was deposited, but Aaj Tak by mistake in breaking news showed "In 41 crore accounts, Rs 53 crore was deposited.""
Also Read: Lockdown 5.0 In Containment Zones Extended Till June 30: MHA
Claim :
Photo Shows Amit Shah Said 53 Crore Transferred To 41 Crore People
Claimed By :
Social Media
Do you always want to share the authentic news with your friends?
Subscribed Successfully...
Enter Valid Email Id