Fact Check
Video Of Man Slapping GESCOM Staff Falsely Linked To Congress Poll Promise
BOOM found that the man had an outstanding bill payment of Rs 9000 and attacked staffers who had come to disconnect his electricity supply.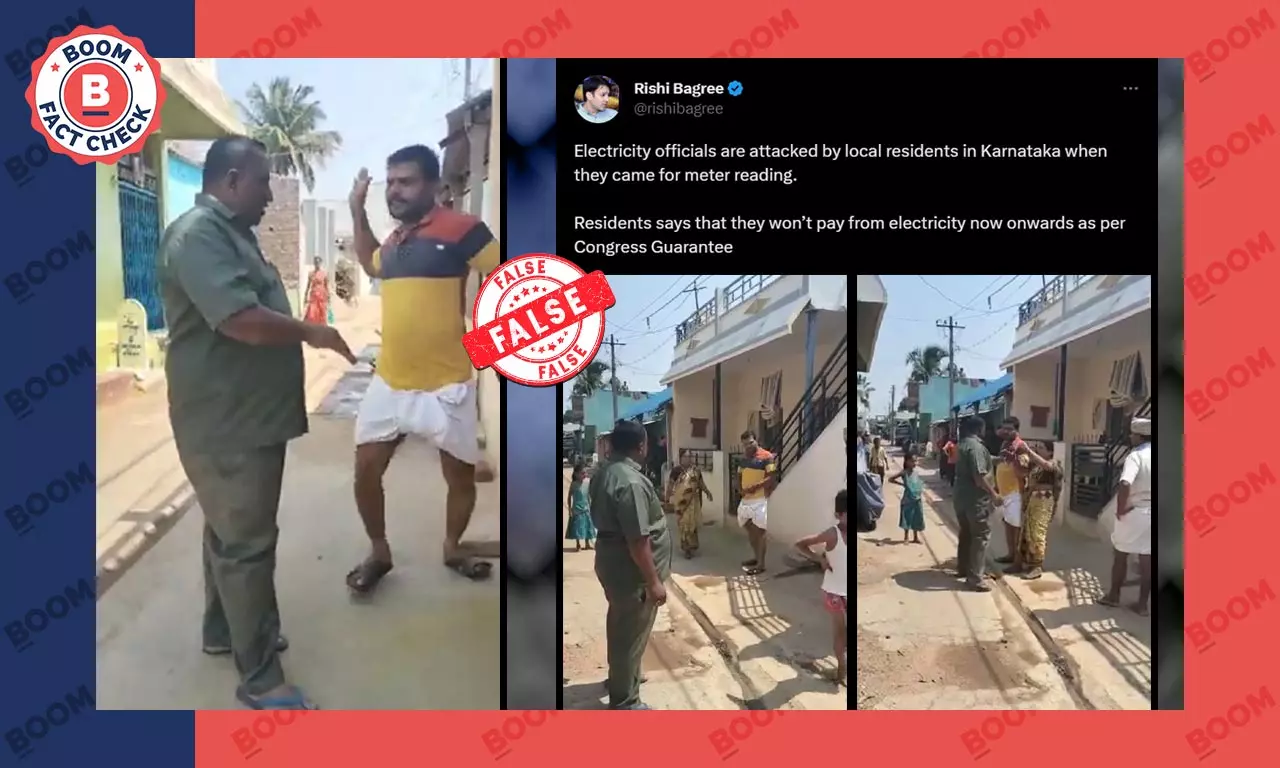 A viral video of a man slapping and assaulting a power supply employee in Koppal, Karnataka after he was asked to clear unpaid dues is being shared with a false claim that the customer refused to pay his bill because Congress promised free electricity in the state.
Congress emerged victorious in the recently held Karnataka elections, defeating the Bharatiya Janata Party to form the government with Siddaramaiah as the chief minister. One of the pre-poll promises by the party was 200 free units to all households in Karnataka. While the fine print of the scheme is yet to be announced, there have been incidents of people refusing to pay their electricity bills claiming the government promised them free supply. According to media reports, villagers in Belagavi and Gulbarga district refused to pay their current electricity bills citing the government's pre-poll promise.
The viral video is being shared with a similar false claim that a man in Koppal refused to pay his electricity bill claiming Congress promised free supply and also beat up the electricity board staffer who wanted to disconnect the supply.
Rishi Bagree, a right-wing Twitter user, shared the video with the false claim, "Electricity officials are attacked by local residents in Karnataka when they came for a meter reading. Residents say that they won't pay from electricity now onwards as per Congress Guarantee"
In the video, a man can be seen slapping a uniformed employee of the Gulbarga Electricity Supply Company Limited (GESCOM) and abusing him. The man also attempts to assualt another employee who is recording the abuse on video.
The video was also shared on Facebook with similar false claims.

FACT CHECK
We first heard the video and found that the man seen assaulting the GESCOM staffers does not mention Congress or the government anywhere. In between the assualt and hurling verbal abuses in Kannada, the man says, "I have asked GESCOM to change the registration of the electricity meter but they are yet to do it. I will not pay, you can do whatever you want."
A search for GESCOM staff assault and found a tweet by SouthFirst reporter Anusha Ravi Sood who said the incident is from Koppal district and called out the viral claim and said the man had an outstanding payment of Rs 9000 which he refused to pay.
We then reached out to Yashodha Vantagodi, Superintendent of Police, Koppal district who said that the arrested accused was identified as a Chandrashekar Hiremath who has several other cases registered against him too. "The accused had not cleared his bills for nearly six months leading to an outstanding amount of about Rs 9000. Given the outstanding, the power supply to his property was disconnected by the Karnataka Electricity Board. In addition to this, he had taken an illegal electrical connection and when the GESCOM staff went to investigate and disconnect them, he assaulted and abused them," Vantagodi said. Hiremath has since been arrested for the incident.
Additionally we reached out to the Koppal division officials for GESCOM who said that they filed a complaint with the local police after the incident. "The man did not say he was waiting for the government's scheme to be implemented. He refused to pay his outstanding bill and attacked our employees when they went to disconnect an illegal connection." The official not wanting to be named, further added, "While there have been cases here of farmers refusing to pay their bills claiming the government's scheme, this instance was not that. We are telling the people that there has been no directive yet on the government's free electricity supply scheme and till then they have to make regular payments."
Claim :
Video shows man beating up power supply employee and refusing to pay electricity bill claiming Congress promised free electricity in Karnataka
Claimed By :
Rishi Bagree
Do you always want to share the authentic news with your friends?
Subscribed Successfully...
Enter Valid Email Id