Fact Check
Facebook Removes Fake News Page Postcard For Copyright Violations
The page had over 5 lakh followers on Facebook and sources indicate that they will not be automatically restored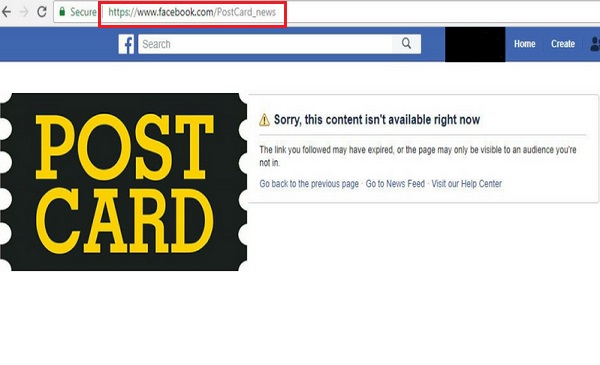 Facebook has removed fake news propaganda website Postcard News' Facebook page (@Postcard_news) from its platform. Ironically, the page with over 5 lakh followers known for spreading fake news and called out many times in the past by BOOM and other FactCheckers has been removed for violating copyright rules set by Facebook.
Speaking to BOOM, a Facebook spokesperson said,
"Postcard news FB page has been removed from the platform. Facebook's Terms of Service do not allow people to post content that violates someone else's intellectual property rights, including copyright and trademark."
When we searched for the page on Facebook, we saw a new page with barely any followers. Once a page is removed by the platform, the admins can create a new page but will lose all their followers and content posted in the past. Another page called Postcard English News continues to post content from the site and has over 2400 followers. In the About Us section, the page has been linked to the website.
Sources indicate that the page had received multiple warnings for violating copyright and posting videos owned by sports channels. But despite these warnings, the page continued its violations and has been removed from the platform. While pages removed in the past have made a comeback after a review by the platform, it is unlikely Postcard's page will be revived in its old form due to repeated violations.
Postcard's Kannada page (@Postcardkanada) continues to exist on the platform with over 30,000 followers.
The action against Postcard has not come as a surprise. The founder of Postcard news, Mahesh Vikram Hegde was arrested on March 30 this year by the Bengaluru Central crime branch for tweeting an image with a fake and communally sensitive narrative. On March 18, Hegde and his site claimed that a Jain monk had been attacked by a Muslim youth. But it was found that the Jain monk Shri Upadhyaya Mayank Sagarji Maharaj was returning after attending the Shravanabelagola festival along with his followers when a drunk driver crashed his bike at high speed, injuring the monk and his followers. You can read a detailed report here.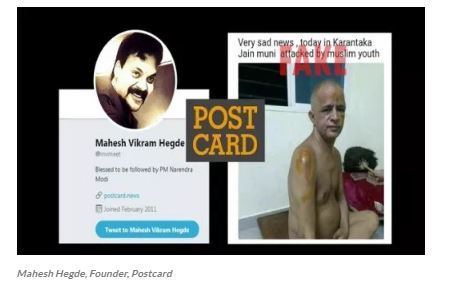 Not only this but in the past, BOOM has called out Postcard news many times. Here is a list of stories where they have been found playing fast and loose with facts.
Fake Quotes Attributed To The Bollywood Actor Farhan Akhtar
The Bollywood actor Farhan Akhtar called out fake quotes attributed to him on Twitter. The malicious statement attributed to him on the recent communal clashes in Uttar Pradesh's Kasganj.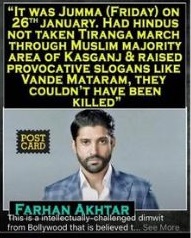 Farhan Akhtar called it out on Twitter and asked Twitter to take action as he did not make the ascribed statement.
. @TwitterIndia this is a malicious tweet with a statement that I did not make being ascribed to me. Kindly take necessary action against this user. https://t.co/wKuOUGOkhc

— Farhan Akhtar (@FarOutAkhtar) January 30, 2018
Fake News About Christians Entering Kaliyar Kovil Temple
Postcard News published an article claiming to say that Christian groups entered the famous Kaliyar Kovil and the Sivagami temples in the Madurai district claiming the property as their own.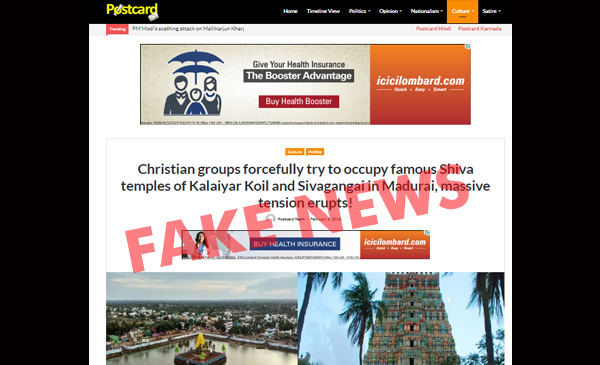 Speaking to BOOM, T Jeyachandran, Superintendent of Police of Sivagangai district disputed the events as described by Postcard and narrated by several Twitter handles. He said the news was incorrect and spread with malicious intent to create tensions between the two communities living peacefully for several decades. Read the full article here.
Fake News About Sonia Planning The Lingayat Division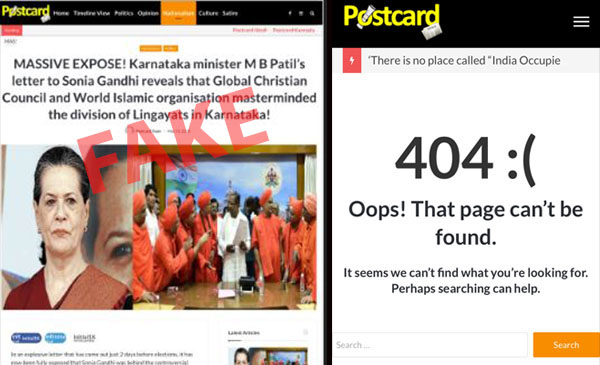 Postcard published fake news alleging that Karnataka Water Resources Minister MB Patil and the former President of the Indian National Congress Sonia Gandhi had masterminded division of Lingayats in Karnataka.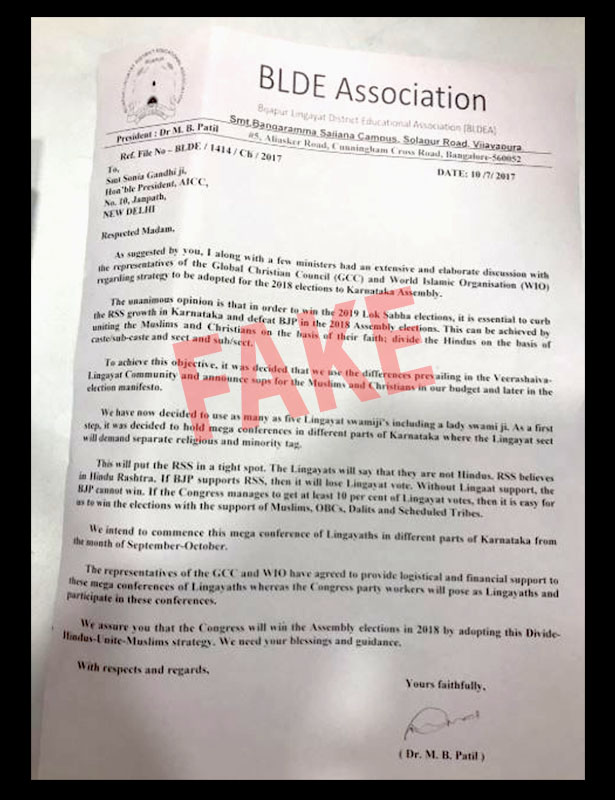 BOOM spoke to Patil who said that the letter and the contents of it were fake. "When I saw the story I was enraged. They have scanned a copy of the letter head of my organisation BLDEA and my signature. It is gross lie by the website and all to tarnish mine and Soniaji's reputation,"he said. He also said that he is initiating legal action against Postcard and filing a criminal and a defamation case against them. Read the full story here.
Fake News About Journalists Bribed To Write Against PM Modi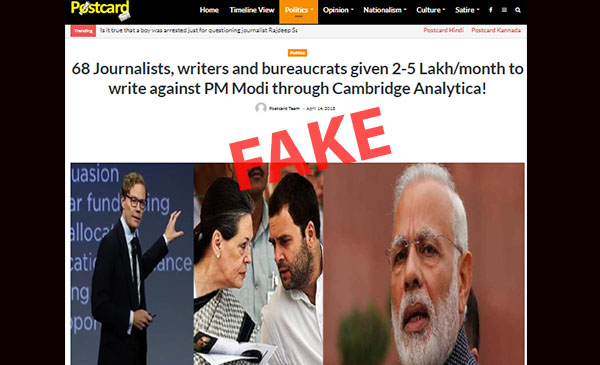 Screenshot of Postcard story
Postcard story accused 68 journalists, writers and bureaucrats of taking bribes ranging from Rs 2-5 lakh/month to write against Prime Minister Narendra Modi. The story further claimed that the money was arranged by UK based Cambridge Analytica.
The 68 journalists were not revealed but the message went viral on WhatsApp. WhatsApp groups have mentioned several names that include well-known editors and senior journalists. BOOM spoke to some of them mentioned who laughed it off saying that they are aware of their names floating on WhatsApp but would prefer to treat it as an occupational hazard. Read the full story here.
96% Of The Rape Accused Are Muslims
Mahesh Hegde, Founder of Postcard news tweeted that 96% of the women and the children targeted by rapists were Hindus. Not just him, but the message was shared by many citing the National Crimes Record Bureau (NCRB) as the source. After he was called out on Twitter, Hegde deleted his tweet and later claimed that his account was hacked. The handle is now back in action on Twitter.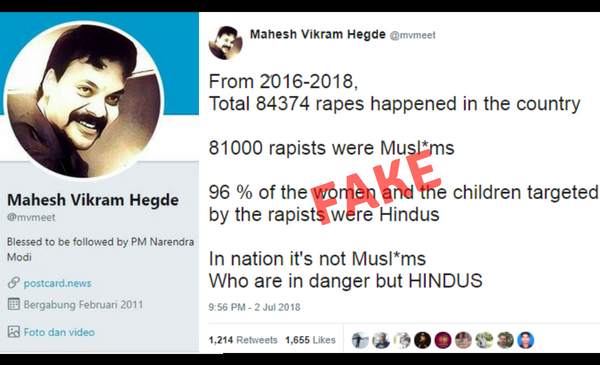 But, NCRB's data on rape only gives number of incidents and victims, age group of victims and relation of victims to the offenders. The 2016 report or the previous ones did not have any mention of religious status of the offenders or victims of rape. Read the full story here.
Fake Quote Attributed To Raghuram Rajan
Postcard News' logo was also seen on a fake quote attributed to Raghuram Rajan. The quote claimed that Rajan had warned Congress President Rahul Gandhi and former finance minister P Chidambaram about Nirav Modi and about financial irregularities at Punjab National Bank, during his tenure.
How @INCIndia looted the nation ... ?

"I had warned @OfficeOfRG and @PChidambaram_IN about frauds of #NiravModi. But they forced me to remain silent and kept approving the loans till May 2014. Why am i being blamed for the PNB Scame now"?- Raghuram Rajan, Ex-governor, RBI pic.twitter.com/Hp850LFk1l

— Lalitesh Kushwah (@KushwahLalitesh) March 8, 2018
U were Governor of RBI Mr #RaghuramRajan! The way u did PC on Demonetization, u could hv done on it too..U shd hv resigned in protested! pic.twitter.com/ziwApHDU4w

— Meera Singh (@meeraremi11) March 9, 2018
When BOOM spoke to Raghuram Rajan, he said, "This is pure, utter rubbish, put out by motivated sources. You can say I said that, to anyone who wants to listen." Read the full story here.
Do you always want to share the authentic news with your friends?
Subscribed Successfully...
Enter Valid Email Id