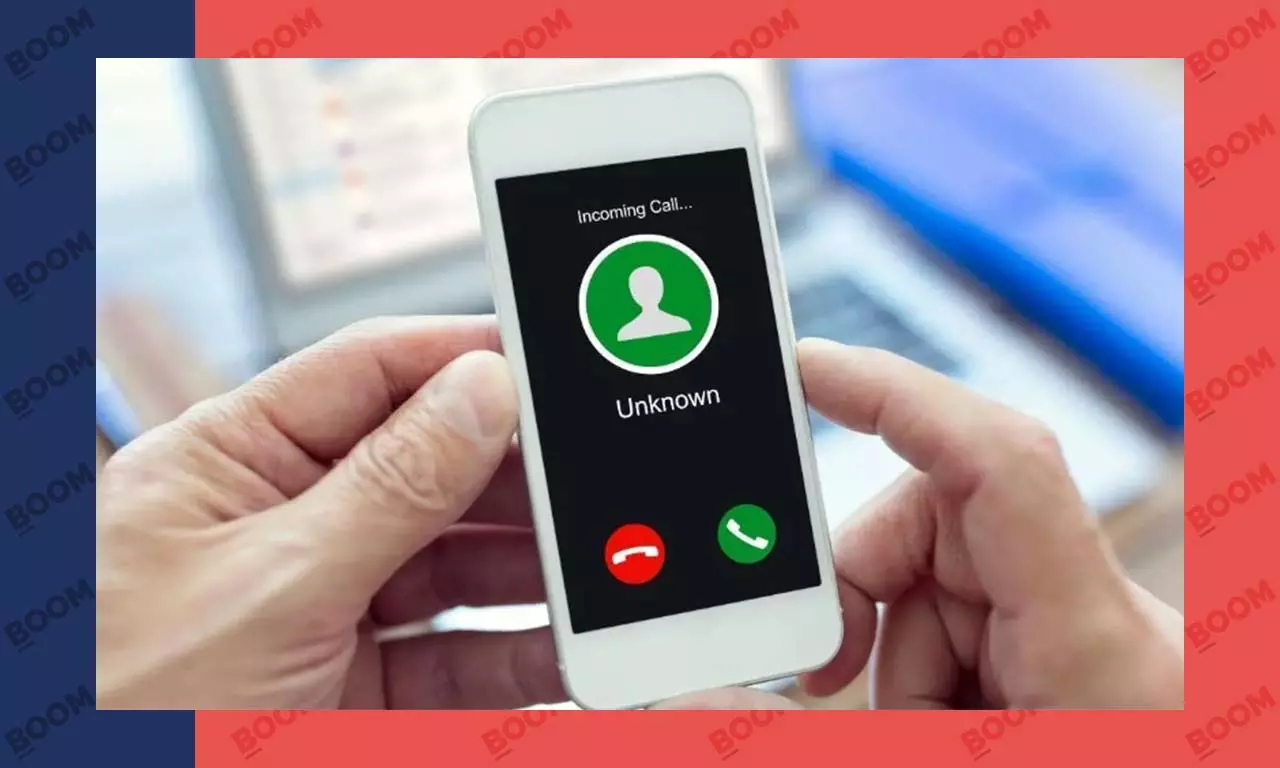 In November 2021, Aijaz Baba was sitting with his family when his phone rang. The call was from an unknown number. Aijaz, a government teacher, was then on Covid vaccination duty so he had been receiving numerous calls from people inquiring about vaccination certificates.

Assuming the call might be from someone enquiring about vaccination, the teacher answered the WhatsApp video call.

That one video call turned into a nightmare for him.

A recent surge in unknown Whatsapp video calls in India has left many users in distress. In the last few weeks, cyber branches in many states, including the national capital, have received numerous complaints from victims who have fallen prey to this latest scam.

On April, 8, a netizen tweeted, "this number is involved in WhatsApp video scam and threatening a senior citizen who just made a mistake of picking the call."

The fraudster had been using threatening tactics, claiming that he would make the victim's doctored video viral on social media platforms.

#WhatsApp fake video call from numbers from foreign number is new scam in the market.

The golden rule to avoid yourself from being duped is to follow a simple rule - "DON'T"

- Don't click such calls.
- Don't call back after missing the calls.

— Kumar Manish (@kumarmanish9) May 9, 2023
Also Read: People Are Getting Threatening Calls For Loans That They Didn't Take
This is not an isolated incident, there have been several cases in the past where individuals have been subjected to such WhatsApp video calls, followed by threats and blackmail.

According to Sandeep Saini, a senior officer of the Delhi Cyber Police, they receive an average of 10 complaints per week about a single scam. Their immediate course of action is to track the phone number's location and report it to the local cyber department. "In most cases, the fraudsters use a VPN (virtual private network), making it challenging for us to track them down," Saini remarked.
Saini also noted that sextortion cases in India have been on the rise in recent years. To counter this alarming trend, the department has undertaken various measures such as awareness programs, online campaigns, and counseling services for the public. "Despite repeatedly alerting people about the scamming patterns, individuals still fall prey to the fraudulent schemes," Saini lamented.

When 33-year-old Aijaz accepted the call, a dark screen appeared on the other side with only occasional blinking lights in the background. It was as if someone was calling him from a dimly lit room. Confused and unsure of what was happening, Aijaz quickly disconnected the call. The call lasted for nine seconds.

However, his confusion turned into horror when just minutes later he received a video message from the same number. The video was of him in the recorded call, but with obscene and nude shots added to the footage. It was a morphed video meant to tarnish his reputation.

Even as he tried to make sense of what was happening, the blackmailing began. He received an audio call from the same number, demanding a payment of Rs 1 lakh.

"The moment he asked for Rs 1,00,000 without which he threatened to make the video viral, I was very scared," Aijaz told BOOM, narrating the incident that happened one and a half years ago. He immediately told his father about the call.

Aijaz threatened to file a case against the blackmailer at the cyber police station. "He told me, 'Do whatever you can. No one can harm me and I don't get scared by these threats.'" "He seemed quite assured about his security," he recalled.

It didn't end there. The scammer then forwarded screenshots to the school teacher which made him believe that the morphed video had been shared with his Facebook friends.

The teacher contacted his friends and breathed a sigh of relief when they said they were not aware of any such video.

Aijaz realised that the scammer had also doctored those screenshots, just like he did with the video.

The teacher, along with his father, quickly rushed to the nearest police station. The officer-in-charge reassured him that he need not worry. He registered a complaint on the online portal of the cyber police and soon received a call from the investigating officer.

A senior Kashmir cyber police officer, Showkat Ahmad, said that the immediate response to such cases is to block these numbers. "Most of these calls that we track indicate locations like Rajasthan, Jharkhand, and West Bengal, and the scammers use fake SIM cards to carry out these scams," he explained.

He added that the remedy for victims is counseling followed by a general FIR (First Information Report). "We cannot initiate individual FIRs for each case; instead, we register a group of FIRs and forward them to the concerned jurisdiction's cyber teams. The investigation part is very hectic since the department is short of resources like manpower, etc.," the officer explained.
Also Read: What Are The Apps Scammers Use To Dupe People? Experts Explain
In India, while there are no available statistics on online sextortion scams, the National Crime Records Bureau (NCRB) reported 52,974 cybercrimes in 2021, which is a significant increase from 44,735 cases in 2019. Among these cases, 13,196 were registered under Section 67 of The Information Technology Act, 2000, which prohibits the publication or distribution of obscene material in electronic form.

However, cyber experts point out that the actual number of online 'sextortion' cases could be much higher than what is reported, due to limitations in data collection and the social stigma attached to such crimes that prevent victims from coming forward.

After receiving assurance from the police that the scammers won't harm his reputation, Aijaz shared his experience on Facebook. To his surprise, over a hundred people commented saying that they too had faced the same scam.

Aijaz deleted his Facebook account and changed his phone number; he was still scared. "For the next year, I was in depression and started having blood pressure problems," he told BOOM.

How do extortionists trap you?
Speaking to BOOM, Nirali Bhatia, Cyber Psychologist, and Psychotherapist shared some of the traits of a fraudster on social media apps. She explained on social media, scammers create fake profiles of attractive women and send out friend requests to multiple male profiles.

"This is a common tactic used on dating sites or social media platforms like Instagram or Facebook," Bhatia told BOOM.

The cyber psychologist and psychotherapist shared that the victims she has interacted with are often from dating sites, where they start talking to someone and eventually exchange WhatsApp numbers.

"If the victim answers the WhatsApp call, the scammers record the entire video, including the victim's actions," she said.

The psychologist added that these types of cases started to become prevalent shortly after the lockdown began in March 2020. Over the past few years, these scammers have continued to evolve and refine their tactics. As awareness about their methods grew, scammers are coming up with new ways to deceive people.

Direct WhatsApp video calling is one of the new traps they have started, she said.

What Can Be Done?
The psychologist said that in the past three years, she has 2,000-3,000 such cases where the victims didn't want to report. "Victims were feeling helpless. They get panicked because the scammers send screenshots of their clips being uploaded on YouTube. The video clips are even sent to common friends to extort money from them," she said.

She further stated that there are victims who are still struggling with the trauma of facing blackmails for months or sometimes even years. There have been cases where victims were almost on the verge of suicides.

Bhatia acknowledges that while awareness is growing and resources are becoming more available in India not everyone has access to or understanding of where to report such cases. She stresses that individuals should never make a payment or engage in dialogue with the perpetrators, who often use fear tactics to manipulate victims into acting impulsively.

To prevent falling victim to such video calls, Bhatia advises being cautious of unexpected video calls and blocking suspicious numbers. If someone is a victim, she stresses on filing a complaint to cyber police or nearby police station.
Also Read: 83% Indians Fell Prey To AI Voice Scams: McAfee Report
Bhatia explained that a lot of victims had shared with her the ill-treatment they faced while seeking help from the police. Despite these challenges, it is important for victims to speak out and for the justice system to improve its response to this serious issue.

Meta's Take it down tool
Meta has recently introduced a new tool called 'Take it down'. The service has been provided by the National Center for Missing & Exploited Children (NCMEC). This tool can be used to stop the online sharing of explicit images of users. "This service is one step you can take to help remove online nude, partially nude, or sexually explicit photos and videos taken before you were 18," the statement by NCMEC reads.

The user can remain anonymous while using the service and don't have to send images or videos to anyone. Take It Down will work on public or unencrypted online platforms that have agreed to participate.

It works by assigning a unique digital fingerprint, called a hash value, to nude, partially nude, or sexually explicit images or videos of people under the age of 18.

Online platforms can use hash values to detect these images or videos on their services and remove this content. This all happens without the image or video ever leaving your device or anyone viewing it. Only the hash value will be provided to NCMEC.

"If an online platform detects an image or video on its public or unencrypted service that matches a hash value, it can take action to limit the spread of the explicit content," the statement reads.

Aijaz hasn't received any more calls since he reported to the police. He is still hopeful that the cyber department will be able to nab the scammers.

Do you always want to share the authentic news with your friends?
Subscribed Successfully...
Enter Valid Email Id
---