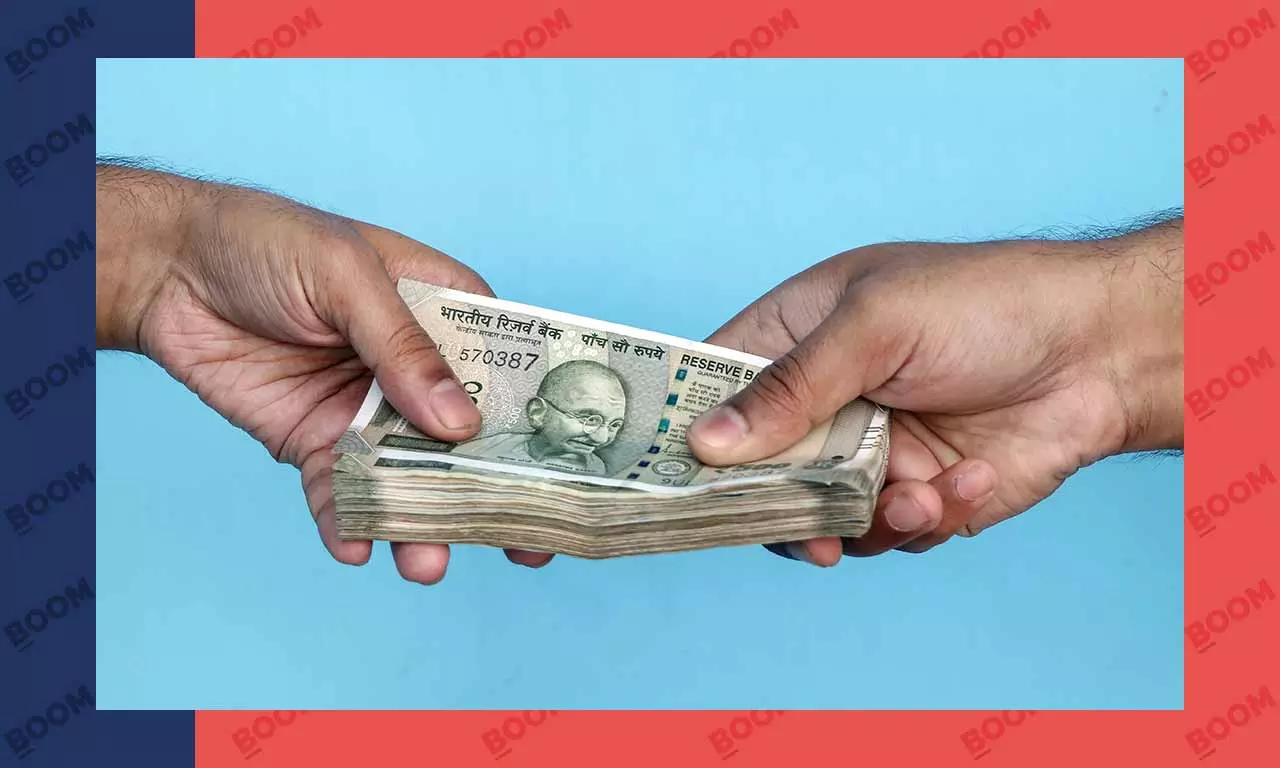 Deepa*, a 40-year-old doctor from Delhi was horrified when she got a WhatsApp message of her face morphed into an obscene picture earlier this year. "It was a disconcerting experience," she told Decode narrating her experience of receiving harassing calls and messages from a loan recovery agent.
Apparently, her 2002 batchmate from school, Dilpreet Singh, had taken a loan and failed to pay. The recovery agent, from a bank he did not identify, claimed that she was the Dilpreet 'guarantor' and therefore must pay the default loan amount.
"I didn't even know this Dilpreet. We were only connected on Facebook. How could I be his guarantor?" Deepa asked.
The agent did not relent. "He sent me a morphed picture and threatened to make it viral it on social media. I was very scared and burst into tears before my patients. I was almost ready to pay up," she recounted.
The doctor from Delhi is not the only one who has experienced harassment from loan recovery agents working for banks and Non-Banking Financial Companies (NBFCs), which, unlike banks, cannot accept deposits from the public but can provide various financial services and products, including loans and insurance.
Prominent examples of NBFCs include Bajaj Finance and HDB Financial Services.
Lack of clear policies on the loan recovery process, poor record of enforcement, sense of impunity amongst companies and an absent regulator have led to an epidemic of epic proportions in the Indian consumer loan market, mainly affecting low-income groups of people.
Reference, guarantors, and recovery agents—who are they?
Banks and NBFCs can hire third-party agencies as recovery agents to make recoveries from customers who fail to pay their Equated Monthly Instalments (EMIs) and default. Sometimes, these companies have their own in-house teams working on loan recovery.
Things get ugly when these agents start calling up random persons, sometimes unconnected with the defaulter, and claim they are the defaulter's 'guarantor' or 'reference'. But there's a difference between the two.
A 'loan guarantor' is a person who co-signs a loan agreement with the primary applicant when the amount involved is huge or the applicant's credit score is not up to the mark. If the loan applicant defaults on repayment of the loan, the guarantor in that case would be liable to pay instead.

A 'reference' on the other hand has no such liability. A reference is simply a person who may have referred the loan applicant to the company. If the applicant defaults on repayment, the reference cannot be held liable.

RBI guidelines require a proper verification process to be followed while making someone a guarantor, including obtaining their identity proof, residence proof, credit score, proper agreements, and signatures.

Reference, however, is different. Neither the guidelines nor most company policies require a robust process to be followed to make someone a reference.

Decode spoke to three people who claim they received incessant, harassing calls from recovery agents even when they are unaware of being someone's guarantor or reference. Often, they don't even know the defaulter. So why do you receive the calls at all?

Decode spoke to financial experts who said there are two main reasons for this.

One, is a possibility that banks and NBFCs are data scraping and using contact details saved in the phone to call the contacts of the borrower with the hope that the borrower is sufficiently shamed into paying up, or someone pays up in his stead — a form of social intimidation.

Or two, poor due diligence by the company leading to the acceptance of forged documents or fake numbers to show guarantors or references.

The Mysterious Calls
RV Goutham, an advocate practising in the Karnataka High Court told Decode that in October 2021, he handled a case where relatives of a defaulter had received threatening phone calls from recovery agents working for InCred, an NBFC that gives out consumer loans.

"They did not say if the relatives were references or guarantors. How they got the relative's numbers remains a mystery," he said.

Things escalated when the agents threatened to post the defaulter's photo on social media and asked the relatives to pay up "to avoid embarrassment to the family name".

"The relatives politely said no," Goutham said, "but these recovery agents do hope someone pays. Doesn't matter who as long as they get their money back."

"It is a form of social intimidation," Goutham told me.

Similar is the story of Manikandan from Chennai who told Decode that he received a phone call from a recovery agent working for HDB Financial Services sometime in December last year.
The agent informed him that his uncle, Karthik, had taken a gold loan and missed EMIs. The agent said his uncle shared his contact as reference.
"I am not sure how they got my number. My uncle confirmed that he did not share my number," Manikandan said.
Even in Deepa's case, Dilpreet, the borrower, had confirmed that he had not shared Deepa's contact number as a guarantor.
Like Deepa, Manikandan, and Goutham, many are left surprised when they receive phone calls from loan recovery agents. How exactly these companies collect the contact number, remains a question.
Bank officials Decode spoke to said that there is a "high possibility" that banks and NBFCs are data scraping and using contact details saved in the phone to call the contacts of the borrower.
"They make you click a button that allows them to download your entire call list and they will ask you where you work. So they get your basic data," Sucheta Dalal, a journalist and co-founder of an NGO named Moneylife Foundation told Decode.
"Then, the way they get at you is to try and embarrass you. They call and send messages to your contacts. And that is a psychological player, and it's more harassment," she said.
Pravin Kalaiselvan, Director at SaveThemIndia Foundation, an NGO focusing on helping borrowers, said that the modus-operandi is the same when it comes to loan apps.
"When we download a loan app, we click on 'allow' when it asks for permission to access our contact list and gallery. They then scrap all data and call random people from your contacts. They follow a hit and trial method, hoping someone would pay up if intimidated," Kalaiselvan said.
As per RBI's norms, there is a complete ban on data scraping from a customer's phone. Yet, both Kalaiselvan and Dalal were of the opinion that most banks, NBFCs, and loan apps illegally scrap data without the explicit consent of the customer.
Poor KYC Policy, Forged Documents
Another reason why random consumers may start getting phone calls from recovery agents is because there is a possibility that forged documents or fake numbers are used by borrowers to show references and guarantors. The poor due diligence policy of the company is the main reason for this.

"We discovered that everybody (referring to banks and NBFCs) has such little KYC because they are so desperate to onboard (people) without any friction," Dalal explained.

"So they don't take (KYC), they don't check the data properly and when it's online, they have only a certain level of check."
KYC or Know Your Customer refers to the process of identity and address verification of all customers and clients by banks, NBFCs, and other digital payment companies either before or while they are conducting transactions with their customers.
RBI has made KYC mandatory for all such financial institutions that carry out financial transactions.
In this process, experts said, there is a possibility of fake and forged documents being used to show someone as a guarantor to a loan application.
Over the past years, several reports (here, here) have revealed how Aadhaar and PAN card data are available for sale to anyone willing to purchase. Forging documents and buying a fake SIM card is not something very difficult in India, experts said.
As far as referrals are concerned, Dalal feels someone can give a wrong referral "quite easily".
"If a person just checked a box, he might have put your name or my name as a referral and we won't know about it," Dalal said."RBI, unfortunately, doesn't have a good process to check all of this," she added.
Kalaiselvan feels the onus is on the companies and their KYC policies. "It really depends on how robust it is," he said.
Companies deny any wrongdoings. However, social media is filled with complaints from consumers about harassing calls from loan recovery agents (here, here, here). Few have claimed that the borrower had forged their documents and obtained the loan.
There is substance in at least some of these complaints.

For instance, in January 2021, Bajaj Finance, the largest NBFC in India with a customer base of 6.6 crores, faced regulatory heat from the RBI when it was penalised with a 2.5 crore fine for "harassment and intimidation of customers by recovery agents during debt collection".
The RBI even admitted there were "repeat complaints about recovery and collection methods adopted by Bajaj Finance".
Yet, complaints against Bajaj Finance on the same issue, and other alleged malpractices continue unabated (here, here, here).

Decode reached out to Bajaj Finance on account of it being the largest NBFC. The company denied doing any malpractices.

"Bajaj Finance has a robust code of conduct policy which includes communication, behavioural and situational training of its Debt Management partners. It adopts zero tolerance policy for any non-compliance," the statement read.

The company also said that it has deeply invested in its customer service infrastructure and has a well-laid-down customer redressal management process in place.

"The company has well-defined Know Your Customer policy (KYC) in line with the extant regulations," the company said. Questions sent to InCred and HDB Financial Services did not elicit a response.
Can The RBI Help?
The RBI on its part has been issuing guidelines and directions for all registered financial institutions from time to time in order to address issues between a lender and lendee.

It first issued the 'Guidelines on Fair Practice Code for Lenders' in 2003 and has made several amendments to it ever since. These guidelines govern all aspects of lending to a borrower, from receiving applications, processing, disbursement, post-disbursement supervision, and general guidelines.

"In the matter of recovery of loans, the lenders should not resort to undue harassment viz. persistently bothering the borrowers at odd hours, use of muscle power for recovery of loans, etc", the guideline reads.

In 2015, the RBI also issued the "Master Circular - Fair Practices Code" that requires all NBFCs to "generally only employees and not outsourced recovery agents be used for recovery in sensitive areas".

In 2021, the RBI also introduced the 'Integrated Ombudsman Scheme, 2021' which aims to resolve customer grievances in relation to services provided by entities regulated by the RBI, such as banks and NBFCs, in an expeditious and cost-effective manner.

The ombudsman has the power to compensate complainants up to 20 lakhs in case the complaint against regulated entities is found to be valid. Such compensation would have to be paid by the guilty entity itself.

The RBI is overflowing with consumer complaints against recovery agents and digital lending apps. Within 17 months of this scheme, the RBI received close to 13,000 complaints, highlighting the magnitude of the problem in India.

Many facing harassment from loan recovery agents are not even aware of the scheme. "I didn't know about this. Does it work?" Deepa, the doctor, asked this reporter when informed of the scheme.

In August 2022, taking note of the rising number of complaints against recovery agents, the RBI issued fresh instructions that bar recovery agents from resorting to intimidation of borrowers.

"It is advised that the REs (regulated entities) shall strictly ensure that they or their agents do not resort to intimidation or harassment of any kind, either verbal or physical, against any person in their debt collection efforts," the RBI notification read.

Notwithstanding these efforts, experts say enforcement has been an issue.

"They (RBI) don't wake up even when there is a problem (referring to consumer complaints). But each time there is a problem that magnifies or there is a lot of media noise, then they wake up and they do things," Dalal told Decode.

"RBI does not reply to letters. They say go file a police complaint. Which small guy will go to a police station and sit for 4 hours to file a complaint? And will the police file an FIR?" she asked.

Kalaiselvan rates the ombudsman's performance as "horrible"."It didn't deliver any solution so far even though they promised a solution," he said.

As a result, many feel that companies are silently okay with tactics that their recovery agents use to recover loan amounts, which include calling up random people, harassing and threatening them — even if they don't know the borrower — hoping that someone ultimately pays up.

If push comes to shove, companies plead innocence and say the third-party agencies are liable, Kalaiselvan told me. "They should do everything, including loan recovery, legally, via courts," he said.

But the legal route is not that easy for companies.

"There are two reasons why companies hesitate from taking the legal route. First is the cost. If you are to recover a loan worth 28 lakhs, you would have spent 28 lakhs as lawyer fees in the first round itself," Dalal explained.

"Second is time. Having spent that money, you'll be in court for the next 10 years against that guy. So you might as well shut down your business, right?" she added.
Dalal also feels that the recovery system currently in place, and the law of contracts "just does not work".
"Everybody knows this. So it's a wink-wink, nod-nod kind of thing. When something becomes too egregious or the recovery agent gets too nasty or there is a huge mistake, then they quickly wake up and fix it."
For instance, in 2022, a pregnant woman in Jharkhand died after she was allegedly mowed down by Mahindra Finance's recovery agent in a tractor. The agent was recovering the tractor, without informing the local police station. The RBI imposed a ban on the company from engaging any third-party recovery agents "until further orders".
Dalal said that there should be Standard Operating Procedures (SOPs) for companies to follow.
"It should say you will get this documentation and nothing else. Only then it's going to work and you will know that everyone is doing the same thing. If someone is not following that SOP, you will know they are doing something excessively wrong," she said.
Kalaiselvan feels that RBI has a greater responsibility to spread awareness of the issues consumers are facing and their rights and redressal methods, especially because these companies majorly target the financially illiterate.
"Their awareness campaigns have been 50% okay (sic). But it is not reaching enough people," he felt.
During the course of this reporting, I got a call from a recovery agent working for HDB Financial Services who claimed that I was the reference of a man named Satpal Singh — who I don't know — from Noida. He asked me Singh's whereabouts since he had defaulted and, in an intimidating tone, said "It'll be better for you to give all details".
I told the agent I did not know Singh. During the short conversation we had in which I mostly asked questions in an interview style much to the surprise of the agent, he told me there is no requirement to verify references.

"Diligence is to be done in cases of guarantors. Why would we waste so much time in verifying references?" he said, thereby confirming what experts told Decode about poor KYC practices earlier.

Like with me, Deepa, the doctor, too has stopped receiving the calls. But the traumatic incident is still fresh in her mind. "I am a married woman and my family supported me. But what about single women? It's a big, big racket, Saurav!" she said emphatically.

Deepa now plans on knocking on the door of the banking ombudsman, after consulting with her family.

*Name changed to protect their identity.

Do you always want to share the authentic news with your friends?
Subscribed Successfully...
Enter Valid Email Id
---