Here's this week's round-up of the News You Almost Believed.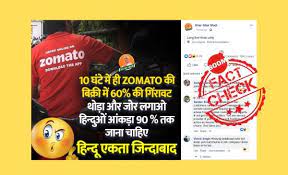 A fake graphic claiming food delivery app Zomato's sales have decreased by 60% in 10 hours after users started boycotting it, has gone viral on Facebook. The fake claim comes in light of the recent controversy where a customer refused to accept his food order because the delivery person was not a Hindu. But Zomato is a private company and unlike publicly listed companies, it is not required to disclose its financial statements to the public. Read the story here for more details about the company.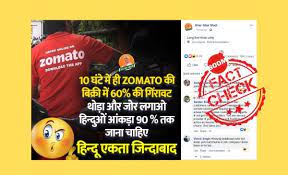 A portion of a news clip about a recent cyber fraud incident in Rohtak, Haryana where a university student was duped of Rs, 80,000 after she called a number fraudulently listed as a Zomato's customer helpline, has gone viral on social media with false claims targeting Zomato. But BOOM found a longer version of the same video uploaded by ABP News. This is the second fake post about Zomato after a customer refused to accept his food order because the delivery person was not a Hindu and took to social media to complain. It is clear that the number the victim had called for cancelling her order was that of cyber frauds and not the food delivery app. Click here to read the story in detail.
Posts bidding emotional farewells to the Unnao rape survivor who met with a road accident on July 28 are viral on social media with a claim that the girl succumbed to her injuries. But when BOOM contacted the hospital where she is admitted, we found while she her condition is critical, she is alive. Read the full story here.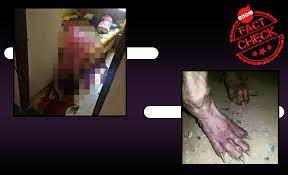 Old Goatman rumour revived with claims that they have weapons and they set out in the middle of the night. The message also gives a warning not to open the door if one hears a baby crying. BOOM found that the images in the viral message are old and unrelated. Read our fast check here and a detailed story on the Goatman rumour here.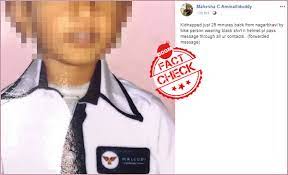 A message claiming that a child was kidnapped by a bike borne assailant in Nagarbhavi, Bengaluru is viral on social media. Bengaluru Police took to Twitter to quash viral social media posts. This is the second instance in a span of a few days where Bengaluru police have admitted to seeing a spike in child kidnapping related rumors online. Read more about the rumour here.