UPA Government Invited Taliban Leader In 2013, Claims Times Now: A FactCheck
Taliban leader Mullah Abdul Zaeef attended Tehelka's Think2013 to take part in two sessions. But did the Indian govt invite Zaeef, as claimed by Times Now?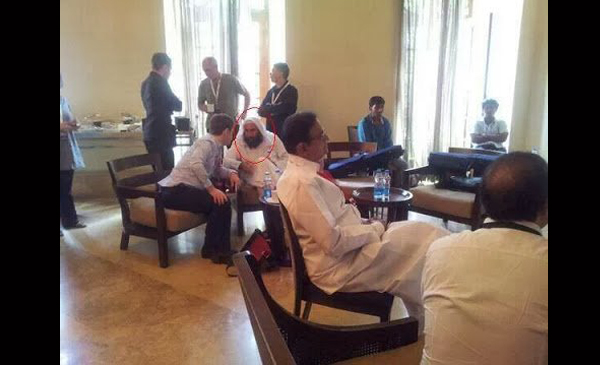 Photograph taken during Think2013
Did former Finance Minister and senior Congress leader P Chidambaram meet a Taliban leader in Goa in 2013? A photograph of Chidambaram and Taliban leader Mullah Abdul Zaeef went viral today. The picture taken during ThinkFest 2013 organised by Tehelka shows Chidambaram and Zaeef in the same frame but not facing each other.
Watch | Former UPA HM P. Chidambaram in the same room as Taliban leader Mullah Abdul Zaeef #CongTalibanTango pic.twitter.com/ZBUlN81FPi

— TIMES NOW (@TimesNow) December 11, 2017
Another picture emerges to haunt the Congress!https://t.co/xF25wQpH7r

— Republic (@republic) December 11, 2017
News channels revived this image first tweeted by Defence Minister Nirmala Sitharaman in 2013. Times Now's Exclusive story claimed that "UPA invited Taliban leader to speak at the Think Fest 2013". They also had a hashtag #CongTalibanTango as part of their tweets.

Screenshot of Times Now's Tweet
During election season, any old image is good enough to create a fresh controversy. BJP leaders could be seen tweeting the image.
In 2013, @PChidambaram_IN of @INCIndia was spotted alongside Mullah Abdul Salam Zaeef, Taliban founder, a confident of Mullah Omar who had headed the Taliban government, was held captive in Guantanamo Bay till 2005. One more proof @TajinderBagga pic.twitter.com/cMdkoxd34B

— Vijay Chauthaiwale (@vijai63) December 11, 2017
But contrary to claims by Times Now, it was not at UPA's invite that the Taliban leader Mullah Abdul Zaeef came for Think 2013. Zaeef was invited by Think 2013 organisers, Tehelka magazine. Think is "Tehelka's signature annual event, hosted in partnership with Newsweek magazine," according to the About section on the event's website.
Zaeef was invited as one of the 80 speakers that year and he participated in two different sessions on the 2nd and 3rd day of the event.

Screenshot of Think Fest session, November 9, 2013
We spoke to Tehelka's then managing editor Shoma Chaudhury who moderated the sessions and she confirmed that Zaeef was invited by her as the event was known to bring diverse voices from all sections of society including politics and international diplomacy on a common platform.
On Think's website, we found the sessions list where Zaeef was listed on a panel with Choudhary and America's former counterterrorism head with the Central Intelligence Agency Robert Grenier. Chaudhury said the man seen speaking to Zaeef in the picture is none other than Grenier. "This picture was shot in the Speaker's lounge as they got ready to take the stage and if you look at the image, Mr Chidambaram is looking in front while Mr Zaeef is speaking to the former CIA counter terrorism chief Robert Genier. It is a ridiculous conspiracy theory ahead of the elections," said Shoma Chaudhury to BOOM.
Given below is the session moderated by Shoma Chaudhury on November 9, 2013.
BOOM is not able to verify independently whether Chidambaram and Zaeef had any interactions with each other. It is highly unlikely for the media to miss such an interaction if it happened in public view.
Chaudhury's claims can be easily verified as the sessions list on Think's website shows that both her sessions with Chidambaram and the Taliban leader were scheduled close to each other.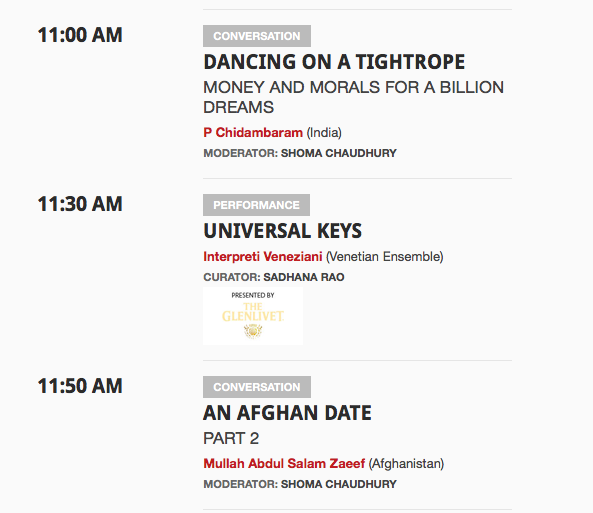 Screenshot of Think2013 session list on November 10, 2013.
Interestingly, Think2013 was also sponsored by several companies with Essar as the principal sponsor and Adani being one of the associate sponsors.

Chidambaram did not offer any specific comment on the controversy but retweeted Chaudhury's tweet where she clarified the context of the image.
These tweets were from the Organizers of the Conclave @TimesNow @timesofindia @ndtv @CNNnews18 https://t.co/yfANBMj11b

— P. Chidambaram (@PChidambaram_IN) December 11, 2017
While it is clear the photograph is circulating once again 4 years after the event took place due to the pitched political battle between the Congress and the BJP ahead of the second phase Gujarat polls, Zaeef's invitation to Tehelka's event had generated quite a bit of controversy in 2013 itself.
Union Defence Minister Nirmala Sitharaman who was one of BJP's spokespersons in 2013 had tweeted the image, thus generating a lot of conversation on Twitter on whether it was appropriate for the country's finance minister to share the same room with Taliban's leader.
At the Thinkfest in Goa: Terror within arms distance? Or with visa given, a welcome guest? pic.twitter.com/s9dJjgjqKP

— Nirmala Sitharaman (@nsitharaman) November 10, 2013
Though the invitation was not from the Indian government, Tehelka's own report on Zaeef's visit to India titled, "Can a Talib Change His Spots?" , written. by journalist Revati Laul detailed how the "founder member of the Taliban, ambassador of the Taliban regime to Pakistan and prisoner in Guantanamo Bay for six years, nearly didn't make it to THiNK. In the end, the Indian government relented, reasoning that it is perhaps time to start talking to the Taliban and stamped his visa at the last minute."
If you value our work, we have an ask:
Our journalists work with TruthSeekers like you to publish fact-checks, explainers, ground reports and media literacy content. Much of this work involves using investigative methods and forensic tools. Our work is resource-intensive, and we rely on our readers to fund our work. Support us so we can continue our work of decluttering the information landscape.
BECOME A MEMBER