Twitter Schools Congress: Indira Gandhi Did Not Inaugurate Vidyasagar Setu
Congress' social media team claims Indira Gandhi inaugurated the Vidyasagar Setu bridge, Twitter is quick to spot the factual inaccuracy.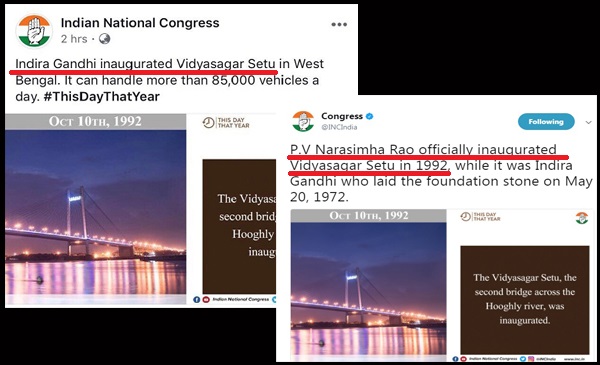 The Indian National Congress' social media team was trolled on Tuesday for tweeting that Indira Gandhi 'inaugurated' the Vidyasagar Setu, also known as the second bridge across the Hoogly river in West Bengal.
The tweet was factually incorrect and confusing because it claimed that Gandhi inaugurated the bridge. It also contained the date October 10, 1992, which would make it over eight years after she was assassinated in 1984.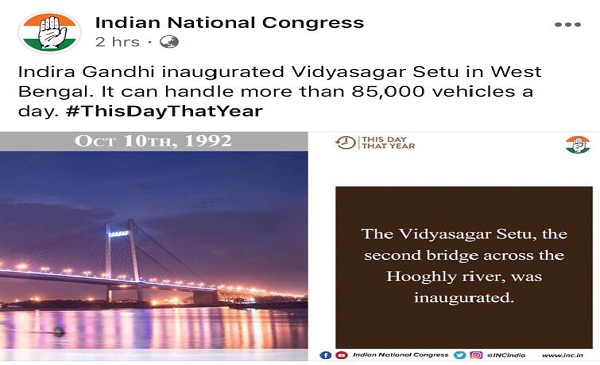 SM Hoax Slayer, a Twitter handle that is dedicated to debunking fake news, was one of the first to call out the gaffe causing the party to delete its tweet.
Pls check the word "inaugurated". Indira Ji laid the foundation stone 20 May 1972, Setu was completed and inaugurated on October 10, 1992 https://t.co/dGsbpufJ2D

— SM Hoax Slayer (@SMHoaxSlayer) October 10, 2017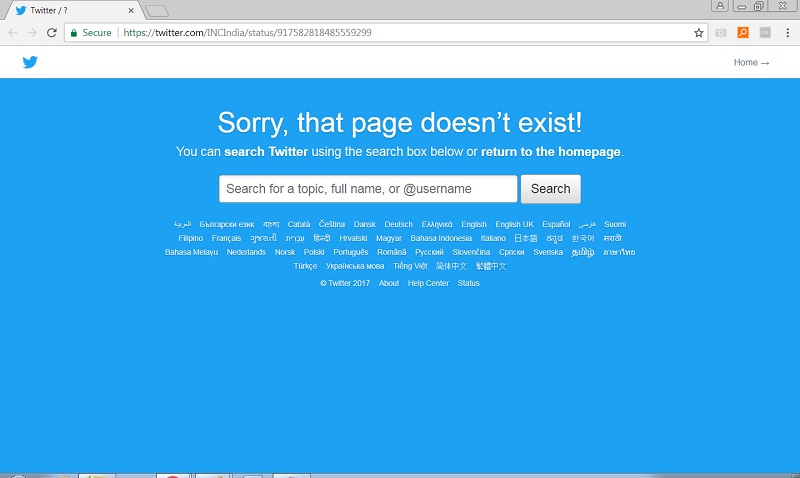 Trying to recover from the slip-up, the Congress party's social media team then tweeted that while Indira Gandhi laid the foundation stone on May 20, 1972 it was PV Narasimha Rao who officially inaugurated the bridge in 1992.
P.V Narasimha Rao officially inaugurated Vidyasagar Setu in 1992, while it was Indira Gandhi who laid the foundation stone on May 20, 1972. pic.twitter.com/9BRlL5EUTW

— Congress (@INCIndia) October 10, 2017
But even that tweet did not go down well with Twitter users who mocked the Congress over the time taken to complete construction of the bridge.
Wow what a great achievement! foundation laid on 20th May 1972, construction started on 3rd July 1979 (it took 7 years to start the construction work) opened on 10th October 1992, total time to construct: 13 years 3 months and 8 days. Total length 823 metres. pic.twitter.com/UvjFkCVUFi

— sumeet ahuja (@sumeetgahuja) October 10, 2017
The Vidyasagar Setu is a cable stayed bridge with a total length of about 823 metres that links Howrah to Kolkata.  The bridge was named after the 19th century Bengali reformist Pandit Ishwar Chandra Vidyasagar and was built at a cost of 3.88 billion rupees.
The foundation stone was laid by late Prime Minister Indira Gandhi on 20 May, 1972.  Work on the bridge began on July 3rd 1979. The bridge was finally inaugurated on October 10, 1992 by then Prime Minister PV Narasimha Rao.
A consortium of The Braithwaite Burn and Jessop Construction Company Limited carried out construction of the bridge.  Meanwhile the Hooghly River Bridge Commission (HRBC) was responsible for the commissioning operations of the bridge.
Vidyasagar Setu is called the second bridge as it was constructed to reduce the volume of traffic from the first bride i.e. Howrah bridge also known as Rabindra Setu which was commissioned in 1943.