'Trust In Government' Fiasco: How Blind Trust In Foreign Media Exposed Indian Media
Over-reliance on foreign media trips up Indian news outlets. BOOM deconstructs how Indian media got OECD's 'trust in government' measure horribly wrong.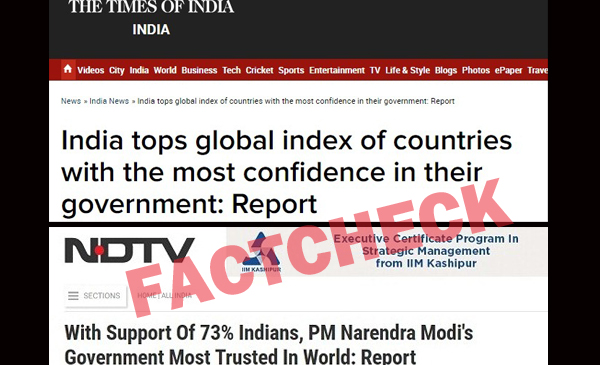 On July 14, BOOM published a fact check after several mainstream news outlets quoted an OECD report to claim that India topped a global index of countries with the most confidence in their government. We reported how many news outlets had got the story wrong as they failed to look at the original source - OECD's Government at a Glance 2017 report but instead relied heavily on a story by Forbes.
'Trust in Government' was just one topic in the 280 page Government at a Glance report.
The table taken from OECD's report clearly shows that India follows Indonesia and Switzerland in the 'confidence in government' measure.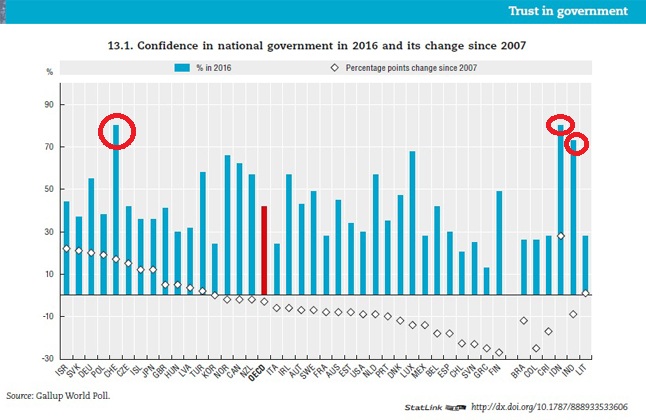 Here, IDN stands for Indonesia, IND is India and CHE is Switzerland. The report has confidence data for 35 OECD countries in addition to the Russian Federation, Colombia, Costa Rica, Lithuania and major economies of the world – Brazil, China, India, Indonesia and South Africa.
In an email response to BOOM, OECD confirmed that nowhere in their report do they state that India tops the 'Confidence in Government' measure as reported by several publications in India.
[blockquote width='100']
Our major focus is the OECD member countries, but where data are available for our key partner countries we publish that. So India has been included in the graph on confidence in government. The graph is 13.1 and data for non-OECD countries are presented separately from the OECD countries. Nowhere in the text do we mention how India – or any other non-member country - performs on this indicator.
[/blockquote]
- Zsuzsanna Lonti – Senior Project Manager, Government At a Glance, OECD.
[blockquote width='100']
Data for India in 2016 displayed at the value of 73%, which comes after the top ranking values of Switzerland and Indonesia (80%) for the same year.
[/blockquote]
- Zsuzsanna Lonti – Senior Project Manager, Government At a Glance, OECD.
It is important to note that India is not a member of the OECD club and is only considered to be a partner. So, if OECD's report did not say so, how did the news of 'India having the most trusted government' originate? Our readers pointed out that they first read the story on Forbes.

Below is the infographic used by Forbes in their article and tweet which shows only 15 countries as opposed to 44 countries that were polled and included in OECD's report.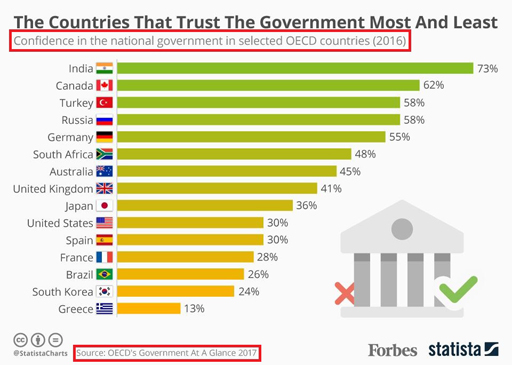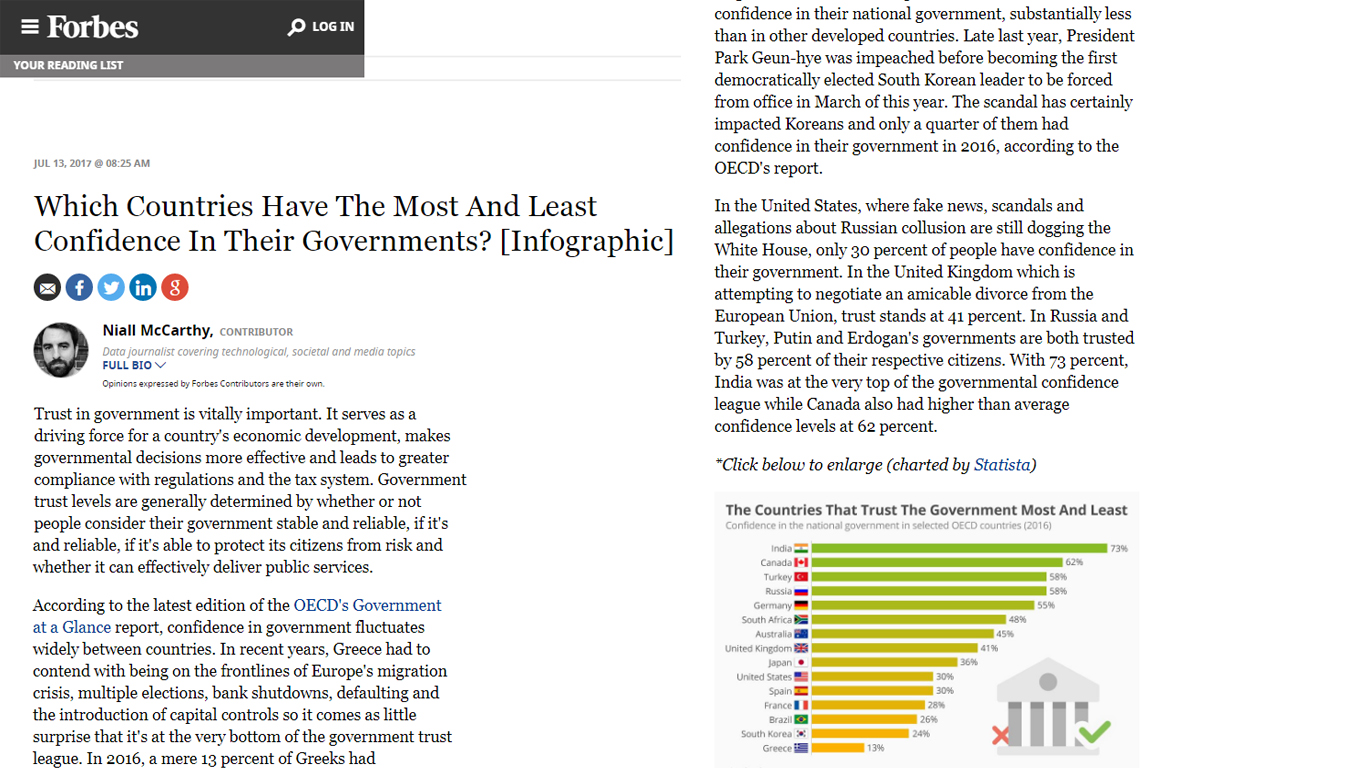 (Screenshot of Forbe's original story)
The confusion originated from Forbes' story and Indian media parroted it without looking at the original source. BOOM reached out to Niall McCarthy, the author of the Forbes article to understand the criteria on which he chose 15 out of 44 countries. 'Space reasons' was cited for choosing only 15 countries. McCarthy replied,
[blockquote width='100']
'As standard in these infographics, we use tables which show "selected countries" as for space reasons, we do not include every single country mentioned in the source. That is why we primarily stuck with larger countries in this case, omitting the top 2. If we went with a top-10, I would have included that in the headline of the infographic'.
[/blockquote]
McCarthy also admitted to BOOM that he had made a mistake by saying India topped the table which showed countries which had the most confidence in their governments.
Later on Forbes only added a line in parenthesis stating that 'Indonesia and Switzerland were highest overall' not making it clear that their original story left out this crucial detail.
Times of India reported it as, 'India tops global index of countries with the most confidence in their government: Report', while NDTV said 'With Support Of 73% Indian, PM Modi's Government Most Trusted in World: Report'.
The Times of India is yet to publish a correction or a retraction.

Wires news agency ANI went a step ahead and tweeted 'With 73 percent, India tops the Forbes list of countries with the most confidence/trust in their Government'. Thus, an OECD list became a 'Forbes List'.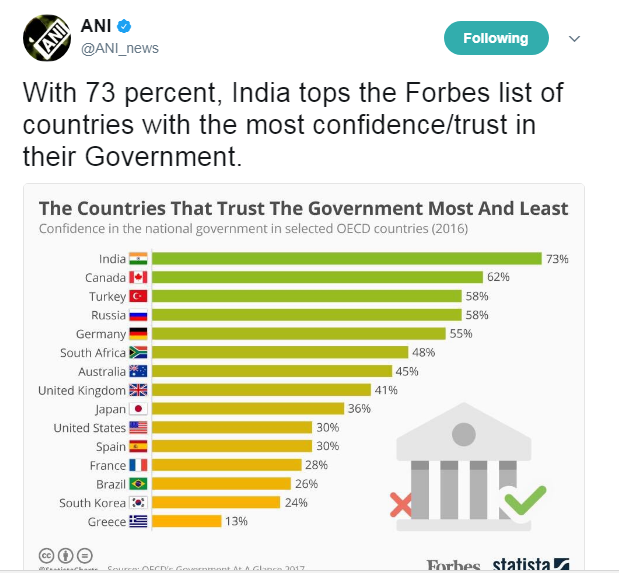 Confidence in government
OECD clarified to BOOM that it uses 'trust' and 'confidence' interchangeably.
"Trust can be understood as a positive perception about the actions of an individual or an organization."
OECD sources this data from Gallup, a global research and consultancy firm and refers to the Gallup World Poll as the only data source for comparable data on 'trust' for countries.
Confidence in national government refers to the percentage of people who answered 'yes' to the question: "Do you have confidence in national government?"
While the sample size for countries surveyed is mostly 1000, OECD clarified to BOOM that the average sample size for India is 3000.
Why not a Y-O-Y comparison?
OECD's report does a comparison of 2007 versus 2016 data and not a year-on-year comparison of confidence levels of countries. The confidence level for India was the highest at 82% in 2007 and recorded a 9 percentage point dip to 73% in 2016.
BOOM asked OECD why 2007 was used as the benchmark, as mentioned in our first article.
Our readers had the same question why a Y-O-Y comparison was not used.


The answer lies in the fact that OECD's 'Government at a Glance' report is biennial or published every two years. Moreover OECD decided to use 2007 as a benchmark year, representing the last "normal" year before the global financial crisis.
The organisation also explained that trust data moves slowly over time.
OECD's Government at a Glance report was first published in 2009. The report incorporated 'trust in government' data in 2013. All the reports since 2013 (2013, 2015, 2017) have compared confidence data with that of 2007 (benchmark).
Data available for confidence in government of previous years from OECD reports is presented as follows.

It is not clear if data is polled and compiled every year because the actual poll is conducted by Gallup and not OECD. BOOM has reached out to Gallup and will update its story on receiving a response.
However, it is clear that the report has been used to suit political narratives. Below are tweets by the BJP and Congress that cherry pick data points to show that Indians exhibited greater confidence in their respective governments.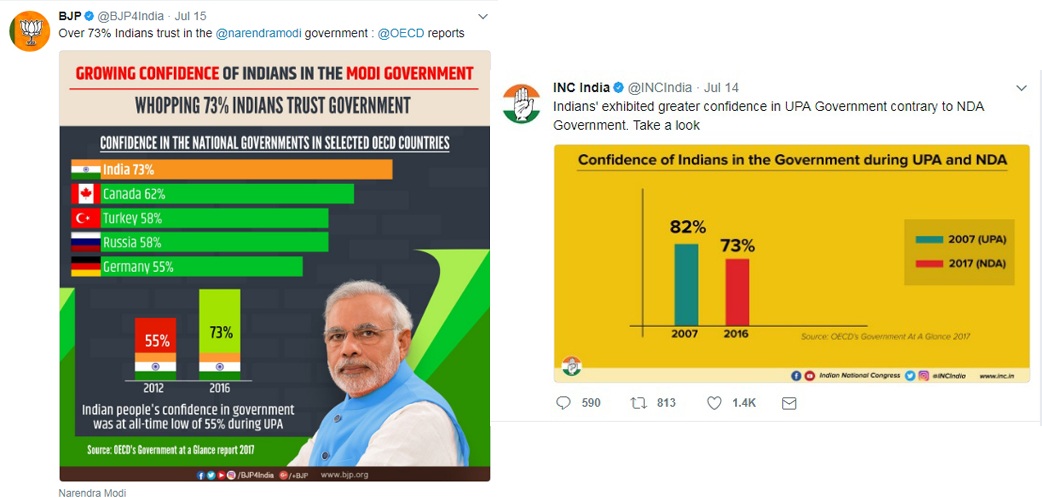 Editor's Note: NDTV has amended their story after we published our fact check. Here is the link.