India Did Not Top OECD's 'Confidence In Government' Measure
Did India top a global index of countries with the most confidence in their government as media reports say? BOOM finds out.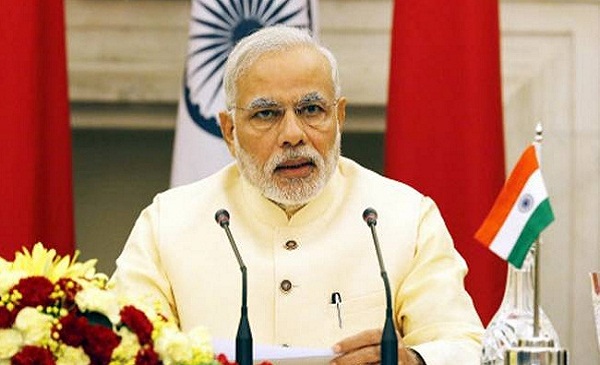 Indian media houses have erred in reporting an OECD report by stating that India topped a global index of countries with the most confidence in their government.
Switzerland and Indonesia are shown to have the most confidence in their government in a 2007 vs 2016 comparison by the Organisation for Economic Co-operation and Development (OECD) in its 'Government at a Glance 2017' report.
Earlier on Friday, news outlets reported that an estimated 73 percent Indians expressed confidence in the current government.
While the figure of 73% is accurate and relates to the year 2016, OECD's data in 2007 showed 82% of Indian citizens trusted their government, suggesting a decline of 9%, strictly going by that comparison. (Here, data refer to the percentage who answered "yes" to the question, "Do you have confidence in national government?")
A graphic that OECD shared on its official Twitter handle shows Switzerland and Indonesia are listed at the top for 2016, followed by India.
On average, only 42% of citizens have confidence in their #government (down from 45% in 2007) https://t.co/PAOpyvy04q #trust #democracy pic.twitter.com/WiniRUewUB

— OECD Governance (@OECDgov) July 13, 2017
This is further supported by a spreadsheet found in the report itself.
Click here to read the entire report.
(CHE - Switzerland, IDN - Indonesia, IND - India)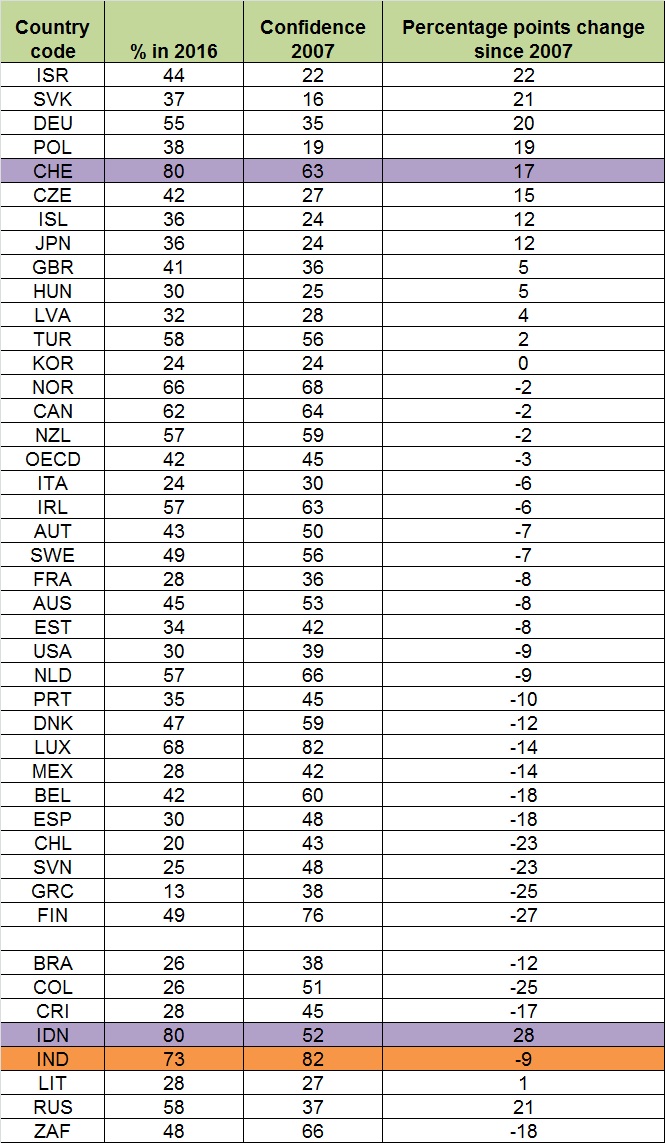 The below screenshot shows how OECD's data has been misinterpreted.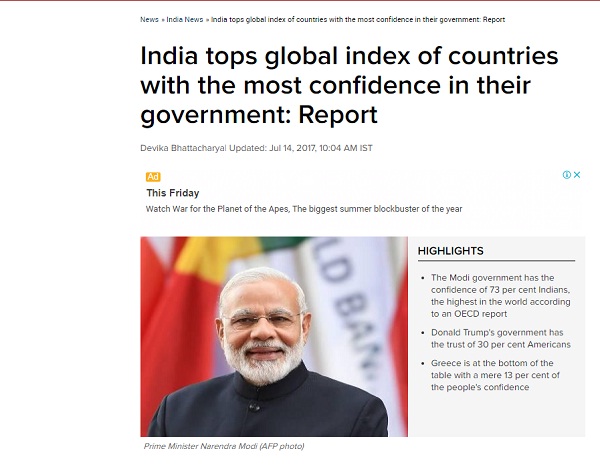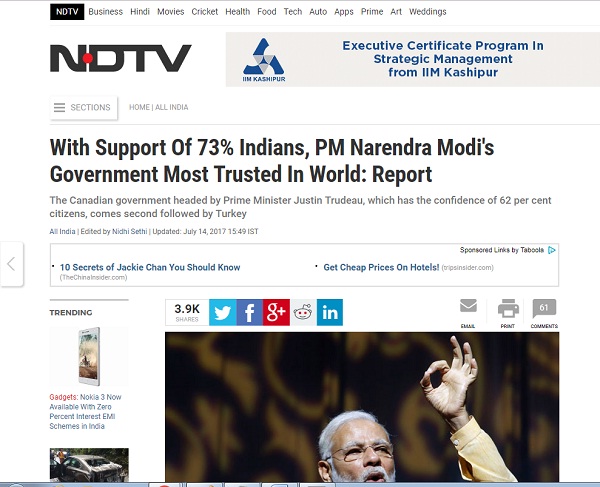 It is not clear why OECD has not done a year-over-year comparison. BOOM has reached out to OECD and is awaiting a response. The data that BOOM could find on OECD's website for India with regards to 'confidence in government' is as follows.

Source: BOOM data
'Trust in government' is just one aspect in OECD's 'Government At A Glance 2017' report.
The report has data for 35 OECD countries. In addition, it has included data on the Russian Federation, countries such as Colombia, Costa Rica, Lithuania and major economies of the world – Brazil, China, India, Indonesia and South Africa,
[blockquote width='100']
"Trust in government is strongly correlated with citizens' approval of their country's leadership and perceived spread of corruption in government in OECD countries, " OECD said.
[/blockquote]
LIMITATIONS OF THE POLL
OECD's report said its data was derived from the Gallup World Poll (GWP). However, the poll suffers from many limitations.
The sample size of the poll for different countries was mostly 1,000 people.
The poll measured trust in government through a single question on whether or not people have confidence in their national government; it did not specify any particular parts of national government or differentiate between politicians and the government bureaucracy in its survey question.
The poll also did not allow for the identification of government actions that might cause citizens to trust or distrust their government.
It is also not clear if OECD uses the phrase 'trust in government' and 'confidence in government' interchangeably or whether they are two separate parameters.