Times Now Apologises After Backlash For Referring To Kerala As 'Thundery Pakistan'
Times Now retracts after referring to Kerala as 'Thundery Pakistan'.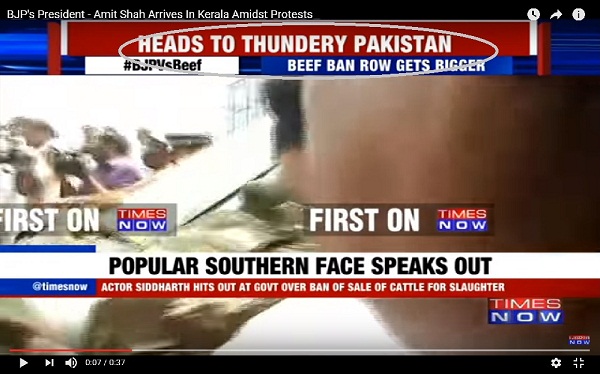 English news channel Times Now apologised on Saturday for referring to Kerala as 'Thundery Pakistan' after receiving a backlash of insults and abuses on social media.
The TV channel made the gaffe on June 2nd while reporting about BJP President Amit Shah's three-day visit to the state that has opposed the centre's decision to ban the sale of cattle in animal markets for slaughter.
Kerala has been the most vocal state in its opposition to the government's directives on cattle slaughter.
In a YouTube video published by the channel, the top graphic plate reads 'Shah Steps Up Campaign' followed by 'Heads To Thundery Pakistan', referring to Shah's visit to Kerala. The graphic plate then flips to 'State In Grip Of Cow Clash' followed by a bovine pun 'But Shah Set To Take Bull By Horns'.
[video type='youtube' id='EWvJ2rQw7ZQ' height='365']
The gaffe did not go unnoticed. In a state where eating beef is widely accepted, Malayalis responded angrily on social media and even created a tongue-in-cheek Twitter hashtag #ApologiseTimesCow.
Twitter users were outraged that Kerala, which ranks highly among many development indicators among other Indian states, was compared to Pakistan.
The embarrassing graphic has touched upon a prickly issue where many feel national media give more coverage to news in major metros like New Delhi and Mumbai at the expense of southern and north eastern states and lack a nuanced understanding of these regions.
Just called the Pakistani embassy to check on my parents who are in Kozhikode. #ApologiseTimesCow

— #TeamNehra (@Ajays23) June 2, 2017
When Republic stoops to the floor, TimesNow digs to the basement! Whatay k#2$!! channel!#ApologiseTimesCow

Video: https://t.co/Ul6SC4Gvcgpic.twitter.com/lFQx1jtA5u

— The Last Caveman (@CarDroidusMax) June 2, 2017
When ratings go low, stupidity flies high. #thunderypakistan #ApologiseTimesCow

— Harish Anwar (@haarishanw) June 2, 2017
On Saturday, the channel aired a corrigendum stating it was an "inadvertent error" and expressed regret for the error which may have hurt sentiments.
[blockquote width='100']
"Times Now regrets an inadvertent error reported on the channel on June 2, 2017, regarding Amit Shah's visit to Kerala. Instead of Kerala, the word Pakistan was inadvertently typed. Times Now once again regrets the error which may have hurt sentiments." - Times Now
[/blockquote]