States Should Prevent Mob Lynchings, Says Rajnath Singh In Parliament
Home Minister Rajnath Singh while condemning the incidents said that maintaining public order is a state subject.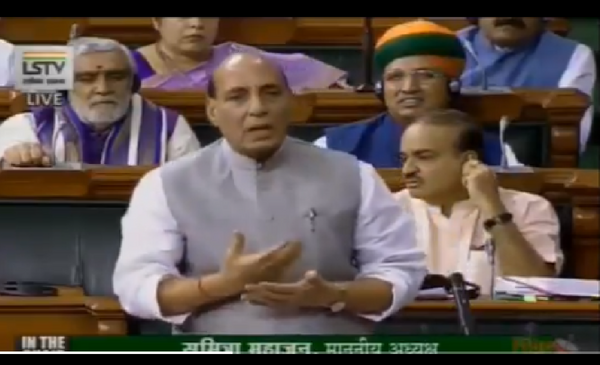 A day after the Supreme Court instructed the centre to draft a new law against mob lynching, Home Minister Rajnath Singh while condemning the incidents said that maintaining public order is a state subject. Speaking in the Lok Sabha, Singh said that the government had sent out two advisories to state governments in the last one year to take measures to prevent incidents of mob lynching fueled by rumours of child lifters circulating on social media. However, the Congress walked out of the Parliament calling the Minister's statement unsatisfactory.
While condemning the incident, Singh said that lynchings have happened in the past. However, the home minister did not clarify the government's position on enacting a separate anti-lynching law.
Singh said, "The lynching incidents happened in the past as well. I condemn all the incidents on behalf of my government. Unverified reports, fake news spread through social media is a trigger. It is the state government's responsibility to ensure that no such incidents take place in the future. Law and order is a state subject. This is why we have requested the social media operators to keep a tab in order to avoid the spread of fake information."
HM Shri @rajnathsingh makes a brief statement in Lok Sabha on incidents of mob lynching. pic.twitter.com/ff1GxjIYbQ

— HMO India (@HMOIndia) July 19, 2018
Parliamentarian Shashi Tharoor slammed the government saying that the centre and states cannot keep shifting responsibilities.
The Home Minister's statement in Lok Sabha on mob lynching was not satisfactory at all, that is why we staged a walkout from the house. This is not a game of ping pong that states and Centre keep shifting responsibilities: Shashi Tharoor,Congress MP pic.twitter.com/Tn0BMCm1XA

— ANI (@ANI) July 19, 2018
Supreme Court urged the government to pass a special law against lynching
On July 17, the apex court condemned the incidents of lynchings in the country referring to it as 'horrendous acts of mobocracy'. The bench of Chief Justice of India Dipak Misra and Justices A M Khanwilkar and D Y Chandrachud recommended the parliament to create a separate offence for lynching. The bench said, 'We have said so as a special law in this field would instil a sense of fear for law amongst the people who involve themselves in such kinds of activities'.
No data on mob lynching, says Home Ministry in Parliament
On July 18, Hansraj Gangaram Ahir - Minister of State of Ministry of Home Affairs - said in the parliament that the National Crime Records Bureau do not maintain data on mob lynching.
He said, 'The National Crime Records Bureau (NCRB) does not maintain specific data with respect to lynching incidents in the country. NCRB collects information in prescribed formats which does not cover information about lynching.'
In another question on the same day he said, 'State Governments and UT Administration have been advised to keep watch for early detection of such trends of circulation of rumours having potential for violence, and take all required measures to counter them effectively and to deal firmly with persons taking law into their own hands.'
NCRB to publish data on lynching in the upcoming publication
Last year, cow-related lynchings had triggered wide uproar giving way to protests like #NotInMyName. In the backdrop of increased lynching incidents in the country, BOOM in its July 2017 report had pointed out the gap in terms of data and the need for it to spur political and legal action. Read the story here.
The protests and the uproar seems to have created an impact. Within a week, NCRB announced that it will collect data on lynching.
An NCRB official was quoted at the time saying, 'With so much going on, we thought it would be prudent to collect authentic data on lynchings across the country and analyse the reasons that actually lead to murderous behaviour by mobs. This, we hope, will help policymakers come up with cogent solutions for such ghastly incidents. Data is the first step to formation of policy on any subject'
In June 2018 as the country started witnessing a fresh round of killings by mobs due to child-lifting rumours, BOOM spoke to NCRB who confirmed that they will publish data on mob lynching in its Crime in India 2017 publication. "This will be the first time that the bureau will be releasing such data and has revised its proforma for the same," said Kamini Shaw, Assistant Director – Statistics, NCRB
In 2018, the country saw 24 deaths due to mob lynching
Several incidents of lynching triggered by child lifting rumours have been on reported in 2018 in the states of Tamil Nadu, Andhra Pradesh, Telangana, Karnataka, Assam, West Bengal, Chattisgarh, Gujarat, Tripura and Maharashtra.
The last one to be reported was in Bidar, Karnataka on July 13, 2018. The victim Mohammed Azam Ahmed, a software engineer from Hyderabad, died on the spot, while Noor Mohammed, Mohammed Salman and a Qatari national -Salham Eidal Kubaisi, suffered critical injuries. The group offered chocolates to some school boys. The boys panicked thinking the man was trying to lure them with chocolates and raised an alarm. Later they were attacked by a mob.
In the absence of official data, BOOM tracked incidents of mob lynching triggered due to child-lifting rumours to record 24 deaths in 2018.