Mob Lynching: Absence Of Data Allows Governments To Live In Denial
The criminal law is inadequate in deterring the cases of lynching as the hate element of it is not addressed. Is it time to add new sections under IPC like in the case of acid attacks?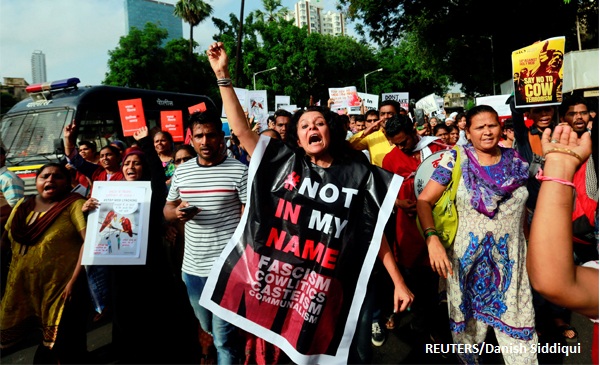 A woman shouts during a protest against the recent cases of mob lynching
'16 year old Junaid Khan lynched in a train in Ballabgarh', 'Local BJP leader arrested in Jharkhand lynching case', 'J-K police officer lynched in Srinagar', 'Mentally ill woman, branded child trafficker, lynched' – not any more isolated incidents, mob lynching has become a matter of public debate in democratic India. Is mob lynching on the rise or as skeptics allege, is it a case of reporting overdrive by the media?
But in order to arrive at any conclusion, all that we have are media reports and not official data.
Our own attempts to mine official data proved difficult as the central custodian of crime records, National Crime Records Bureau (NCRB), does not have a separate category on mob violence or lynching. Nor has the National Human Rights Commission (NHRC) released any data on lynching, despite the fact that lynching is a human rights violation. Emails to both the organizations went unanswered.
A Lok Sabha question raised on December 2015 sought information about the total deaths due to lynching and if the government has called for reports from the States regarding lynching?
The reply given by Haribhai Parathibhai Chaudhary, Minister of state in the ministry of home affairs was as follows,
"no separate data is maintained centrally for cases related to lynching. Further, 'Police' and 'Public Order' are State subjects under the seventh Schedule to the Constitution of India."
No Official data, then what?
In the absence of official data on lynching, media reports have come up with their own records. Hindustan Times has maintained a list of mob lynching since 2015 (post Dadri lynching incident). Likewise, Times Now also has a list of incidents since 2015.
On the data analysis front, IndiaSpend has compiled a list of cow-related violence since 2010. Accordingly, there were 63 such incidents between 2010-17 which killed 28 Indians. The analysis says that 97% of the attacks were post May 2014 and Muslims were the target in 51% of the cases.
Another analysis released by ORF shows that mob violence has increased since mid 2014. And, cow-related violence comprised 20% of mob violence by June 2017 as compared to 5 % in 2014.
The increasing reports on mob lynching and the activism around it in the form of #NotInMy Name protests led the Prime Minister to break his silence on the issue. He reprimanded those advocating violence in the name of cow protection by saying that, 'Killing people in the name of Gau Bhakti is not acceptable. This is not something Mahatma Gandhi would approve.'
Also Read: Domestic Protests Or Foreign Editorials: What Forced PM Modi To Break His Silence?
However, are these statements enough? Is not the rising lynch mentality and the apathy towards it pointing to the need for legitimate numbers that would drive policy action? Then why do the national crime records not account for this crime?
Why is there no official data on mob lynching?
Mumbai based senior lawyer Abha Singh says that NCRB does not have data on mob lynching as it is not registered as a specific offence under the Indian Penal Code.
Sanjay Parikh, Vice President of People's Union For Civil Liberties says,
[blockquote width='100']
'There is no specific provision for mob lynching. Currently, there are only IPC provisions to deal with the physical injury involved, such as IPC Section 307 for attempt to murder and IPC Section 324 for causing hurt.'
[/blockquote]
One possible answer could be that there is no law against 'mob lynching'. Incidents of lynching are in general reported under IPC section 302 for murder, IPC 307 for attempt to murder, IPC 324 for causing hurt, IPC 147 for rioting and so on. Though the incident gets registered, what is not captured is the seriousness and heinousness of this crime.
[blockquote width='100']
Lynching is not just murder or rioting. The dictionary meaning of lynching is, 'to put to death by mob action and without legal authority'. This is an extrajudicial act which involves hate, mob taking law in their hands and the failure of the state in protecting the victim(s). Neither the cause of the lynching is captured if it is communal, castiest or some other reason.
[/blockquote]
NCRB which releases yearly crime numbers does its calculation based on Principle Offence Rule, reports Factly, a data journalism website. The disclaimer of NCRB says that, 'The Bureau follows 'Principal Offence Rule' for counting of crime. Hence among many offences registered in a single case, only most heinous crime has been considered as counting unit, thereby representing one case.'
This means that NCRB registers the case of lynching probably as murder (the most heinous offense), and all other offences registered in the First Information Report (FIR) by the state police is discarded.
Thus, the current legal procedure for crime records does not provide for proper registering of mob lynching. To bring an effective law against mob violence, a proper official exercise will have to be carried out to count and analyse the incidents of mob lynchings in the country.
What then?
Ms Abha Singh suggests that, 'It requires a separate IPC as it is a more heinous and serious crime. Government should be dealing with it more stiffly and seriously. And, if it is motivated by a particular ideology, party or organisation, they should also be brought under law.'
According to Parikh, the criminal law is inadequate in deterring the cases of lynching as the hate element of it is not addressed. 'To deal with the hate element of it, an amendment could be passed like what was done in the case of acid attack,' says Parikh.
Before 2013, acid attack in general was registered under IPC sections for grievous hurt (sections 320, 322, 325 and 326). However, these sections were found inadequate to deal with the physical and mental suffering, the consequential trauma and damage on the victim, cost for treatment and the conspiracy in executing the act. The Criminal law (Amendment) Act 2013 introduced 326 A and 326 B specifically for tackling the violence through acid attack, by prescribing a minimum punishment of 10 and 5 years of imprisonment, respectively.
Or, is MASUKA – Manav Suraksha Kanoon – the way forward? MASUKA is a civil society initiated draft law under the leadership of lawyers and activists such as Sanjay Hegde, Prakash Ambedkar, Tehseen Poonawalla and Shehla Rashid. It proposes a law against mob lynching which includes defining the terms of 'mob' and 'lynching, calls for making it a non-bailable offence and life imprisonment for convicts, a time bound judicial enquiry and compensation to families of victim. Several public figures such as Swara Bhaskar, Kushbu Sundar and Shashi Tharoor have come out in support of the draft law.
Editor's Note: NCRB emailed BOOM on July 19, 2017 (after the story was published) informing that separate data on lynching is not available with them and that it is planning to collect data on lynching.