Shashi Tharoor, Yuva Desh Share Photo Of Jawaharlal Nehru Visiting Russia As USA
BOOM found that the image is from 1955 when Nehru and Indira Gandhi visited Magnitogorsk, Russia.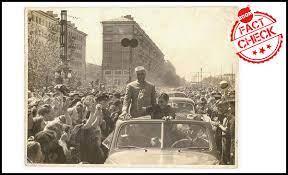 Congress leader Shashi Tharoor tweeted a photo of Jawaharlal Nehru and Indira Gandhi waving to crowds during their visit to the Soviet Union with a false claim that it from United States. BOOM found that the photo was clicked in 1955 when Nehru and Gandhi visited the industrial town of Magnitogorsk, now in Russia.
Tharoor tweeted the photo with a caption claiming that Nehru and Gandhi were received by the "American public in the US in 1954" without any "special PR campaign, NRI crowd management or hyped-up media publicity".
Click here to view an archive of Tharoor's tweet.
Tharoor latter tweeted, "I am told this picture (forwarded to me) probably is from a visit to the USSR and not the US."
Yuva Desh the online magazine of Indian Youth Congress also shared the photo with the same false claim in Hindi on their Facebook page.
The post when translated reads, "When Nehru ji went to America in 1954, then there was no PR agency working for him, neither was there any branding nor campaign on social media! But Modi ji and his blind people will tell that no one knew India and its prime minister outside the country before 2014!"
(Original text - 1954 में जब नेहरू जी अमेरिका गए थे तब की ये तस्वीर है, तब ना कोई पीआर एजेंसी काम कर रही थी इनके लिए, ना कोई ब्रांडिंग हो रही थी और ना ही सोशल मीडिया पर कैम्पेनिंग! लेकिन मोदी जी और उनके अंधभक्त लोगों को बताएंगे कि 2014 से पहले हिंदुस्तान और उसके प्रधानमंत्री को देश के बाहर कोई जानता नही था!)
Click here to view the post, and here for an archive.
The photograph was shared in light of the 'Howdy Modi' rally in Texas, United States held on September 22 where Prime Minister Narendra Modi and US President Donald Trump addressed Non-Residential Indians (NRIs).
FACT-CHECK
A reverse image search for the image on Yandex, a Russian search engine, showed several results that the image was not from the US and wasn't clicked in 1954.
The search results indicated the photo was taken during Nehru's visit to the then Union of Soviet Socialist Republics (USSR) in 1955.
The same photo appears in a contributing article published by Russian newspaper Magnitogorsk Metal on September 4, 2019. The author Nikolay Znamensky reminisces about his time in the city of Magnitogorsk and how he went to welcome Gandhi and Nehru on their visit.
Znamensky writes, "In August 1955, Jawaharlal Nehru came to Magnitogorsk with his daughter Indira Gandhi. The car - an open "Victory" - was "cut off" by the people from the motorcade." He further adds, "I was fortunate enough to run alongside - Indira, dressed in a sari, brightly painted, was terribly frightened by a warm meeting."
Magnitogorsk is an industrial city in Russia located in Chelyabinsk Oblast where the image was taken. The same article carried a second photo clicked from a different angle of Nehru and Gandhi in a convertible waving at people.
BOOM was able to confirm from local news reports that Nehru and Gandhi visited Magnitogorsk in June 1955, and not August as mentioned above.
Both the images carry the the watermark of MagMettal, a local newspaper published in Magnitogorsk.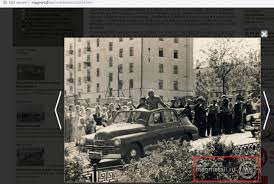 We also found another photograph from the same same, on a Russian website named fotosoyuz74, the official site of the Chelyabinsk regional branch of the Union of Photographers of Russia.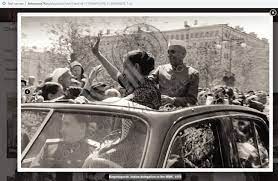 In the photograph captioned, "Magnitogorsk. Indian delegation to the MMK. 1955", clicked from a different angle, one can spot Indira Gandhi waving at the crowd. The picture shows Gandhi and Nehru standing in the same convertible as the viral photo with the sari worn by Gandhi also matching.
Visit Reported By Russian News outlets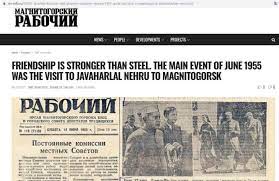 The Magnitogorsk Worker, a local paper published a story on June 24, 2017 with an archived photo of the then published news article and described Nehru and Gandhi visit to the industrial tow as, "And then the main thing happened - on June 17, Jawaharlal Nehru arrived in Magnitogorsk."
Access News Agency, a local news outlet based in Russia, published an article on 17 June 2011, marking the 56th anniversary of Gandhi and Nehru's visit and states, "In fact, June 17, 1955 can also be considered the day of the birth of civil aviation in Magnitogorsk - Indian Prime Minister Jawaharlal Nehru with his daughter and a senior retinue landed at the local airfield on four multi-seat IL-14."
Claim Review :
Photo When Nehru Went To America In 1954
Claimed By :
Shashi Tharoor, Yuva Desh