Explainers
'Howdy, Modi': Top 10 Takeaways From PM Modi's Speech In Houston
PM Modi's speech was aimed at highlighting how "everything is fine" in India.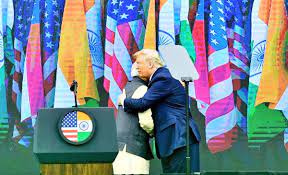 On September 22, 2019, Prime Minister Narendra Modi addressed a humongous crowd of Indian diaspora in Houston, Texas, in the presence of the United States President Donald Trump.
The event kicked off with a series of performances highlighting a fusion of cultures between the two countries, to warm up the crowd for the arrival of the two leaders.
In the presence of a massive crowd of Indian Americans and a number of American lawmakers, Modi and Trump demonstrated a high level of goodwill and bonhomie between them as they walked down NRG Stadium in Houston - hand-in-hand.
Both the leaders had some important messages for the crowd in their respective speeches, and Modi took this opportunity to state, "Everything is fine in India! Sab achha hai!"
Here are the top 10 takeaways from Modi's speech, where he listed out the reasons behind everything going well in India:
1. Diversity - Sign of a liberal and democratic society
Modi started off by highlighting that India's diverse cultures, languages, traditions and religious practices are representative of India's vibrant democracy and liberal society.
2. India's unprecedented development in the past 5 years
He then listed out the following areas which, he claimed, was proof of the unprecedented development experienced during the last 5 years under his administration:
Rural sanitation is up from 38% to 99%.
Rural road connectivity is now at 99%.
Percentage of households having cooking gas connection has risen from 55% to 95%.
Almost 100% households can now avail banking facilities.
3. Data is the new oil, the new gold
Modi also spoke of the cheap availability of data in India, and how it is aimed at achieving the goal of Digital India. He stressed that at a cost of 25-30 cent, one can avail one gigabyte of data in India, which effectively made it the cheapest in the world.
4. Moving to the internet
Modi claimed that inclusion of internet has been a redefining moment for Indian bureaucracy, by making around 10,000 services available online for central and state government employees and the citizens. He listed out the following impacts:
swift processing and delivery of fresh passport application.
increased ease of access to visas of other countries.
the process of registering a company is now speeded up to under 24 hours.
increased easy of filing income tax returns. He went on to mention that 50 lakh people filed their income tax returns online on August 31, 2019. Furthermore, tax refunds would arrive in 7-10 days, he added.
5. Time to say farewell...
Much to the enthusiasm of the crowd, Modi stated that it was time for India to say farewell to the old hindrances in the country's path to development. He listed out the following issues that the country was being challenged with, to which he now bade farewell:
Open defecation: He claimed that India will be completely free of open defecation by October 2, 2019.
The web in the taxation system: "with the implementation of GST, the dream of one nation one tax has now been achieved".
Corruption: He also stated that India is making its best attempts at saying farewell to corruption.
Shell companies: "India has said farewell to more than 3.5 lakh shell companies in the past 2-3 years".
Fake names: Modi stated that his administrations have saved around Rs. 1.5 lakh crore by removing 8 crore non-existent names from the system, who were reaping government benefits.
Article 370: He also stated that Article 370 had kept development away from the people of Jammu, Kashmir and Ladakh, and that they will now enjoy similar constitutional rights as done by the rest of India.
6. That Country (i.e. Pakistan)
Although Modi did not mention Pakistan's name directly, he made some pretty direct references to our neighbours.
He claimed that "some people who have centered their politics around hatred for India" are having trouble with India's achievements.
He also stated that "this country" supports and nurtures terrorism, and that the conspirators of both 9/11 (in New York) and 26/11 attacks (in Mumbai) were found in this country.
7. Terrorism
While mentioning Pakistan's involvement in terrorism, Modi also highlighted his shared resolve with Trump in combating terrorism in their respective countries, and urged the crowd to give the American president a standing ovation for his efforts.
8. $5 trillion economy
Modi also took the opportunity to highlight his government's goal of pushing India towards a $5 trillion economy, as mentioned earlier by Finance Minister Nirmala Sitharaman during the 2019 Budget announcement.
He mentioned the following as India's stride towards such an ambition:
despite uncertainties in global market, India has kept growing at an average rate of 7.5% for the past 5 years, which he claimed was the highest ever in Indian history.
for the first time, India is now at a state of low inflation, low fiscal deficit and high growth.
India is one of the best FDI destinations right now.
FDI flow into the Indian economy has doubled between 2014-2019. He also stressed that FDI in coal mining sector has now been increased to 100%.
9. Corporate Tax cuts
During his speech, Modi also brought up the recent cut in corporate taxes, that was announced days before the event.
He stated that this move was not just pleasing for big businesses in India, but has also sent a positive message to global business leaders, thus bringing India at the forefront of the global competition.
10. Benefits for the NRIs
Modi finished his speech by highlighting his commitment towards the Indian diaspora living abroad.
He spoke about the Indian community welfare fund started by his government, and also stated that his administration will provide better assistance for Indians living abroad and those who are planning to leave for another country.
Do you always want to share the authentic news with your friends?
Subscribed Successfully...
Enter Valid Email Id