Chandrayaan-2: Chennai Techie Helps NASA Discover Vikram Lander
ISRO lost communication with the Vikram lander while attempting a soft landing on the Moon's south pole.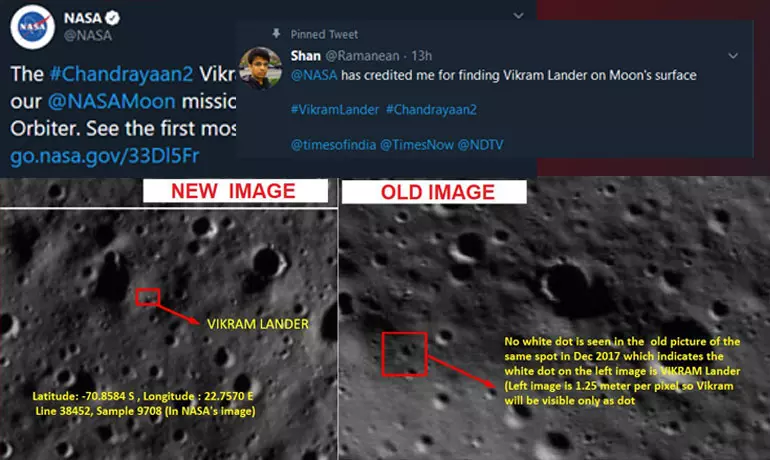 Shanmuga Subramanian, a 33-year old Chennai-based techie, was credited by the American space agency NASA for a tip-off that became instrumental in helping them find the crash site of ISRO's Vikram lander.

On December 3, 2019, NASA took to Twitter to state that they have found the Vikram lander, which crash landed on the Moon's south pole on September 7, 2019. The agency subsequently released images that showed the impact point and the associated debris field.
The #Chandrayaan2 Vikram lander has been found by our @NASAMoon mission, the Lunar Reconnaissance Orbiter. See the first mosaic of the impact site https://t.co/GA3JspCNuh pic.twitter.com/jaW5a63sAf

— NASA (@NASA) December 2, 2019
"Shanmuga Subramanian contacted the LRO project with a positive identification of debris. After receiving this tip, the LROC team confirmed the identification by comparing before and after images," said NASA in a press statement.
Subramanian, who is an engineer and a space enthusiast, told Economic Times that he was hooked on images of the moon taken by NASA's Lunar Reconnaissance Orbiter, with hopes of finding the Vikram lander.
After going through multiple discussions on the matter on online forums, along with past and current images of the Moon's south pole where the Vikram lander was intended to land, Subramanian noticed a white dot appear on one of the recent images. He took to Twitter immediately to open up an online discussion on this matter, tagging ISRO and NASA in the post.

@NASA @LRO_NASA @isro
This might be Vikram lander's crash site (Lat:-70.8552 Lon:21.71233 ) & the ejecta that was thrown out of it might have landed over here https://t.co/8uKZv7oXQa (The one on the left side was taken on July 16th & one on the right side was from Sept 17) pic.twitter.com/WNKOUy2mg1

— Shan (@Ramanean) November 17, 2019
Subramanian told NDTV that he had also reached out to a few NASA scientists who were in charge of the LRO (Lunar Reconnaissance Orbiter) images. Eventually, NASA responded by confirming that Subramanian had indeed discovered the crash site and debris field of the Vikram lander.
@NASA has credited me for finding Vikram Lander on Moon's surface#VikramLander #Chandrayaan2@timesofindia @TimesNow @NDTV pic.twitter.com/2LLWq5UFq9

— Shan (@Ramanean) December 2, 2019
On September 7, 2019, ISRO had scheduled for the Vikram lander to make a soft landing on the Moon's south pole - which still remains an uncharted territory for humankind. However, during the course of the landing, ISRO lost all forms of communication with the lander.
Also Read: Chandrayaan 2: Has ISRO Released The Latest Image of Vikram Lander?
Also Read: Chandrayaan-2 And The Vikram Lander: What Went Wrong And What Is Next


Updated On:
2019-12-03T18:11:32+05:30