Chandrayaan 2: Has ISRO Released The Latest Image of Vikram Lander?
The image shows the landing site of the Apollo16 from its mission to map the moon.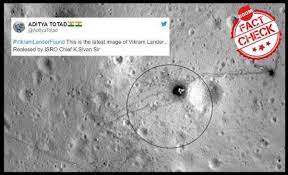 An image from the landing site of the Apollo 16 on the moon is being shared with a false claim that it is the latest photo of the Vikram lander as released by Indian Space Research Organisation (ISRO).
ISRO had lost contact with the Chandrayaan 2 space mission's 'Vikram' lander which attempted a soft-landing on the moon on September 7.
BOOM received the image on its WhatsApp helpline number (7700906111) inquiring about its veracity.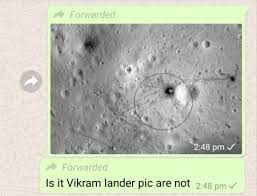 Viral on Twitter
#VikramLanderFound
Lander Vikram Located on Moon Surface, trying for communication. pic.twitter.com/IiYpoljqbr

— Rajbongshi (@onlydimbe) September 8, 2019
Click here to view an archive.
#VikramLanderFound This is the latest image of Vikram Lander , Realesed by ISRO Chief K.Sivan Sir pic.twitter.com/LVXksQkhpY

— ADITYA TOTAD🇮🇳🇮🇳 (@AdityaTotad) September 8, 2019
Click here to view an archive.
Is this is a vikram lander.#VikramLanderFound pic.twitter.com/pZWRCHkuM2

— Gagan Chaudhary (@ItsGaganKumar) September 8, 2019
Click here to view an archive.
FACT-CHECK
We ran a Google reverse image search and found that the viral image was not of Chandrayaan 2's Vikram lander but an image of Apollo 16 landing site on the moon.
The search results showed that the image was picked up from an article on the official US space agency National Aeronautics and Space Administration's (NASA) website.
The article titled, "10 Years Ago: Lunar Reconnaissance Orbiter Begins Mission to Map the Moon", was published on June 18, 2019.
The caption mentions that the image is of 'Apollo 16 landing site', and according to the article, Lunar Reconnaissance Orbiter (LRO) which is managed by NASA's Goddard Space Flight Center had taken the photograph.
Space journalist, Jonathan O'Callaghan had pointed out that the viral image being shared is not a picture of Vikram lander.
While the above image is not of the Vikram lander, ISRO chief K Sivan had told The Times Of India on September 8, 2019, that, "We've got the image of Vikram on the lunar surface from our orbiter. We are analysing the data."
Claim :
Latest Image of Vikram Lander Released By ISRO
Claimed By :
Social Media