Reliance Jio Crosses 100 Million Subscribers; 5 Things To Know
Jio claims that it will match the highest selling tariff of other operators and provide 20% more data than what other operators provide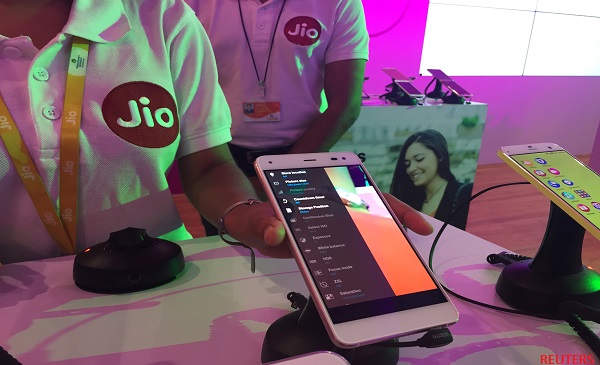 A Reliance employee demonstrates Jio LYF phone at their headquarters on the outskirts of Mumbai. REUTERS/Clara Ferreira Marques
Reliance Jio has crossed 100 million (10 crore) subscribers, the fastest acquisition of subscribers by any telecom company in five months, ever since its launch on September 5, 2016. Speaking at a media conference in Mumbai, Mukesh Ambani, Reliance group chairman said that Jio will start offering its tariff plans from April 1. And as promised, all domestic voice calls will remain free and there will be no roaming charges.
"Jio was conceived to be a steadfast partner to India, and Indians, in our digital transformation," said Mukesh Ambani.
Here are 5 things to know about Reliance Jio's latest offerings.
1) From March 1, Reliance Jio will open Jio Prime membership programme. All existing subcribers of Jio and those who join before March 31 can subscribe to a year plan for a fee of Rs 99. Jio Prime members can continue to benefit from the Jio New Year Offer for another 12 months – until 31st March 2018 for an introductory price of Rs 303 per month, for another full year.
2) Jio will also offer other extreme-value plans exclusively for Jio Prime members, and the details can be accessed via The MyJio app and Jio.com.
3) Jio claims that it will match the highest selling tariff of other operators and provide 20% more data than what other operators provide.
4) Ambani said that in the coming months, Jio plans to more than double its data capacity to offer better quality to its customers. By the end of 2017, the Jio network will be present in nearly all the cities, towns and villages of India and cover 99 percent of our country's population.
5) Jio claims that its users consumed more than 100 crore GB of data on the Jio network in January 2017. That is more than 3.3 crore GB a day which means that Jio users consume nearly as much mobile data as the entire United States of America, and nearly 50 percent more mobile data than all of China.