Politics
Has Terror In J&K Seen A Decline Post Scrapping Of Article 370?
Data produced in the Rajya Sabha shows 20 killed, 129 injured in J&K since Aug 5 due to terrorism,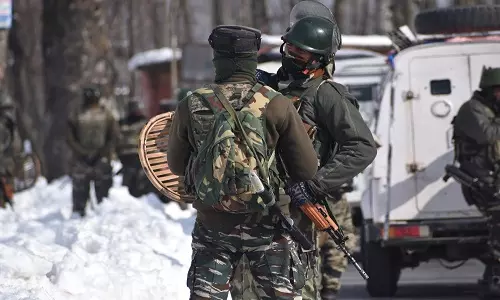 Defence Minister Rajnath Singh in a Lok Sabha reply claimed that terror incidents in the valley have come down almost to zero, ever since Article 370 was abrogated on August 5.
"I can say that since Article 370 has gone, compared to before, terrorist incidents are close to zero", Singh said, as a response to Congress member K. Suresh's question pertaining to killings regarding terrorist incidents on November 27.
BOOM looked at data presented by the government and found that while Rajnath Singh's claim of terror incidents being almost down to zero may not be entirely correct, terror incidents and the resulting casualties have seen a downward trend. On the same day as the defence minister made the claim, an unstarred reply to the Rajya Sabha gave details of terrorism-related casualties in Jammu and Kashmir post Article 370's abrogation. The reply, given by Minister of State for Home Affairs Kishan Reddy, informed Rajya Sabha that 20 people (17 civilians and 3 security personnel) lost their lives and 129 persons were injured due to terrorism, since August 5. The reply further goes on to say that 197 persons have been injured due to "law and order" related incidents, and no loss of life due to 'police gun' firing in the region in the same period. The reply is unstarred reply number 1026 of the 250th session.

While the Rajya Sabha reply does make note of the casualties, it does not highlight through how many incidents these fatalities have taken place.
25 Incidents of Terrorism Since August 5: South Asia Terrorism Portal
BOOM also looked at data collated by the South Asia Terrorism Portal (SATP), which shows 25 incidents of killing by terrorists resulting in the death of 21 people (17 civilians and 4 security forces). SATP data is almost in line with the Rajya Sabha reply on the number of lives lost since August 5, 2019.

SATP data also shows that this year's figures between August to November are also lower than last year's numbers in the same period. While this year, there have been 25 incidents claiming 21 lives, last year saw 100 incidents leading to the the loss of 72 lives - including those of security persons and civilians, in the same period between August to November 2018.

Overall, Jammu and Kashmir has seen 586 incidents in 2019 (up to November 10) according to another reply given in the Rajya Sabha by the Ministry of Home Affairs to Derek O'Brien, a Trinamool Congress MP from West Bengal. Thus, only of 25 of the 586 incidents of terrorism that have the taken place in Jammu and Kashmir, have taken place after August 5.
Total terrorist incidents seen in Jammu and Kashmir this year are lower when compared to 2018, but higher than the incidents of 2017 and 2016.
The Rajya Sabha reply is unstarred question number 385 in the 250th session of the House, and can be found here.
This is not the first time that ministers have made remarks regarding the number of terrorist attacks in the country. At the two-day BJP conclave in New Delhi, then Defence Minister Nirmala Sitharaman had on January 13, stated that no major terrorist attack had occurred since in India since 2014. BOOM provided terrorism data to factcheck her statement and found the claim to be untrue.

Also Read: Factchecking Nirmala Sitharaman's Claim Of 'No Major Terror Attack Since 2014'
The Narendra Modi-led government abrogated the special status given to Jammu and Kashmir on August 5.
One of the reasons being cited behind the abrogation of Article 370 and 35A was terrorism, which both Home Minister Amit Shah and Prime Minister Modi have said caused hindrances towards towards the state's growth; an obstacle that the abrogation of Article 370 has done away with. An example of Amit Shah's remarks on this can be seen here.

Do you always want to share the authentic news with your friends?
Subscribed Successfully...
Enter Valid Email Id