Paresh Rawal's #JhoothiCongress Tweet Puts Focus On Manufactured Trends
Paresh Rawal's deleted #JhoothiCongress tweet shows why you do not require bots to manufacture trends.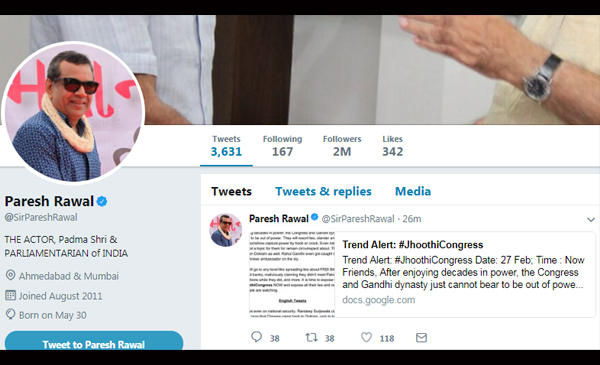 Bharatiya Janata Party (BJP) MP and actor Paresh Rawal's now deleted tweet 'Trend Alert: #JhoothiCongress' has once again put the spotlight on coordinated mass tweeting by political parties to 'trend' a particular hashtag. A trending hashtag improves the visibility of tweets on the micro-blogging platform.
It is important to note that the BJP, which has the strongest social media infrastructure among all political parities, is not the only party to indulge in planned Twitter blitzkriegs. In the past, even the Congress has been found to indulge in the same practice during the time of Gujarat elections.
Rawal who tweeted a Google document which listed English and Hindi tweets with the hashtag #JhoothiCongress deleted the tweet when pointed out by other users. Access to the document was restricted within thirty minutes of him deleting the post.
When @SirPareshRawal mistook twitter for WhatsApp.

Hey @TwitterIndia, does this guy still deserve his blue tick? pic.twitter.com/VIkKzYB0GO

— Fake Trend Hunter (@trollabhakt) February 27, 2018
Manufactured trends by copy-pasting tweets are problematic because they are increasingly being used to drum up support, target individuals or political parties or build consensus on issues, by artificially amplifying certain tweets. Note that these are not the same as retweets.
See BOOM's stories on this in the past (here and here).
BOOM accessed the Google Document while it was public and made a copy of it.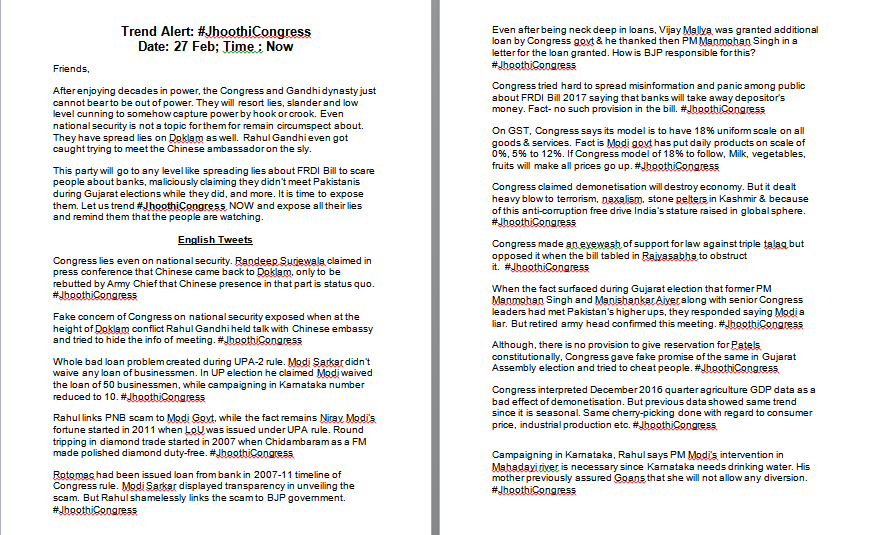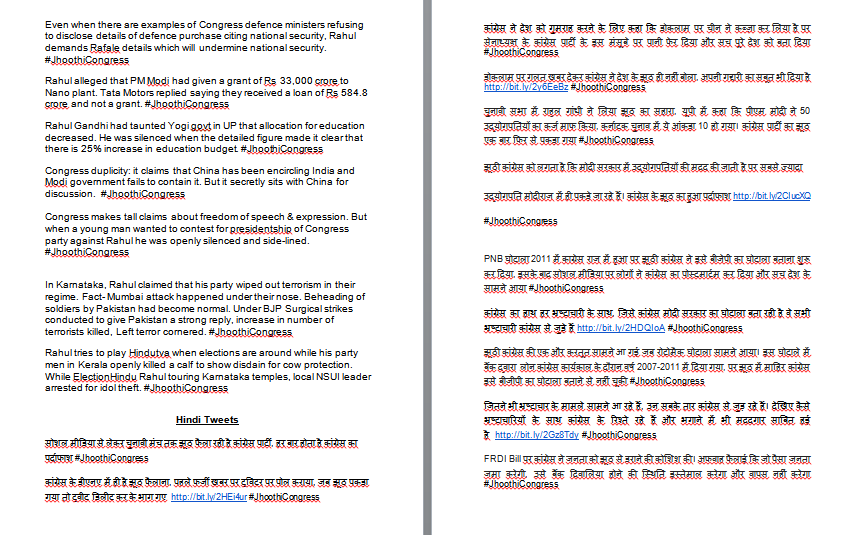 The hashtag 'Jhoothi Congress' was seen earlier in the day in tweets of BJP's official Twitter handle and BJP IT Cell Amit Malviya tweets announcing a press conference by Union Minister Ravi Shankar Prasad. The press conference was "to bust the lies and fear spread by Rahul Gandhi and Congress Party".
Shri @rsprasad will hold a press conference today at 4 pm at BJP HQ to bust the lies and fear spread by Rahul Gandhi and Congress party. Stay tuned for LIVE updates. #JhoothiCongress

— BJP (@BJP4India) February 27, 2018
Tune in to @BJP4India at 4pm! Shri @rsprasad will expose the lies and chicanery of Congress party led by Rahul Gandhi. #JhoothiCongress

— Amit Malviya (@malviyamit) February 27, 2018
Soon after this, Twitter was flooded with the hashtag #JhoothiCongress and several handles were seen copy pasting the tweets one after the other. Below are screen shots of the tweets including that of Harsh Sanghavi, a BJP MLA with a verified handle.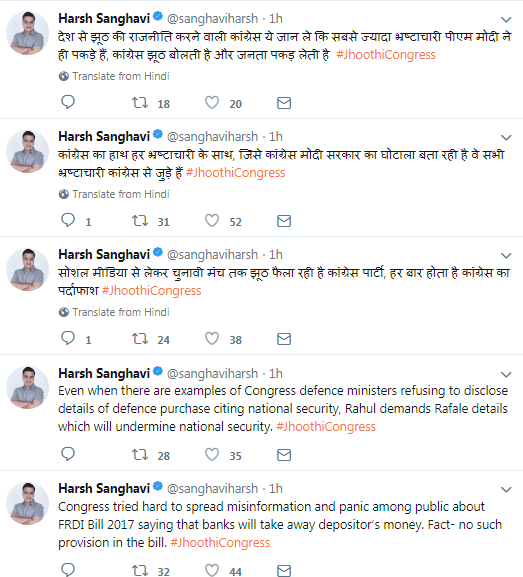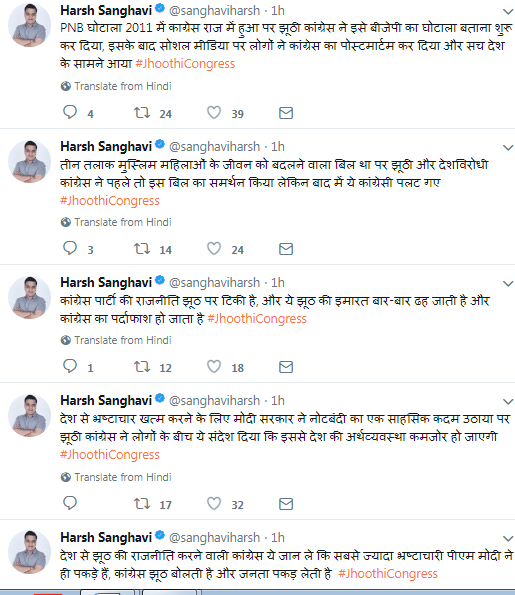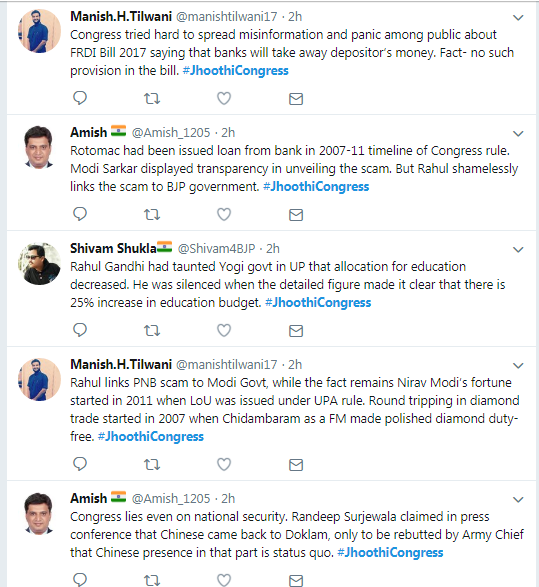 BOOM also found a Facebook post from one Yogesh Malik, a BJP IT cell member.
Earlier in February Twitter announced its policies around Automation and the use of multiple accounts. This was done in order to clampdown on bulk tweeting and to weed out political propaganda by bots; an issue that surfaced during the US presidential elections in 2016.
Below are two points from Twitter's statement.
"Posting duplicative or substantially similar content, replies, or mentions over multiple accounts you control, or creating duplicate or substantially similar accounts, with or without the use of automation, is never allowed." – Twitter

"Posting multiple updates (on a single account or across multiple accounts you control) to a trending or popular topic (for instance, through the use of a specific hashtag) with an intent to subvert or manipulate the topic, or to artificially inflate the prominence of a hashtag or topic, is never allowed." – Twitter
Here the company says that posting duplicate or very similar content over multiple accounts with or without the use of automation is not allowed. However, it is not clear whether real Twitter users  are allowed to copy-paste similar content and thereby influence a particular hashtag so that it trends.