MP Congress, AAP Leader Tweet Satire Piece On Kumbh 800cr Scam
Hindi daily Amar Ujala had published the article as a satirical piece on the occasion of Holi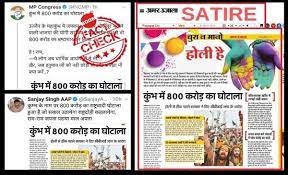 Madhya Pradesh Congress on Monday morning fell for a satire article and tweeted a screenshot with the headline '800 crores Kumbh Scam' accusing the Bhartiya Janta Party (BJP) government in Uttar Pradesh of corruption.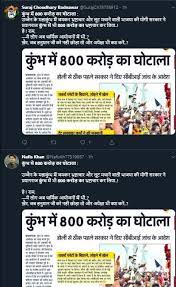 The tweet reads, "कुंभ मे 800 करोड़ का घोटाला: उज्जेन के महाकुंभ भस्टाचार और लूट मचाने वाली भाजपा की योगी सरकार ने प्रयागराज कुंभ मे भी 800 करोड़ का भस्टाचार कर लिया! हे! राम, -ये लोग अब धार्मिक आयोजनों मे भी ? खेर, जब हनुमान जी को नहीं छोड़ा तो और अपेक्षा भी क्या करे?"
It roughly translates to, "800 Crores Scam in Kumbh: The Yogi government which had looted Ujjain's Maha Kumbh, has also done a scam of 800 crores in Prayagraj's Kumbh. Oh Ram! These people are doing it for religious events also? Anyways, when they didn't spare lord Hanuman, then what can be expected?"
Aam Admi Party (AAP) leader Sanjay Singh had also tweeted the screenshot of the same article a day earlier with the caption, "कुम्भ के नाम पर 800 करोड़ का राष्ट्रवादी घोटाला हुआ हे जो सवाल उठयगा राष्टद्रोही कहलायगा, राम-राम जपना पराया माल अपना"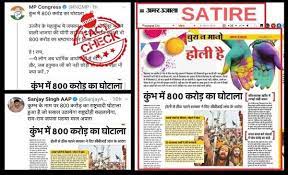 It roughly translates in English to "In the name Kumbh, 800 cores nationalist scam has taken place and questioning about it will be called Anti-National."
The Ardh Kumbh Mela was recently held at Triveni Sangam in Prayagraj, Uttar Pradesh, from 15 January to 4 March 2019.
The Kumbh Mela is the largest human congregation in the world, where pilgrims participate in the festival with the belief that taking a dip in the holy water of Ganges River will pave the way for their salvation and would rid them of their sins. (Read more here)
The same screenshot of the article was also viral on Facebook and Twitter with many pro-Congress accounts sharing the screenshot believing it to be real news.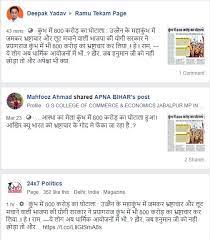 Click here to view post, and here for the an archive.
A Facebook user named 'Sweta' also shared the same article with pictures from the print edition of the Hindi news daily Amar Ujala with the text superimposed on the image dating March 21, 2019.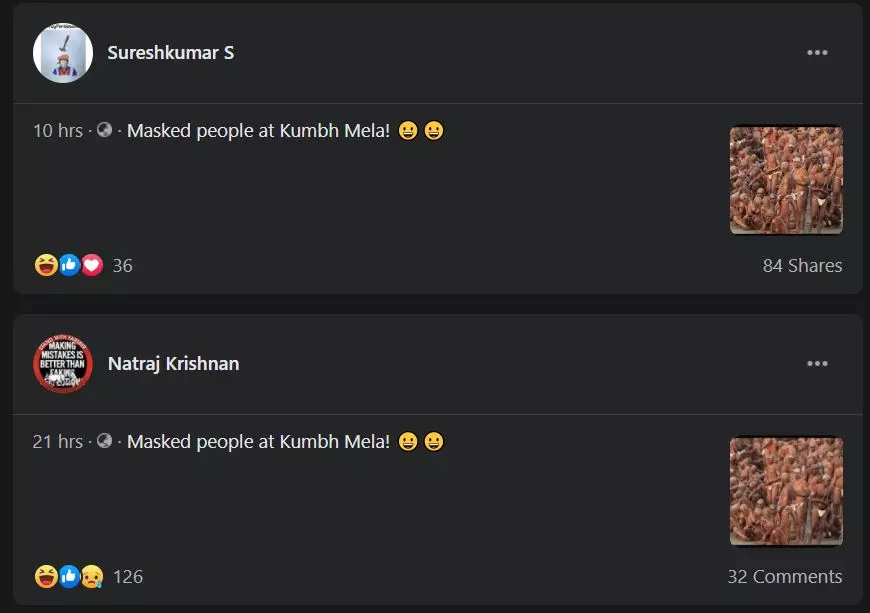 Click here to view post, and here for to view an archive.
FACT-CHECK
As the posts indicated that the article was published in the Hindi newspaper Amar Ujala on March 21, 2019, BOOM searched for the article on its website and found that it was a satirical piece on the occasion of Holi.
Click here to view the e-paper of the said article.
On March 21, 2019, Amar Ujala had dedicated an entire page of its Prayagraj edition under the section 'बुरा ना मनो होली है' which roughly translates in English to 'Don't mind, its Holi'. The entire page carried satire articles.
On the said page, an article titled 'Kumbh mein 800 crore ka ghotala' was published. Screenshots of this article without the message of it being published as satire pieces on Holi were shared on social media, leading people to believe that it was credible news.
The satire piece had minute attention to details that a news investigative story would have, like tent firms charged more than the actual cost, some Pandals (Marquee) that were near each had a difference of 5 crores more, purchase of pesticides was not transparent.
It is not clear why Amar Ujala thought this story qualified as satire.
Navbharat Times too had on the occasion of Holi carried satire articles and many social media users had shared screenshots from the same believing it to be true. (Read more here)
Claim Review :
800 Crore Kumbh Scam Under BJP Govt In Uttar Pradesh
Claimed By :
Political Party